MLF 2022 Builders FirstSource Patriot Cup Filmed in Dallas Set to Premiere Saturday on Outdoor Channel
Category: article
Apr 7th, 2022 by Keith Worrall
Modified Apr 7th, 2022 at 10:48 AM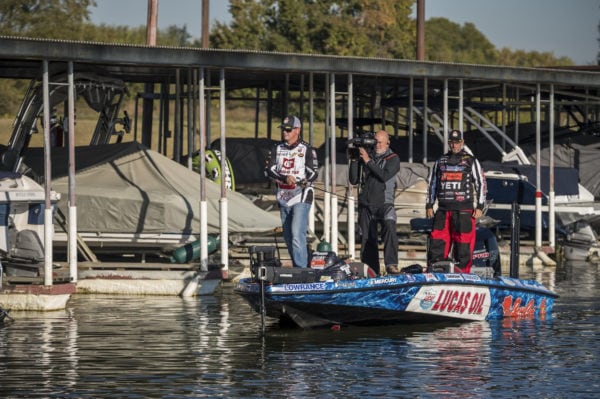 Twenty-Four MLF Anglers Compete on Lewisville Lake, Eagle Mountain Lake and Lavon Lake over Six Days for Prestigious Patriot Cup
DALLAS, Texas (April 7, 2022) – The Major League Fishing (MLF) 2022 Builders FirstSource Patriot Cup Presented by Guaranteed Rate, filmed over six days in November in the Dallas area, is set to premiere this Saturday, April 9, from 2 p.m. to 4 p.m. ET on the Outdoor Channel and on-demand on the MyOutdoorTV (MOTV) streaming app. The event showcases 24 of the top pro anglers in the world competing in the third MLF Cup event of the 2022 season.
"We were very excited to welcome Major League Fishing to Dallas," said Dallas Sports Commission Executive Director Monica Paul. "Major League Fishing choosing us to host the Patriot Cup is indicative of how truly diverse our portfolio of sporting events is and how much opportunity there is for fishing events specifically in our market. We appreciate our partnership with Major League Fishing and hope to continue working together for years to come."
The first episode, set to premiere Saturday, features the eight anglers in Group 1 competing in their opening Elimination Round. Episode two features the eight anglers in Group 2; Episode three will feature the eight anglers in Group 3. The top six finishers from each group's Elimination Round advance to the two-day Sudden Death Round – episodes four and five – where nine anglers compete each day and try to finish in the top four. The sixth and final episode will feature the final eight anglers competing in the Championship Round to catch the most weight that they can to be crowned the 2022 Patriot Cup Champion.
The 24 Anglers that compete in the 2022 Builders FirstSource Patriot Cup Presented by Guaranteed Rate in Dallas are:
Josh Bertrand, Queen Creek, Ariz.
Stephen Browning, Hot Springs, Ark.
Brandon Coulter, Knoxville, Tenn.
John Cox, DeBary, Fla.
Ott DeFoe, Blaine, Tenn.
Brent Ehrler, Redlands, Calif.
James Elam, Tulsa, Okla.
Edwin Evers, Talala, Okla.
Shin Fukae, Osaka, Japan
Alton Jones, Lorena, Texas
Alton Jones, Jr., Waco, Texas
Matt Lee, Cullman, Ala.
Cody Meyer, Star, Idaho
Andy Montgomery, Blacksburg, S.C.
Britt Myers, Lake Wylie, S.C.
Michael Neal, Dayton, Tenn.
Skeet Reese, Auburn, Calif.
Fred Roumbanis, Russellville, Ark.
Terry Scroggins, San Mateo, Fla.
Gerald Spohrer, Gonzales, La.
Jeff Sprague, Wills Point, Texas
Wesley Strader, Spring City, Tenn.
Scott Suggs, Alexander, Ark.
Bryan Thrift, Shelby, N.C.
The 2022 Builders FirstSource Patriot Cup Presented by Guaranteed Rate was hosted by the Dallas Sports Commission. The event will air on the Outdoor Channel as six, two-hour original episodes each Saturday afternoon starting April 9, 2022, and running through May 14, airing from 2 to 4 p.m. ET. Each episode is available for viewing on the MyOutdoorTV (MOTV) streaming app on the Monday morning following each episode's Saturday premiere.
The 2022 Builders FirstSource Patriot Cup Presented by Guaranteed Rate features 24 MLF pro anglers visiting the Dallas area to compete on either Lewisville Lake, Eagle Mountain Lake or Lavon Lake on each day of competition. The fisheries are unknown to the anglers – they do not learn where they are competing until they arrive to the launch ramp each morning of competition.
The full television schedule can be found at MajorLeagueFishing.com.
For complete details and updated information on Major League Fishing and the MLF Cup events, visit MajorLeagueFishing.com. For regular updates, photos, tournament news and more, follow MLF's social media outlets at Facebook, Twitter, Instagram, and YouTube.
About Major League Fishing
Major League Fishing (MLF) is the world's largest tournament-fishing organization, producing more than 250 events annually at some of the most prestigious fisheries in the world, while broadcasting to America's living rooms on CBS, the Discovery Channel, the Outdoor Channel, CBS Sports Network, the World Fishing Network, and on-demand on MyOutdoorTV (MOTV). Headquartered in Tulsa, Oklahoma, with offices in Benton, Kentucky, the MLF roster of bass anglers includes the world's top pros and more than 30,000 competitors in all 50 states and 13 countries. In 2019, MLF expanded its portfolio of catch, weigh, and immediately release events to include the sport's strongest five-biggest-fish format tournament circuits. Since its founding in 2011, MLF has advanced the sport of competitive fishing through its premier television broadcasts and livestreams and is dedicated to improving the quality of life for bass through research, education, fisheries enhancement, and fish care.
Major League Fishing – WE ARE Bass Fishing™