2019 World Ploughing Contest – Championship
Category: article
Aug 30th, 2019 by Keith Worrall
Modified Sep 2nd, 2019 at 11:22 PM
2019 World Ploughing Contest

The World Ploughing Championship is held in a different country every year and this year it is in Baudette Minnesota. The event only comes to the US every 30 years.
To kick off the beginning of the event there was the Unveiling of the Cairn. The cairn is a monument that will stay in Baudette as a memorial of the event.
Today was the unveiling of the Cairn of Peace at the 2019 World Ploughing Contest held in Baudette MN. A total of 50 competitors from 28 different countries will compete this week in the contest. Joe Henry from Lake Of The Woods MN Explains.
Unveiling of Cairn Of Peace at Event Site
Day 1 Before the Start
Photos From The Cairn Unveiling and Day 1 Stubble Competition
World Ploughing Contest Parade – Competitors Roll Through For The Crowd
Day 1 World Plowing Championship Teams Ready to Plough
2019 World Stubble Plot
Day 1 Stubble Top 3 in the Conventional and Reversible Plots With Anna Marie McHugh

Top 3 in The Reversible Stubble
1st- France's Mathieu Cormoreche
2nd- Switzerland's Marco Angst
3rd- Denmark's Soren Korsgaard
Top Six in Stubble – Reversible and Conventional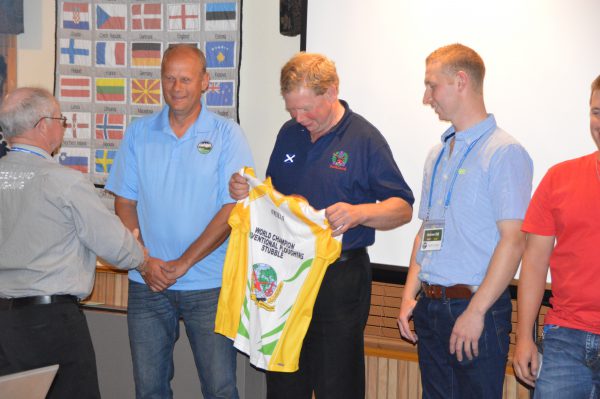 Top 3 Conventional Stubble
1st- Scotland's Andrew B Mitchell Snr.
2nd- USA's Gene Gruber
3rd- Northern Ireland's Andrew Gill
Mathieu Cormoreche Receiving the yellow jersey for first place
Day 2 Grass Competition Plot Layout
Day 2 World Ploughing Championship Parade
OFM's Keith Worrall with a bit on the day two World Ploughing Championship event held in Baudette. Competiters in the conventional and reversible compitition will be plowing grass plots today.
Just a bit of the Music and Concessions From The Event
Few Photos From The Day 2 Grass Reversible and Conventional Contest
Final Ceremony and Awards
USA Nationals – Ray Elsberry goes through the process each competitor had to complete at the USA competition held on the 1st!
Sunday USA National Competition Photos
More to Come on This Event