Reward your best hunting companion with a RedHead® Dog Pit Blind
Category: press release
Sep 29th, 2014 by OutdoorsFIRST
Modified Sep 29th, 2014 at 12:00 AM
The RedHead® Dog Pit Blind helps your dog accomplish what it was born and bred to do – bring back ducks and geese and drop them in your hand. Your dog wants you to take your limit of ducks and geese as much as you do, maybe even more. If the birds don't come in and you don't drop them, Fido doesn't get to retrieve them.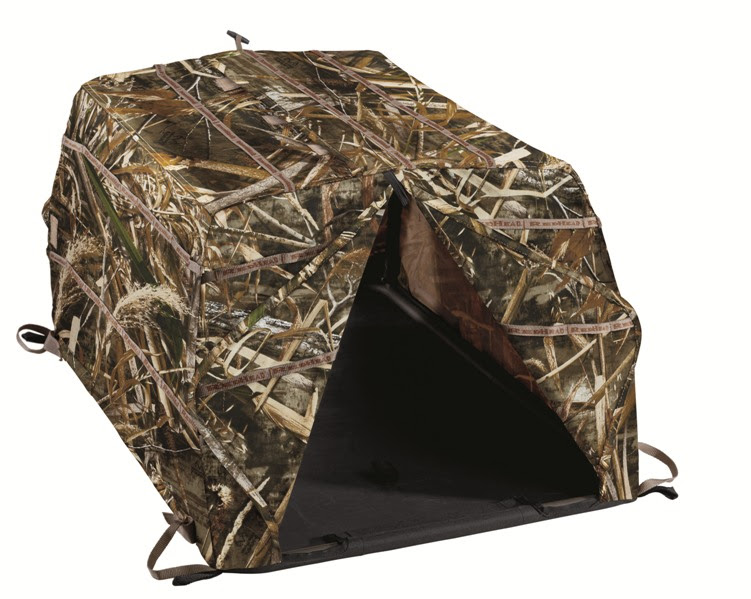 Sharp-eyed, wary waterfowl are alert for anything out of place and any unnatural movement. Don't let your excited canine hunting companion give away your meticulously placed decoy spread. The RedHead Dog Pit blind provides essential concealment beneath its Realtree Max-5 600D coated fabric shell. Large and plentiful brush loops allow you to exactly match the blind to surrounding cover.
With a little advanced training, your dog will learn to consider the Dog Pit blind his or her home in the field. The blind provides a place to stay dry and comfortable as well as concealed between retrieves. Secure it against the wind and the dog's explosive takeoffs with the four included, tethered stakes. Front and back entrances/exits with buckles on the rear offer the option of a 1- or 2-door setup.
Mobility is essential for waterfowl hunters, and the RedHead® Dog Pit Blind is made for it. It deploys or folds down in seconds, and it weighs only 8 pounds. The detachable shoulder strap makes for easy carrying.
Help your dog achieve peak performance and reward your best hunting companion with a snug hideout in the field. The RedHead® Dog Pit Blind is available for only $79.99 at http://www.basspro.com/ or your nearest Bass Pro Shops retail store.
RedHead® Dog Pit Blind
* 30″ L x 16″ W x 19″ H – large enough for big dogs, but small enough to easily conceal
* Versatile Realtree Max-5 camo pattern
* Rugged coated 600D fabric with ample brushing straps
* Strong, durable steel frame construction
* 2-door design with buckles on rear door offers multiple set-up options
* Quick deployment and breakdown
* Detachable shoulder strap for easy carrying, but no tangle convenience for the dog
* MSRP $79.99
* Available at http://www.basspro.com/RedHead-Dog-Pit-Dog-Blind/product/14040811412325/
About Bass Pro Shops®
Bass Pro Shops®, which specializes in outdoor fun, operates 88 retail stores and Tracker Marine Centers across America and Canada that are visited by more than 116 million people every year. Bass Pro Shops stores, many of which feature restaurants, offer hunting, fishing, camping and other outdoor gear while their catalogs and website serve shoppers throughout the world. The company's Tracker Marine Group® (http://www.trackermarine.com), which has produced the number one selling brand of fishing boats for more than 35 years, manufactures and sells a variety of boats for fishing and cruising. Family fun is on tap at Bass Pro Shops resort Big Cedar Lodge® (http://www.bigcedar.com), voted number six by Travel + Leisure Magazine as World's Best Hotels for Families. For more information, visit www.basspro.com. To request a free catalog, call 1-800-BASS PRO. Follow us on Facebook at http://www.facebook.com/bassproshops.