Newer walleye ice lures struggle to replace proven favorites
Category: fishing tips
Feb 5th, 2019 by Keith Worrall 3317
Modified Feb 5th, 2019 at 5:04 PM
By John Hageman, Tandem Media Network
For the more than 40 years that I have been ice fishing on Lake Erie, the lures used to catch walleyes have been dominated by just a few designs. Yellow perch, white bass, white perch, channel catfish and steelhead trout are also attracted to these tried-and-true lures.
SPOONS
The Swedish Pimple is a vertically oriented spoon made by the Bay de Noc Lure Company in Gladstone, Michigan. Based on a lure style used in Sweden for more than 100 years, the patented design available since 1957 is forged from brass, then covered with nickel, gold, white pearl, silver and copper finishes.
The sizes used locally are #5 (1/3 oz.), #6 (1/2 oz.) and #7 (3/4 oz.) based upon the strength of the water current. Many experienced local anglers add a treble hook to the top split ring and/or a stinger hook.
The top dozen colors sold are Fluorescent Orange, Fluorescent Yellow, Chartreuse, Luminous Glo, Red Prism, Green Pearl, Prism Yellow, Prism Blue, Kelly Green, Lavender, Hammered Neon Blue and Painted Pink.
Read More: Newer walleye ice lures struggle to replace proven favorites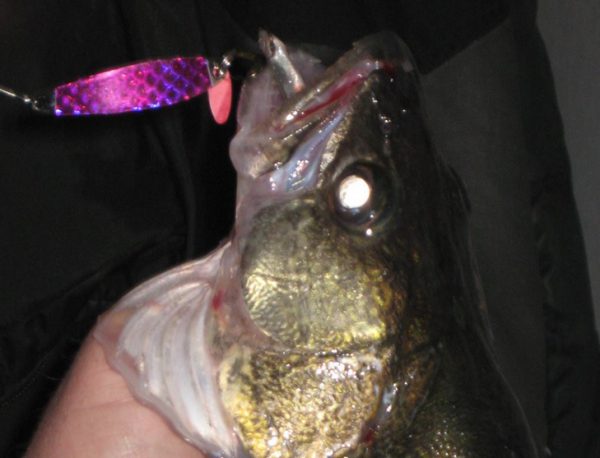 A walleye caught on a #6 Lavender, Alligator Hammered Swedish Pimple. — Photo by JOHN HAGEMAN