Forever Fishing lives up to its name in Lake Erie tourney
Category: article
Jun 27th, 2019 by Keith Worrall 641
Modified Jun 27th, 2019 at 10:44 AM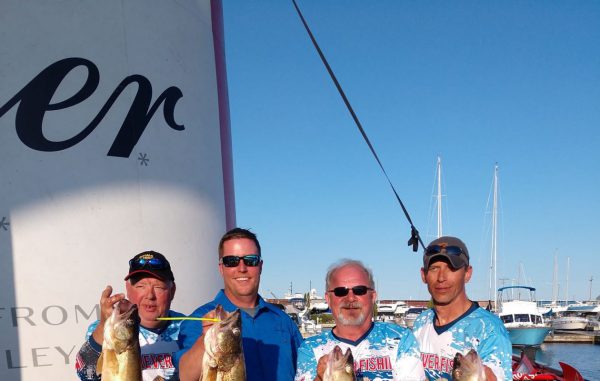 The Forever Fishing Team – from left are Gregg Shevay of Hamburg, Steve Ball of Alden, Bob Rustowicz of Cheektowaga and Tom Brunn of South Wales – show off their winning catch in the 2019 Budweiser Can-Am Walleye Challenge out of Port Colborne, Ontario. (Bob Rustowicz photo)
Home waters in a fishing tournament can mean a lot. No American team had ever won the Budweiser Can-Am Walleye Challenge, a one-day shootout that allows teams to bring their best four walleyes to the scales. At least, that's the way it was for the first five years.
That all changed last Saturday when the Forever Fishing Team dropped off their cooler at the weigh site and watched the digital readout show 38.65 pounds of fish for first place.
For the Forever Fishing team — Bob Rustowicz of Cheektowaga, Tom Brunn of South Wales, Steve Ball of Alden and Gregg Shelvay of Hamburg — it was about doing their best in an event that they enjoy fishing. This year, 92 teams competed in the contest run out of Sugarloaf Marina in Port Colborne, Ont. Only six teams were from the United States.
Rustowicz, the team leader, has been fishing tournaments on the north shore of the lake since 1987, when the tournament scene began. It started with a tournament at Bertie Bay Marina in Point Abino and the 444 Tournament out of Port Colborne. The latter event ran for 30 years until it was discontinued last year. Six years ago, the Can-Am Challenge was started by Erie Tracker Outfitters of Port Colborne, and they've run an excellent event ever since. Entry fee was $500 per team this year with a 100 percent payout to winning teams.