Some 50+ Pounders – Ron Lindner is Gone – Catch More by NOT Moving
Category: article
Dec 5th, 2020 by Keith Worrall
Modified Dec 5th, 2020 at 8:42 AM
Think your fishin' buddies might enjoy the newsletter? Sign 'em up. As always, you can find all past content on our website. Enjoy!
Ron Lindner is gone….
We lost one of the all-time greats on Monday night.
Ron Lindner shaped and molded the fishing world in so many ways.
In-Fisherman, Lindy Tackle, F+L+P, the Professional Walleye Tour, Camp Fish – that's just scratching the surface…..
This quote from Jeff Sundin sums it up well:
"…whether we've known it on a conscious level or not, anybody who has wet a line over the past 50 years owes him a debt of gratitude. Virtually every concept we see portrayed on TV, in videos or on the pages of fishing publications today, traces back in some way to the systems of fishing that we learned from the early work that came to us by way of In-Fisherman, TV, Magazines and Radio production."
He was a true GIANT in the fishing industry, but more importantly, he was a phenomenal human. The amount of people he's touched, blessed and rescued in his 86 years on this planet is absolutely staggering.
Ron means a lot to us here at Musky Insider for many reasons. If it wasn't for him, this publication wouldn't even exist…. so there's that.
He will be deeply missed.
Here's a fun story from him and Al – musky fishin' and making baits back in 1965:
Potential 50 Pounder….
Feast your eyes on this insanely HUGE 55 x 28 inch bruiser from Cassy Pope and guide Robert Walters:
Not too many places that grow 'em this big, but the St. Lawrence river is on the shortlist – that's where they plucked this monster!
According to the fancy weight calculators, she might be a 50+ pounder. 👀
There've been several mega-monsters caught recently – too many to fit in the newsletter. Make sure to check back next week for some can't-miss bruisers.
Camping on 'skies
Is running-and-gunning the best way to put muskies in the boat??
Was reading this In-Fish article from Matt Ahrenholtz on the topic and thought we'd share a few quotes:
"When fish are moving [active], there is an urge to want to cast every single spot on the lake at the same time. Most anglers tend to get the trolling motor humming, put on a bait they can cover water with and start pounding. What most are missing though is that when the fish are up and active, most spots that are holding a muskie will be holding multiple muskies."
We see it ALL the time in tournaments – the best anglers record and submit their fish as quickly as possible, then get their baits back in the water. Boating a couple muskies back-to-back isn't uncommon when the bite window is open and you're in a good area.
Speaking of tourneys, here's a quick story from Matt, showing just how powerful "camping" on a good area can be. He was fishin' a PMTT event in Iowa earlier this year with his buddy Shane Akin:
"A buddy had texted me at 8:45 a.m. to wish us good luck. We had already registered six fish and had a seventh, a low 30-incher, get through a hole in the net. All of those fish had come in a stretch of weeds about 100 yards long. We continued to pound that one small area all day. We ended up boating 12 muskies in that small area during the tournament hours of 6:30 a.m. to 3:30 p.m."
Here's a look at their graph after a full day of slimin' up the net: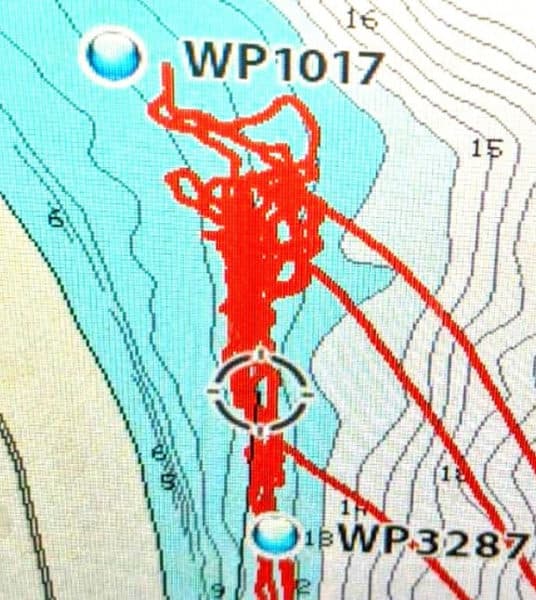 "We probably could have caught some fish in other areas of the lake as we knew of some other similar spots that fish had been using also. However, I believe our plan of not wasting time running from spot to spot is what ended up allowing us to boat as many fish as we did."
I guess we'll never know for sure, but regardless, things paid off BIG for Shane & Matt…. breaking PMTT records in the process.
How can you apply this to YOUR favorite musky waters?
QUICK HITTERS:
– Sight fishin' for jig eaters w/ Blue Ridge (video)
– Ottawa River fall musky action w/ Cast & Conquer (video)
– Fall river float fishing in northern WI w/ Angling Anarchy (video)
– Jordan Weeks on the Back Lash Podcast (link)
– Big fall musky on a Pounder (video)
– Public meeting on changing Butternut harvest regs (link)
This Week's Monster Muskies:
It's been tough knowing which fish to feature up top and which one's to save for the "Monster Muskies" section. There have been some serious hawgs hitting the net in recent weeks – love to see it!
This one from Paul Landwehr hit 57.25 inches long outta Green Bay. She came castin' light walleye gear just outside the mouth of the river, near the metro.
Check out the pattern on this Great Lakes porkbelly from Doug Warren. #CheetahStrain
How bout this long, lean cheese eatin' machine from Alex Halbrook out on the Bay!

This MN 'skie didn't miss ANY meals this fall. Congrats to Brandon Husak on taking this girthy Esox for a tour of the Ranger.

Wanna be featured on Musky Insider? Send in your recent trophy musky photos by replying to this email. You might just see your pic in next week's newsletter. 🤙