PMTT Championship Results
Category: Tournament
Sep 27th, 2023 by sworrall
Modified Sep 27th, 2023 at 12:24 PM
25th SEASON – CHAPIONSHIP – HOSTED BY LAKE CHIPPEWA FLOWAGE RESORT ASSOCIATION & TREELAND RESORTS –   CHIPPEWA FLOWAGE, WI.  SEPTEMBER 22ND –  24TH , 2023
The Professional Musky Tournament Trail brought their amazing 25th season to an exciting conclusion this past weekend. The Top 30 teams, determined by points earned competing in a series of challenging national qualifying events, gathered on Wisconsin's legendary musky waters of the Chippewa Flowage. These anglers came for what has become the single most prestigious event in all competitive musky angling…. The PMTT/RECON BOATS WORLD CHAMPIONSHIP!
The PMTT / RBWC is a unique, invitation only contest featuring an exciting 3-day format highlighting the top 30 teams. The first two days is an elimination event, where they must register a legal musky for the opportunity to move on to the third and final day. After that final day, the winning team would be taking home both the RBWC Title and a new 2024 Recon 2085T, with options, a trailer and powered by a 150hp Mercury outboard, with cash bonuses totaling almost $60,000.
A mix of all-weather from sunny skies, calm, windy, partly cloudy and rain were all seen during this championship tournament. The first morning started a bit slowly as fish were moving and though a few fish were hitting the nets, it wasn't until late morning that the action picked up. The bite stayed steady as the anglers registered 13 muskies up to 50" Day two and three were much better as steady wind, clouds, rain, and both air and water temps in the sixties, the anglers registered 37 more muskies up to 49.25"
1st Place – 7 muskies up to 49.25" – Ty Sennett of Hayward, WI & Tait Sennett from Princeville, IL, were dialed in throughout the tournament. After day 1, they were in second place with two muskies. On day 2, they doubled up with two more muskies and took a small lead into the final day. Then on day three, they doubled their score with three more muskies on the final day including big fish of 49.25". "We started out pre-fishing shallow with black bucktails and this pattern held up through the first two days of the tournament," stated Tait. With the steady rain all day and night the final two days, the Sennett's noticed the pattern changing going into the final day. "We found out quick on the last day that the muskies weren't shallow any more. So, we moved out to deep water and while still throwing the black bucktails, we popped 3 more muskies just off the structure", stated Ty. Those final three muskies pushed them over the finish line and earned them the 2023 PMTT/RECON BOATS WORLD CHAMPIONSHIP Title, the new 2024 Recon 2085T, trailer & 150hp Mercury Marine Outboard, and cash totaling almost $60,000.
2nd Place – 46.75" / 38.50" / 38.50" / 32" – Brian Houdek & Dan McCullough both from Lindstrom, MN were also in the weeds but throwing shallow with Beaver baits. "We found the weeds and were moving muskies, stated Houdek. "We caught them all as we would pause the bait close to the boat on the retrieve, stated McCullough. The four muskies were good enough to take home the 2nd place hardware.
3rd Place – 42", 41.25". 37.75" 34.25" – Clayton Spiess & Nick Amorose both from Eagle River, WI. worked a variety of baits over several different areas. The key to their success was to find the darkest water they could find and keep running and gunning from spot to spot. They registered four muskies up to 42" to seal the third-place finish.
4th Place – 45", 42.50", 40.50" – Duane Landmeier from Hinckley, IL. & Mark Rue from Glenview, IL, were working windblown and current areas with black bucktails. They put three muskies in the nets and took home a fourth-place finish.
5th Place – 41.50", 36", 34.25", 32.50" – Mark Lijewski of Minocqua, WI. & Nate Ruszkiewicz from Lisbon, WI.  were also working the shallow weeds with bucktails and a mix of other baits in natural colors. They targeted windblown areas and baitfish to connect on four muskies.
PMTT TOP GUN Team of the Year Award – By far, the most prestigious honor in all competitive musky angling and something that every Touring Pro strives to earn. Skill, dedication, passion… and more, those earning "TOP GUN" Honors are indeed a cut above and our 2023 Winners are certainly no exception.
2022 PMTT TOP GUN – Team of the Year Award
1st Place – 613 pts. – Gus Mantey & Max Mantey
2nd Place – 603 pts – Ty Sennett & Tait Sennett
3rd Place – 472 pts – Duane Landmeier & Mark Rue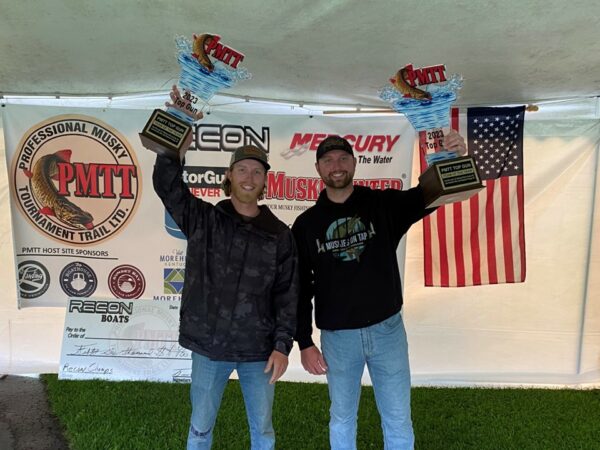 PMTT Tournament Director, Tim Widlacki, acknowledged the Trail's deep appreciation to our many outstanding sponsors for both their continuing support and the important part they have played and are playing now in our growth over the past 25 years as America's 1st and only, truly national, Professional Musky Circuit. Leading the way with new, challenging, and innovative formats on some of the country's top musky fishing destinations; Highlighting freshwater's most elusive and challenging fish and the fast-growing community of extreme adventure anglers who give her chase. Special thanks to World Championship event sponsor Recon Boats and to the Host Site Sponsors, Lake Chippewa Flowage Resort Association and Treeland Resorts. And to all of the trail sponsors, without whose help this memorable year would not have been possible: RECON BOATS, MERCURY MARINE, MUSKY HUNTER; LAKE CHIPPEWA FLOWAGE RESORT ASSOCIATION, MOTORGUIDE; LIEF LABS; MOREHEAD TOURISM; LIGWOOD, LLC. THE LANDING; THE BOAT HOUSE and our entire family of Contributing & Associate Sponsors. Please let them all know how much you appreciate what they do whenever you get the chance by returning their support when you can… they are a vital part of our growing PMTT Family
2023 RECON BOATS WORLD CHAMPIONSHIP FINAL HIGHLIGHTS;
50 TOTAL MUSKIES REGISTERED & RELEASED
DAY 1: 13 MUSKIES
DAY 2: 26 MUSKIES
DAY 3: 11 MUSKIES
MUSKY HUNTER – BIG FISH AWARD – 46.25" – Kevin Nash & Jarod Donar
TTAP BONUS BIG FISH – 50" – Gregg Thomas & Rick Hoover
TTAP BONUS TOP TEAM – Ty & Tait Sennett
RECON 1ST PLACE BONUS $1,000 – Ty & Tait Sennett