2022 Minnesota High School Muskie State Championship Results
Category: article
Aug 28th, 2022 by Keith Worrall
Modified Aug 28th, 2022 at 10:50 AM

2022 Minnesota High School Muskie State Championship Friday, August 12, 2022
The 2022 Minnesota High School Muskie State Championship was held on Lake Vermilion on Friday, August 12. Vermilion Dam Lodge (VDL) was again the headquarters for the event, providing location and services for boat launching and AIS inspections, morning rules meeting, awards ceremony, and catered lunch. In partnership with the Vermilion Lake Association, we required all boats to undergo an AIS inspection prior to their initial launch on the lake. All boat captains complied, and we thank them for their cooperation.
The number of participants this year was 31 student anglers plus their adult boat captains (16teams total). Student anglers qualified for the state championship via their local Muskies Inc. chapter qualifier event or the Minnesota Youth Muskie Tournament Trail (MYMTT). Fishing hours were 6:30 AM to 2:30 PM and the entire lake was open for competition. This year we again used FishDonkey, a mobile application, to record and verify all fish catches. LakeVermilion produced excellent results this year with students logging 5 muskies and 10 northern pike during the event. The 5 caught muskies is the most we've observed in many years for the tournament. The largest muskie caught was 50 inches, while the largest pike was 31 inches. Conversations with participants indicated that several other 50-inch-class fish were hooked (or nearly so), but never made it to the net.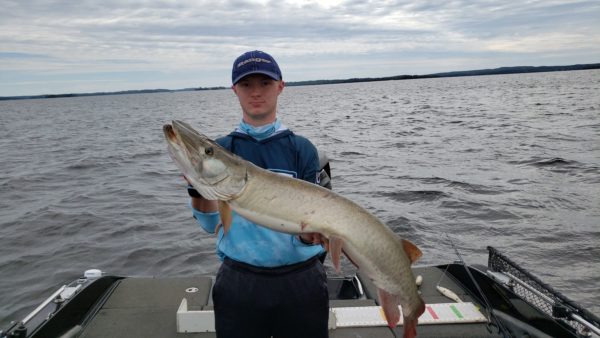 Teams returned to Vermilion Dam Lodge by 2:45 for the prizes, awards distribution, and catered lunch. We also handed out free shirts to all students and boat captains. All student anglers took home a Plano box filled with muskie lures and Thorne Bros gift card. Keeping with tradition, we were able to do a group picture at VDL.The state champions for 2022 are the team of Elli Borovsky and Carter Graff. This year's state championship was dedicated to the memory of Jeff Young (1971-2021). In so doing, Wade's Custom Tackle made a custom batch of Wade's Wobblers, which was Jeff's favorite lure. Carrie Hoppe from Musky Mayhem Tackle applied custom lettering to each lure with Jeff's favorite motto: "Get Your Net Wet". Each boat/team received one of the Wade's Wobblers.
Tournament Results: (place: team, points, logged fish)
1. Elli Borovsky/Carter Graff, 23 points, 50" muskie
a. Elli and Carter earned plaques and Okuma rods
2. Charles Weiss/Erik Panyan, 15 points, 44" muskie
a. Charles and Erik earned plaques and Thorne Bros gift cards
3. Cole Nelson/Drew Nelson, 13.25 points, 40.25" muskie + 31" pike + 25" pike
a. Cole and Drew earned plaques and lures
4. Aiden Johnson/Emmett Johnson, 10.5 points, 39.5" muskie
5. Landen Brill/Grayson Schmidt, 9.75 points, 38.75" muskie
6. Thomas Diemer, 1.5 points, 30.5" pike + 28" pike
7. Kaden Malecha/Karson Malecha, 1 point, 30" pike + 29.5" pike
8. Tayte Lecy/Luke Barrow, 0 points, 29.25" pike
9. Katelynn Charlton/Kyle Myers, 0 points, 25.25" pike + 18" pike
10. Zachary Olmanson/Ryder Charno, 0 points, 21.5" pike
11. 6 other teams fished but were unable to land any muskie or northern pike
Winners of random draws:
• Jackson Helmberger – Daiwa Lexa-WN 400H musky reel
• Zachary Olmanson – Chaos Assault Stick 9′ musky rod
• Ryan Doble – Musky Insider free class
• Brady Bilbrey – Musky Insider free class
• Charles Weiss – Musky Insider free class
• Isaiah Chrissis – Musky Insider free class
• Aiden Johnson – Musky Insider free class
• Mason Stoffel – Sunset Glow Guide Service half-day guided fishing trip Tournament officials thank our supporters which enabled this event to occur. Without their contributions, the students would not have this opportunity to learn and grow the sport of Muskie fishing.
• Hugh C. Becker Grant Committee of the Twin Cities Chapter of Muskies, Inc. for awarding grant money to the tournament organizers• Youth Heritage Outdoors for organizing the tournament
• Minnesota Muskies Inc. chapters for their continued support of the high school muskie championship and commitment to getting more youth involved in the sport
• Vermilion Dam Lodge for hosting the event and catering the lunches for students & boat captains
• Thorne Bros. for providing discounted gift cards
• Musky Mayhem Tackle for product donations
• Twin Cities Chapter of Muskies, Inc. for product donations
• Muskego Point Resort for product donations
• Wade's Custom Tackle for product donations
• Sunset Glow Guide Service for guided fishing trip donation
• J3 Tackle for product donations
• Tackle Industries for product donations and discounts
• Musky Insider for virtual class donations
• Kramer Bros Tackle for product donations
• Hook Look Lures for product discounts
• TNA Tackle for product donations
Pictures of the event can be viewed at https://photos.app.goo.gl/TrQn3JaCWE6YPiA56
Contact:
Dave Schueck
President, Youth Heritage Outdoors
Tournament Director, Minnesota State High School Muskie Championship and Minnesota Youth
Muskie Tournament Trail
612-770-0495
[email protected]
https://www.facebook.com/MNHighSchoolMuskie