2020 Women Ice Angler Project Heads Back To Lake Of The Woods
Category: article
Dec 12th, 2020 by Keith Worrall
Modified Dec 16th, 2020 at 6:56 PM
Team leader Barb Carey with the Women Ice Angler Project has picked Lake Of The Woods for this years ice event. Tip videos, articles, photos, and more can be seen on the Women On Ice Facebook page as well as on the IceFishingFirst Facebook page. The event is being held out of River Bend Resort.
Time To Hit The Ice 2020 Ice Season Here We Come!
Spending some time on the ice is the perfect way to social distance with friends and family. Clam Outdoors pros Rikki Nicole, Shelly Holland Barb Carey and Bonnie Timm 
Day one scouting trip was a success
New for this years WIAP, Makayla Jacobs with a walleye caught on day 1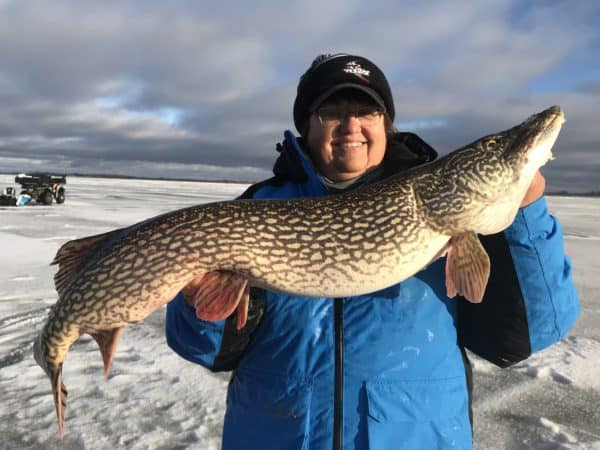 Big fish Bonnie with a dandy pike caught on a small jig and plastics. Just a smidge under 40 inches.
Shantel Wittstruck and Bonnie Timm with a quick pic before releasing this hog back to the depths. Check Out The Video below…

Live facebook feed from lunch time with the crew. Grilled cheese sandwiches cooked over the Mister Heaters

Rikki Nicole, walleye kiss, then the release!
Shelly Holland sticks a nice one in her new Dave Genz series Fish Trap Scout ice shack by Clam Outdoors!
Big mid day pike with Rikki!
Rikki walks us through the one person shelters being used by the pros at this years event
Bonnie with another pike caught on her jigging stick in 11′ of water.
OutdoorsFIRST Media's Keith Worrall AKA "The Camera Guy" enjoying a tight line in between covering the event. Quick pic and back in the puddle with this one.
May the Force be with you! Barb Carey ready for take off…
Walleye's topside thanks to the Vexilar
Shantel with one for the bucket for Saturday nights fish fry!
We're here on the ice with an amazing sweepstakes package, Sponsored by QuickSurvive. Enter for a chance to win over $750 of gear. https://50campfires.com/the-fire-and-ice-sweepstakes/
Jigging techniques with Shantel and Rikki
Georgia Johnson working up some walleyes!
High Five with Georgia and Shantel
Feel safe at River Bend Resort at Lake of the Woods!
Take the family to River Bend's Resort to unwind safely during this crazy time. Check out what Paul and his crew are doing to keep every guest safe during their stay, so they can focus on fishing while on their Lake of the Woods vacation. 👏🏼👏🏼👏🏼
A 123 book for the outdoor-loving family!
Team member Jenny Anderson, aka the Girl of 10,000 Lakes, wrote THE most adorable children's book! Teach your child to count, while also teaching them ice fishing terminology and fish species! Best part is, the story is about MOM taking her child fishing. We absolutely love this book!! 💞 If you order now, you can still get it before Christmas!
That's a wrap!
That's a wrap! Thank you to all of our sponsors, team members, and media crew for making year 7 of the Women Ice Angler Project a huge success!