Crappie Masters – Reller And Creech Ride The Wind To A Win On Washington
Category: fishing reports
Mar 15th, 2019 by Keith Worrall 545
Modified Mar 15th, 2019 at 5:49 PM
Reller And Creech Ride The Wind To A Win On Washington
With high water levels and devastating flooding in the southern part of the United States, Greenville, Mississippi received and suffered their share as well, but that didn't deter 75 teams from around the country in taking their opportunity to catch fat, pre-spawn slabs Saturday, March 9th. The Crappie Masters, sponsored by The Renewable Fuels Association, "Ethanol Fueled With Pride", American Ethanol, and Bass Pro Shops National Qualifier and First Leg of the Mississippi State Championship on Lake Washington and hosted by the Washington County Convention and Visitors Bureau. Originally scheduled to include Lakes Lee, Ferguson, Whittington, and Paradise, which always provides drama, choices, and strategy for Anglers, was reduced to Lake Washington only as officials deemed all lakes that had direct access to the Mississippi River, closed to boats and fishing because of safety issues. Tournament week still found high, muddy water on Lake Washington however participants did report catching quality fish just not in large numbers as was noted out on tournament day with only 9 of the 75 teams managing to bring a 7 fish limit to the scale led by eventual champions Kevin Reller and Brian Creech who topped the field battling high winds and expected strong thunderstorms, weighing 7 solid Lake Washington slabs that settled in at 13.96 pounds.
Reller and Creech chose to stay on the south end of Lake Washington in the wind that generally a sustained at 20 to 25 mph throughout the tournament hours. The team stated the bite was on then off for hours at a time with the team almost moving to other locations but chose to stay with their original location and were rewarded handsomely culling some smaller fish in the last hour of fishing vaulting them to the winners circle. Reller and Creech stated they could stay around their fish with their Minn Kota Trolling Motor but the biggest key for them was using Power Poles with Drift Paddles, which allowed them to spider rig at .05 miles per hour, which was their key to victory. The team identified better fish in 5 to 7 feet of water, catching them suspended 3 to 5 foot deep on brown and orange Muddy Water baits. Along with the $4,000.00 for the win, Reller and Creech also collected an additional $250.00 Missouri Corn Growers Association/American Ethanol bonus for using E10 fuel in their boat and the $100.00 Jenko bonus for using a Jenko net while winning the tournament and leading the race for the 2019 Crappie Masters Mississippi State Championship.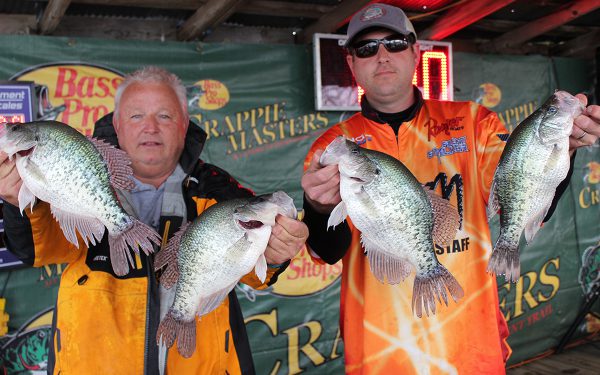 The runner up position was filled by a team that is always tough on the Mississippi Lakes with loads of knowledge, John Harrison and Jeremy Aldridge who wound up weighing 7 fish settling on the scale at 13.89 pounds and taking home a check for $2,000.00. Harrison and Aldridge stayed in the mid lake area relying on their Humminbird and Minn Kota Trolling Motor to find and stay on the fish along with staying out of the direct wind. Harrison and Aldridge spider rigged B'n'M Poles, Pro-built Jigs, and orange and chartreuse Bobby Garland Minnow Mind'R in 10 to 11 foot of water with their bite best around 4 feet deep. John Harrison and Jeremy Aldridge are sponsored by B'n'M Poles, Bobby Garland Baits, ProBuilt Jigs, and War Eagle Boats.
Past winners Paul and Elizabeth Turner who brought 7 fish weighing 13.56 pounds to the scale winning $1,500.00 occupied the third place position. Paul said his pre-fishing was unproductive finding big females spawning but did locate large males. The night prior to Championship Saturday stayed warm so Turner decided to stay shallow in hopes some large females had moved up. A few did which allowed him to bring in the third place weight. Turner did say as he moved shallow with his Minn Kota Trolling Motor he shut off his Humminbird Electronics hoping not to spook the fish which he spider rigged B'n'M Poles in only in 1 1/2 to 2 foot of water catching his fish using black and chartreuse Strike King Jokers just 6 inches deep. Paul and Elizabeth Turner are sponsored by B'n'M Poles, Strike King Lure Company, War Eagle Boats, Crappieholic, and turnerfishing.com.
The team of Eddie Truhitt and Jesse Belk took home $1,350.00 for their fourth place finish weighing in a 7 fish limit at 13.03 pounds.
Rounding out the top five was the team of Bill Burnett and 8 time National Champion Steve Coleman, long time friends fishing together for the first time and taking home $1,050.00 weighing in 12.51 pounds on 7 fish the same as the team of Matt Thomas and Jacob Thomason who also weighed 12.51 pounds on 7 fish tying Burnett and Coleman.
Big Fish of the tournament was a big 2.55 pounder weighed in by the Indiana team of Doug Laake and Ryan Rohl who parlayed that 2.55 pounder into a check for $1,050.00.
Second big fish of the tournament honors went to the team of Les Smith and Andy Stephens who took home $450.00 for their 2.53 pounder.
Top Male/Female honors went to the team of Casey Rayner and Savannah McManus who walked away with a new Humminbird Helix 5.
The top Adult/Youth award of a $100.00 Everharts Outdoor Store Gift Card went The Missouri father and son team of T.J. and Alex Palmer.
Click HERE to download full tournament results.
Crappie Masters would like to thank the Washington County Convention and Visitors Bureau, and Mike Jones for their continued support making this one of the top tournaments of the year.
Special thanks to local sponsors that include: Greenville/Washington County Mississippi Tourism and Visitors Bureau, Greenville Inn & Suites, Southern Stars RV Park and Cabins, Bait N Thangs Bait Shop, Pecan Grove RV Park, Roy's Store/Cabins/RV Park/Campground, South Shore Cottages, Days Inn, Trop Casino, CCA Properties, Wdms 100.7, Cajun Shotgun House & BBQ, Sherman's Restaurant, Garfield's Restaurant & Pub, Cicero's Restaurant.
Special thanks to our National Sponsors that include: Renewable Fuels Association, American Ethanol, Bass Pro Shops, Missouri Corn Growers Association, Humminbird, Minn Kota, Ozark Rods, Mercury Motors, Power-Pole, Millennium Marine, Muddy Water Baits, Jenko Fishing, Wyld Gear Coolers, Everharts Outdoor Store, HH Rods and Reels, Off Shore Tackle, Navionics, B'n'M Poles, Bobby Garland Crappie Baits, Midsouth Tackle, American Angler, Crappieholic, Frontier Metal, Valley Fashions, Crappie Now, Slider, Lake Fork Trophy Lures, The Original Rod Sox, Marine Metal Products, Timmy Tom's Jig Company, Crappie.com, Ardent, Fish-D-Funk, Skipper's Jigs, Foxy Fishing Gear, ProBuilt Jigs, Sure Life, Pautzke Bait Company, Mossback Fish Habitat, Freaky Frank's Custom Tackle, Fish N Tools, Quickfire, Monster Crappie Media and Huffman Publishing, and KMMO Brad & Brian in the Outdoors.