The Next Phase of Finesse
Category: article
Jul 14th, 2022 by Keith Worrall
Modified Jul 14th, 2022 at 5:01 PM
Z-Man® Micro Finesse™ System conveys unmatched action, durability and fish-catching performance
Ladson, SC (July 14, 2022) – "When you build baits with ElaZtech," suggests Jolee Myers, Operations Manager for Z-Man Fishing, "it unlocks a whole other horizon of bait shapes, sizes and performance. That's just some of the sorcery behind Z-Man's Micro Finesse system—an emerging series of super soft, vibrant, fish catching baits created with 10X Tough ElaZtech®."
Beginning three years ago, Z-Man undertook the challenge of crafting five micro-sized bait profiles, each tailored to fish seamlessly with a namesake Micro Finesse ShroomZ™ jighead.
"This spring, we tied on a single Micro Finesse bait prototype and proceeded to catch over 100 fish and at least 10 different species," notes Myers. "That same bait is still tied up and going strong today."
Pioneering the development and formulation of thermoplastic softbaits, Z-Man's ElaZtech remains the only 'superplastic' fishing lures manufactured in the USA. "By maintaining our US based operations, we're able to control and perfect every aspect of bait making. Without our on-site, hands-on attention to details, we couldn't create such specific, tiny bait profiles, including fine-tuned anatomy and swimming actions. Micro Finesse is going to make a lot of anglers happy."
Among the details, Myers says ElaZtech allowed Z-Man to create Micro Finesse baits with nearly paper-thin yet super-resilient segments and appendages. "ElaZtech is a different animal than traditional PVC plastics," he explains. "The material exhibits some wonderful, even astonishing attributes. Combine the softness of small-batch hand-poured plastics with a durability that doesn't seem possible. But it is. And the combination of those two elements alone gives anglers some truly unique advantages. Now, consider ElaZtech's non-toxic nature and its natural buoyancy and you've got a material that can potentially re-write the book of micro soft plastics altogether."
Whether your fishing goals include the need to simply catch assembly line numbers of crappies or panfish or you're attempting to trick a crazy-selective bass, Micro Finesse offers an answer. When you want a bait that moves fluidly and naturally underwater—all without worries of tearing or being nipped in half—Z-Man Micro Finesse baits are here to help.
Friends, anglers and Z-Man fans worldwide, meet the new Micro Finesse System:

Micro TRD™ – Sized to be effortlessly inhaled by every gamefish that swims, the 1.75-inch Micro TRD features the classic TRD stickbait profile on an even subtler scale. Lacking salt, the naturally buoyant Micro TRD is free to perform its underwater dance to perfection. Let the Micro TRD-jig combo sink to bottom and benefit from the bait's lively upward tail pivot. While there's no wrong way to fish this little nugget, its alluring wiggle and tail-up posture means the bait nearly fishes itself, even at rest. Ten colors include several exclusive TRD patterns such as Electric Chicken, Bumblebee and Glow Chartreuse. MSRP $4.99 per 8-pack.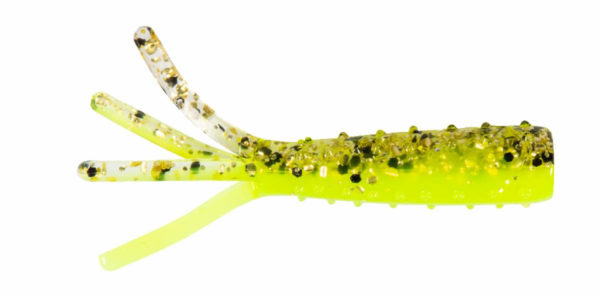 Tiny TicklerZ™ – A 1.75-inch rendition of the established fish-catching TRD TicklerZ™, the Tiny TicklerZ exhibits tireless tentacle-quaking action when paired with a Micro Finesse ShroomZ jighead. Astonishing durability, softness and buoyancy combine to create perhaps the most versatile—and valuable—of all Micro Finesse baits. No more nipped tails nor the hassles of nuisance fish. Offered in ten colors, including Firetreuse, Pink Glow and Bumblebee.

StingerZ™ – An exclusive Z-Man profile, the 2-inch StingerZ features a broad, easy-to-rig shad profile. A unique alternating-segmented tail terminates with a bulbous stinger for max tail-wag action in every direction. A strategic dorsal hook-slot assures aligned rigging with a Micro Finesse ShroomZ jighead. The StingerZ excels when cast and twitched or stationed beneath a bobber, tail perpetually "up" and in motion. The StingerZ' buoyancy and durability also make the bait ideal for the popular dock-shooting technique. Ten colors include popular crappie and panfish patterns.


LarvaZ™ – Creepy, crawly and always in motion, the 1.75" LarvaZ mimics the tantalizing micro-invertebrates that populate every lake in the world—dragon and damselfly nymphs, dobsonfly larva, mayfly larva, tiny crustaceans, etc. Sprouting bulbous eyes, wispy-thin legs and a segmented stinger tail, the LarvaZ kicks and undulates tirelessly. Made to match a #6 Micro Finesse ShroomZ jighead, the LarvaZ excels below a bobber/float or jigged, crawled or hopped along the bottom. The highly detailed invertebrate imitation offers selective panfish and trout a familiar meal. 10X Tough ElaZtech provides natural buoyancy, maximizing tail movement and underwater loft. Eight colors include popular panfish and trout patterns.

Shad FryZ™ – A high-performance 1.75-inch micro swimbait, the Shad FryZ mimics the thin, deep bodied anatomy of baby shad, crappies and panfish—among the most important yet overlooked of all gamefish forage. The Shad FryZ' accentuated eyes and thin-bodied profile transition toward a super-fine, segmented posterior and special swimming tail. Its soft ElaZtech composition yields subtle swimming motions at almost any retrieve speed, including on the fall. Dorsal hook-slot eases rigging with a Micro Finesse ShroomZ jighead. 10X Tough ElaZtech resists tail bite offs for the highest fish-per-bait ratio among downsized swimbaits. Ten colors include popular crappie and panfish patterns.

Micro Finesse ShroomZ™ Jigheads – Sculpted in the classic Z-Man mushroom configuration, miniature multispecies jigheads are tailored to match all Micro Finesse series baits. Custom fine-wire needlepoint hooks enable easy hooksets. A welded wire keeper pins Micro Finesse baits securely in place. Offered in red, chartreuse, black and glow/white finishes, in 1/30-oz(#6), 1/20-oz(#6), 1/15-oz(#4) and 1/10-oz(#4) weight (hook sizes).
Imagine reaping all the rewards of your favorite finesse bait or Ned rig on entirely new scales of awesome. Experience Z-Man's Micro Finesse system firsthand at ICAST's On the Water event— Tuesday, July 19. Or see us at ICAST booth #5130 for a first look at this category defining series of soft, durable, ever-lively panfish baits. MSRP for all Finesse Baits is $4.99 per 8-pack; MSRP for Micro Finesse ShroomZ is $4.99 per 5-pack. Z-Man Micro Finesse baits and Micro Finesse ShroomZ jigheads will be available beginning in August.