Millennium Marine Shadetree Umbrella and Holder
Category: article
Jun 3rd, 2020 by Keith Worrall
Modified Jun 3rd, 2020 at 12:01 PM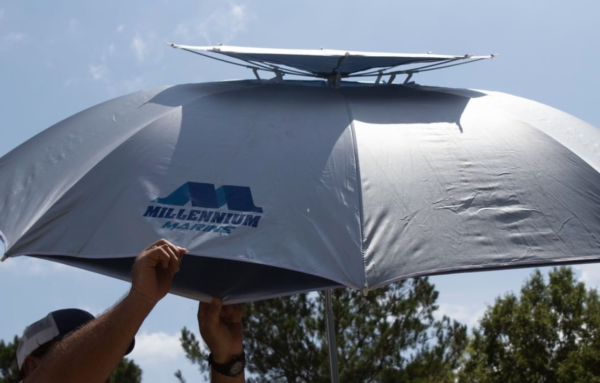 Pearl, MS (June 3, 2020) – Long, hot days on the open deck of a boat can be brutal under a relentlessly hot sun. To stay cool and comfortable as well as protected from damaging UV rays, people need shade. That means a top-quality umbrella-like Millennium Marine's Shade Tree Umbrella. But where do they put it so it stays solidly in place and functioning as it should? The answer is simple – the Shade Tree Umbrella Holder.
Made of aluminum, stainless steel and composite construction with a special coating to reflect heat, the lightweight Shadetree Umbrella keeps cooler than conventional umbrellas and provides a double layer of UV protection. It features an easily moveable top that tilts to help achieve the ideal angle of coverage, whether enjoying the day on land or out on the water. The heavy-duty stow and carry bag keeps the umbrella protected and easy to move. The convenient vent can be opened on top to let hot air out and can be closed to keep out the rain.
The Shadetree Umbrella Holder solidly attaches to the seat post under the seat. It's made from heavy-duty, anodized aluminum, so it's great for both fresh and saltwater use. It's easy to install and fits all standard boat seat posts. It swivels 360 degrees for maximum protection and contains an interior bearing, so it will not mar or damage the post. A simple locking mechanism quickly locks the umbrella in place, and there's also a simple and easy-to-use telescoping adjustment. Bonus: it can also be used as a net holder. It fits the Millennium Side Kick Double Fishing Seat (Side Kick and seats sold separately) and accommodates 5/8″ to 1 3/8″ shaft diameters.
With the U570 Shadetree Umbrella and Umbrella Holder, anglers and boaters can achieve ultimate comfort and proper protection to ensure a fun, long day out on the water or the shore. MSRP for the Shadetree Umbrella is $109.99, while the MSRP for the Shadetree Umbrella Holder is $52.45. Both products come with a one-year warranty. More information on these, and other high-quality Millennium Marine products, can be found at www.millenniummarine.com.
SHADETREE UMBRELLA FEATURES
 Top tilts
Light weight, aluminum, stainless steel and composite construction
Height adjustable
Heavy-duty stow and carry bag
Special coating to reflect heat
Vent can be opened on top to let hot air out and can be closed to keep out the rain
Keeps cooler than conventional umbrellas
Double layer of UV protection
One-year warranty
SHADETREE UMBRELLA SPECIFICATIONS
 Height: 47.5″
Width: 6″
Depth: 5″
Gross Weight: 7.04 lbs.
Net Weight: 5.5 lbs.
MSRP: $109.99
SHADETREE UMBRELLA HOLDER FEATURES
 Attaches to seat post under the seat
Constructed of heavy duty, anodized aluminum
Easy installation, fits all standard boat seat posts
Swivels 360 degrees for maximum protection
Simple locking mechanism locks umbrella in place
Contains interior bearing, will not mar or damage post
Easy, quick telescoping adjustment
Can also be used as a net holder
Fits Millennium Side Kick Double Fishing Seat (Side Kick and seats sold separately)
Accommodates 5/8″ to 1 3/8″ shaft diameters
One-year warranty
SHADETREE UMBRELLA HOLDER SPECIFICATIONS
 Material: Anodized Aluminum
Size: 16″ L x 7″ W x 2.5″ H
MSRP: $52.45