H2H Fishing Mayan Wins Bago Bass Bash Challenge
Category: Tournament
Apr 25th, 2020 by Keith Worrall 24
Modified Apr 25th, 2020 at 10:54 AM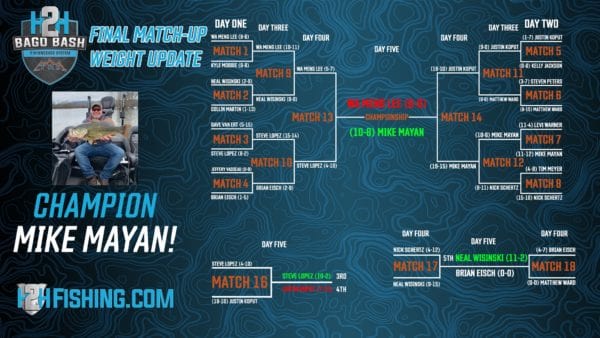 Head2Head Fishing
· 21 hrs ·
⚠️CHAMPIONSHIP MATCH BRACKET UPDATE⚠️
CONGRATULATIONS to Mike Mayan (10-8)! Mike took the Championship Win today for a cash prize of $5000 and ultimate bragging rights as the winner of our first 2020 Bass Event!
Anglers Wa Meng Lee (6-0) (2nd Place), Steve Lopez (10-2) (3rd Place), Justin Koput (7-13) (4th Place), and Neal Wisinski (11-2) (5th Place) will also take home a cut of the pot!
Tune in next week at 8am CST Monday through Friday for Marbleye Madness on the Lower Bay of Green Bay! We'll be live with 16 more anglers, chasing big walleyes for big payouts! Watch on Facebook, Youtube, and H2HFishing.com!
H2H Fishing 'Bago Bash Bass Challenge CHAMPIONSHIP MATCH – Presented By The Reel Shot – Live Bass Fishing!
We're LIVE! from the water on the Winnebago system right here in our back yard! Wisconsin's #1 fishing series is excited to bring you the final day of the Bago Bash Bass Challenge!