Thrift Still in The Lead on Champlain
Category: article
Jul 19th, 2019 by Keith Worrall
Modified Jul 19th, 2019 at 4:36 PM
Thrift Still Ahead on Champlain
July 19, 2019 by Jody White
Day two of the Costa FLW Series Northern Division event on Champlain featured a bunch of wind and a lot of turnover on the leaderboard. Though he struggled to replicate his massive day-one success, Bryan Thrift still managed 16 pounds, 6 ounces for a 38-12 total to retain the lead. Behind him, Scott Dobson rose from ninth to second with a robust bag of smallmouths worth 18-10 for a 37-14 total. The Northern Division is presented by Gajo Baits, and the tournament is presented by Polaris.
Complete results
Thrift's day-one pattern
Thrift mashed on the northern largemouth on day one, but he weighed a mixed bag in on day two.
"Today was windy," says Thrift. "The way it started out, I thought it was going to be pretty good – my first bite was a 4-4 smallmouth, and I caught a limit of smallmouths pretty quick, in about an hour or so. But, they were all little, like 2-pounders.
"I feel like I got fortunate – I got that one good smallmouth and a 4-pound largemouth. But, it was a grind – not as many bites and I couldn't feel the bait," says the Shelby, N.C., pro. "I was still throwing that Texas-rigged Damiki Stinger, and half of them I'd catch would have the hook swallowed because I had no idea they bit it."
Thrift says he only fished two places because of the wind today. If the wind will let him, he's got some plans he'd like to put into action.
"Maybe the wind will lay down tomorrow and I can run around," says Thrift. "I have three or four places I'd like to fish that I haven't fished yet. I don't think I can catch another giant bag, but I'd like the wind to lay down enough to where I could try."
If it does lay down, the rest of the pros will need to keep the pedal down. Though Thrift's lead is only ounces, there's a good chance today was about as bad as he could do.
Top 10 Pros
1. Bryan Thrift – Shelby, N.C. – 38-12 (10)
2. Scott Dobson – Clarkston, Mich. – 37-14 (10)
3. Edward Levin – Westerville, Ohio – 37-6 (10)
4. Brandt Tumberg – Moore, S.C. – 37-3 (10)
5. Jason Bacon – Nutting Lake, Mass. – 36-5 (10)
6. Joseph (Joe) Wood – Westport, Mass. – 35-12 (10)
7. Kurt Mitchell – Milford, Del. – 35-11 (10)
8. Ron Nelson – Berrien Springs, Mich. – 35-6 (10)
9. Wayne Vaughan – Chester, Va. – 35-3 (10)
10. Casey Smith – Macedon, N.Y. – 35-2 (10)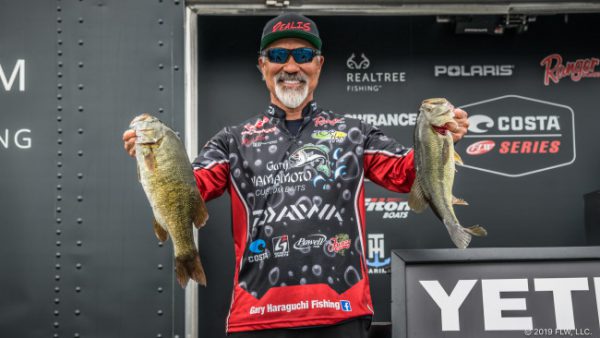 McKee, Haraguchi tied by weight
Though Henry McKee is technically in the lead by the tiebreaker, both he and Gary Haraguchi have weighed 31 pounds, 6 ounces through two days of competition at Champlain. Hailing from Haddon Heights, N.J., McKee has plenty of experience on Champlain and has been dialed with a drop-shot for the smallies so far. Right with him, Haraguchi is one of the most decorated co-anglers in recent years and a wizard with just about anything in his hands.
Suffice to say, the battle for the co-angler title on Saturday should be a good one.