The Magic Mushroom
Category: article
Nov 17th, 2020 by Keith Worrall
Modified Nov 17th, 2020 at 8:13 AM
The Magic Mushroom
Z-Man® unveils all-terrain TT Lures® NedlockZ™ EWG Jighead
Ladson, SC (November 16, 2020) – Sometimes, getting bit means taking your Ned Rig for a walk in the woods. A traditional exposed-hook mushroom jig excels where little to no cover carpets the lake floor. Yet it's often in those underwater jungles—grass, brush, rock and boat docks—where bass like to live and lash out at unsuspecting prey. To traverse snag-filled terrain in style, Z-Man designed the definitive weedless Ned Rig tool, the NedlockZ™ EWG Jighead.
"The NedlockZ EWG Jighead goes where regular Ned Rigs can't," declares Z-Man pro angler, Brian Latimer, known to friends and fans as, B-Lat. "Anglers are always asking me how to fish a Ned Rig in heavy cover. Now I can tell them, Z-Man's got just the jig for you."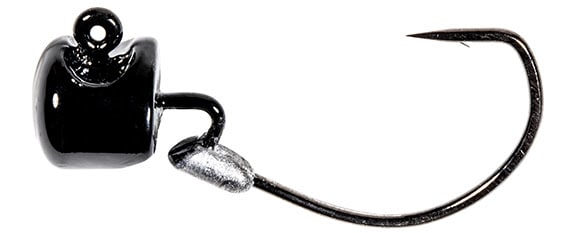 Z-Man NedlockZ EWG Jighead
Combining a magic-mushroom-shaped NedlockZ jighead and a custom, heavy-duty size 1 VMC extra wide gap EWG hook, the NedlockZ EWG offers easy weedless or "Texposed" style rigging. Custom-forged to match all the best finesse baits, the special EWG hook features a molded keeper barb to lock the bait tight to jighead—superglue optional—even after hard casts or missed hooksets. The hook's size has also been tailored to accentuate and max out the action of small softbaits, such as the Finesse TRD™ or B-Lat's favorite Hula StickZ™.
"The NedlockZ EWG is a dream for anglers who struggle getting their bait rigged perfectly straight on a traditional mushroom jig," explains B-Lat. "Stick the hook through the head of the bait and right back out. Spin the bait 180 and plant the hook back into its body. Snap!
"If you're using ElaZtech® baits, there's no need to Texpose rig or push the hookpoint all the way through the plastic," he notes. "ElaZtech is so soft that I simply hide the hookpoint in classic Texas rig style. Makes the whole package super, super weedless around vegetation. And when a bass strikes, that sharp EWG hook slides right through the soft material and bites the bass' lip."
B-Lat calls out another influential jighead feature. "Instead of just giving us a standard mushroom jighead, Z-Man went above and beyond with this design. The jig's eyelet is recessed into the head, which safeguards your knot, especially around rock and other sharp cover. This configuration also makes it slide through grass and brush without grabbing hold.
"And again, it's quick and easy to rig your favorite finesse bait arrow-straight on this hook. That's huge. The hook is aligned with the eye and the whole package is designed so precisely that it moves through the water and slides through cover in a super clean, streamlined fashion. When you throw it, it looks and feels right on the money."
The NedlockZ EWG makes it easy to rig all finesse baits straight as an arrow.
While B-Lat primarily casts the NedlockZ EWG for bass around scattered grass or the edges of lily pads, he also says it shines around rock and shell beds for inshore redfish. "I like to throw the jig on spinning tackle with braid and a mono leader. But the heavy-duty hook means you can just as easily pitch one of the heavier 1/5- or 1/6-ounce sizes on baitcasting tackle and 20-pound fluorocarbon.
"My buddy Ned Kehde taught me to mix it up and go with a bright chartreuse jighead, at times, which can really light up your presentation when bass are feeding visually.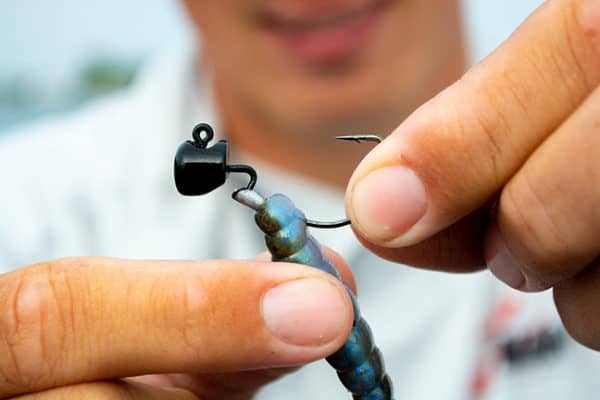 A strategically placed keeper barb locks ElaZtech and other softbaits securely in place.
"Up 'til now, no one's really dared to throw a Ned Rig into heavier cover. The NedlockZ EWG is here to change that; to completely open up our finesse fishing options. Can't wait to find out what happens when Ned meets the veg."
Available at outdoor retailers in mid-November, the ultra-premium NedlockZ EWG features the same weights (1/5-, 1/6-, 1/10-, 1/15-ounce) and colors (green pumpkin, black, chartreuse) as the original NedlockZ Jighead. MSRP $6.99 per 4-pack.For more information, visit www.zmanfishing.com.
Radical weedless jighead designs now give anglers the freedom to fish a Ned Rig in heavier cover.