The Alabama River was low but the weights were still high
Category: article
Jun 23rd, 2020 by Keith Worrall
Modified Jun 23rd, 2020 at 11:24 AM

The Alabama River was low but the weights were still high.
By Jason Duran
Prattville AL- It was a much different Alabama River when the Alabama Bass Trail South Division began to check in for blast off on Saturday. Overnight the water levels dropped significantly… almost 4 feet. The dock talk was apparent as anglers were overheard saying, "well, this sure changes our game plan." When all the fish were weighed, it was the team of Chris Landers and Brad Pitts that put together a surprising 18.24 pounds and took home the $10,000 check.
Brad said he wasn't surprised by the water level changes as he has "seen it this way before and thought the fishing would be really tough." He "thought they did really well with what the lake gave them." The water was really stained and low. Chris said "they spent most of their day fishing creek channel swings down river using slow moving baits." The key for them was finding points that had a few stumps on them. Brad said "it was the kind of stuff you never really knew was there until you fished it." They both said they were surprised with their catch of 18 pounds after seeing how low the water had dropped. The team spent the day fishing jigs. The key baits for them were a couple different jigs: ½ oz Davis Baits white swim jig with a Zoom white Split Tail trailer dipped in pink, Davis baits ball head black and blue jig with a green pumpkin and blue Zoom Speed Craw trailer, a Davis Baits football head green pumpkin green ½ oz with a Zoom green pumpkin Speed Craw and a NetBait 10 inch Red Bug strait tail worm with a Spot Remover ½ oz shaky head.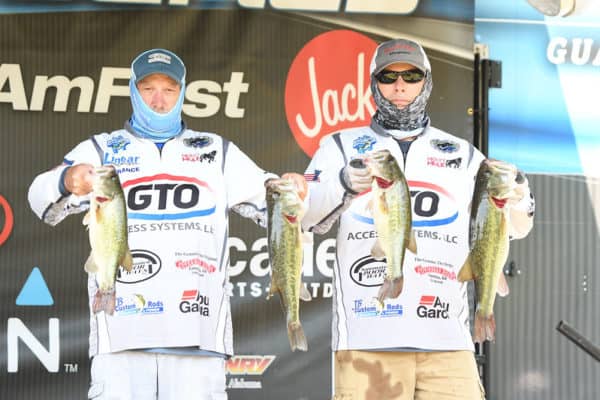 The second place team of Jimmy Wood and Ken Jones made a 20 minute run south to a back water pond. Jimmy described their team as "shallow water fishermen, but when they saw the change in water, they were almost ready to pull the plug on it. That thought quickly changed when they started catching fish. In recent weeks, they fished this area, however, where they were catching fish before was now dry land. They began to fish around looking for where the fish could have moved and targeted an area with the deepest water in it. Ken said it "was about a foot of water with some stumps. The trolling motor muddied the water even more and maybe that made the fish want to stay in there." They had a limit at 7:30 and continued to catch fish all day in that area. They caught two fish quick on a Spro Frog in Killer Gill on 60 LB PowerPro Braid and spent the rest of the day using a Reaction Innovations Man Bear Pig Texas Rigged.
Brian Adamson and Ryan Lloyd, boat number 15, made the long run south almost to the dam. The team found an area in practice with lots of mayflies and overhanging limbs in the grass. Like many other teams, they found their practice area unfishable, but they, too, decided to stick with the area and try to find the fish. They made quick work of locating the fish catching 16 pounds within the first hour. The main bait for them was a SPRO Frog in a brim color. Ryan said, "the low water really made it easier to pinpoint the fish." They ended up locating most of their fish in shallow water around stumps and felt like the fish were really holding tight to the wood.
The top ten standings are below, and for a full list of results visit: https://www.alabamabasstrail.org/tournament-series/ar-results/
Download and listen to the ABT Podcast on your favorite Podcast app by searching for "Alabama Bass Trail Podcast." The Podcast is released each week on Tuesday.
The sponsors of the 2020 Alabama Bass Trail include; Phoenix Bass Boats, Bill Penney Toyota, Garmin, Academy Sports & Outdoors, America's First Federal Credit Union, Sweet Home Alabama, Alabama Tourism Department, Alabama Mountain Lakes Tourist Association, T-H Marine Supplies, Wedowee Marine, Strike King, Buffalo Rock, Mountain Dew, Jack's, Fish Neely Henry Lake.com, Alabama Power Company, Lew's Fishing, Berkley, YETI, Power Pole, Big Bite Bait Company, E3 Apparel and Hydrowave.
For information about Alabama Bass Trail and for complete tournament standings visit www.alabamabasstrail.org.