Stewart Stays Ahead at Champlain
Category: article
Jun 28th, 2019 by Keith Worrall
Modified Jun 28th, 2019 at 5:13 PM
Tyler Stewart
June 28, 2019
Tyler Stewart's day-one limit of more than 22 pounds set the bar sky high on Lake Champlain for this week's FLW Tour event, which is presented by T-H Marine. That's not an easy mark to match, and today Stewart's performance was a little more on par with the rest of his competition. He hauled in five largemouths that totaled 17 pounds, 14 ounces.
Stewart is still in the lead going into the top-30 round, but John Voyles, who's fishing for smallmouths, is only 1 pound, 5 ounce behind him.
Complete results
For two days, Stewart has made the long run down to Champlain's famed southern waters near Ticonderoga to target plump largemouths that are in the midst of a postspawn feeding binge. The difference in yesterday and today was that Stewart weighed in one less 4-pound-class largemouth and didn't have time to try and pick off a bonus smallmouth like he did on Thursday. He also had a bit more company in his area.
He had to resort to fishing some of the "juice" he was saving for later in the tournament.
"It started off good this morning. I pulled up at the first place I stopped and caught one close to 4 pounds," he recalls. "I jumped around a little bit and caught a few fish here and there, some 2 3/4s, then ended up catching a 4 1/2 around 10 o'clock. I had probably 16 pounds at that point. I culled a few more times by ounces. Then right at the end of the day I caught another one about 4 pounds."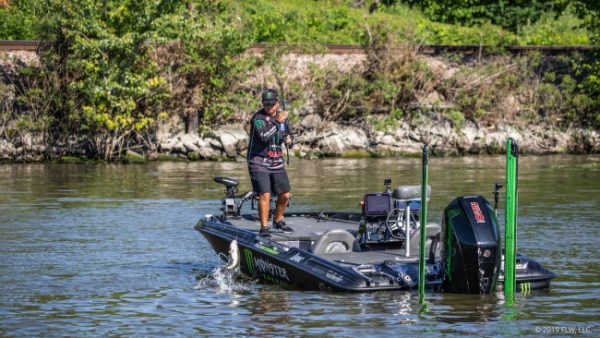 Tyler Stewart
Stewart is catching his fish flipping plastics around a few different cover types. He has a couple of key areas, but is also running and gunning a little bit and fishing whatever fits his pattern. He ran new water today, but also spent part of the day playing defense on his best stretches.
Looking ahead to the weekend, clouds and rain are in the forecast, which bodes well for the largemouth specialists and not so great for anyone trying to spy smallmouths on beds.
"They bit really, really good in practice down there in the rain," adds Stewart. "The only problem is if the wind picks up, getting down there and back is the only issue. I think they'll bite down there if it's raining.
"I think they will [hold up] as long as I don't have a bunch of company. If I have all my stuff to myself I feel like I could potentially catch a couple good bags."
Top 10 pros
1. Tyler Stewart – West Monroe, La. – 40-1 (10)
2. John Voyles – Petersburg, Ind. – 38-12 (10)
3. Daryl Biron – South Windsor, Con. – 38-3 (10)
4. Hensley Powell – Whitwell, Tenn. – 38-2 (10)
5. Casey Scanlon – Lake Ozark, Mo. – 37-11 (10)
6. Austin Felix – Eden Prairie, Minn. – 37-11 (10)
7. AJ Slegona – Pine Bush, N.Y. – 37-5 (10)
8. Nick LeBrun – Bossier City, La. – 37-0 (10)
9. Tom Redington – Royse City, Texas – 36-15 (10)
10. Ron Nelson – Berrien Springs, Mich. – 36-11 (10)