Sam Rayburn Reservoir Set to Launch Toyota Series Southwestern Division Presented by Outlaw Ordnance
Category: article
Feb 2nd, 2022 by Keith Worrall
Modified Feb 2nd, 2022 at 8:32 PM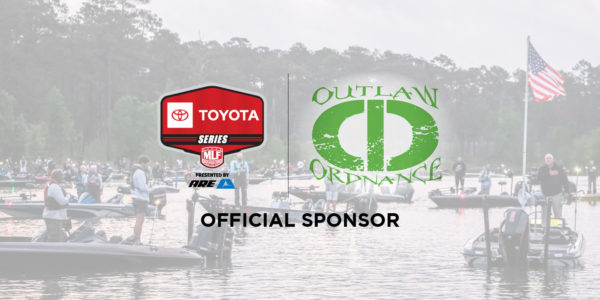 BROOKELAND, Texas (Feb. 2, 2022) – The Toyota Series Presented by A.R.E. Southwestern Division Presented by Outlaw Ordnance will launch its 2022 season with a tournament next week in Brookeland, Texas, Feb. 10-12, with the Toyota Series Presented by A.R.E. at Sam Rayburn Reservoir . Hosted by the Jasper-Lake Sam Rayburn Chamber of Commerce, the three-day tournament will feature the region's best bass-fishing pros and Strike King co-anglers casting for a top prize of up to $65,000, plus an additional $35,000 bonus if the winner is a qualified Phoenix Boat owner.
Outlaw Ordnance, an Outdoor and Sporting Goods Company that offers custom marine graph mounts, laser engraving, coatings and fabrication along with outdoor lifestyle products and merchandise, has been announced as the presenting sponsor of the Toyota Series Southwestern Division and Plains Division.
"Outlaw Ordnance is honored to become a sponsor of the 2022 MLF Toyota Series," said Chip Pierce, Co-Owner and Sr. Vice President of Outlaw Ordnance. "We are looking forward to launching the toughest, most versatile and most customizable graph mounts on the market."
Tackle Warehouse Pro Circuit rookie Jeff Bridges of Prosper, Texas, who came in ninth this past weekend at the Pro Circuit season-opener on the Sam Rayburn Reservoir and said he is looking forward to hitting the water again next week.
"I think the Toyota Series event on Sam Rayburn will turn out to be a good event with heavy weights," said Bridges. "The cold weather pushes the fish to bunch up more and pack together, so I think that we will have anglers who will find packs of fish that will really increase their numbers.
"This is the time of year that 50-pound-stringers have been caught on Rayburn," continued Bridges. "We'll also be coming off the cold weather into a slight warming trend, which will make the fish more active and ready to eat. So when you find them, you're going to find a lot of them."
Bridges said although the amount of hydrilla on the fishery is down significantly this year, there are still areas of the lake with hydrilla where a lot of the fish will live.
"Over the three-day event, I suspect it will take approximately 17½ pounds per day to get you in the top 10, and 20 pounds per day to be in the top 5," said Bridges. "I think there will be a big sack caught as well, so I anticipate it will probably take 60 to 62 pounds to win the tournament.
"I expect crankbaits to be the big producer for the event, with the majority of the field throwing (Z-Man) ChatterBaits and (Bill Lewis) Rat-L-Traps – they will have the most consistent bite this time of year. The Carolina rig is also going to play in this event."
Bridges said he's excited to go back out on the fishery when it's ramping up and his only concern is the amount of pressure it will get prior to the event.
"There was a lot of advertisement of the areas I was fishing last week, so I know those spots are going to be pressured by the time this event gets underway," said Bridges. "I plan to get out there again and do some pre-fishing. I feel pretty good about knowing what the fish are going to do this time of year in the areas that do produce quality fish."
Anglers will take off daily at 7 a.m. CT from the Umphrey Family Pavilion in Brookeland. Weigh-ins will also be held at the pavilion and will begin at 3 p.m. Fans are welcome to attend the event or follow the action online through the "MLF Live" weigh-in broadcasts and daily coverage at MajorLeagueFishing.com.
In Toyota Series regular-season competition, payouts are based on the number of participants competing in the event, scaling up for every 20 boats over 160 and scaling down for every boat below 160. With a 160-boat field, pros fish for a top prize of $40,000, plus an extra $35,000 if Phoenix MLF Bonus qualified. Strike King co-anglers cast for the top prize of a new Phoenix 518 Pro bass boat with a 115-horsepower Mercury outboard (valued at $33,500). With a 260-boat field, pros fish for a top award of $65,000, plus an extra $35,000 if Phoenix MLF BIG5 Bonus qualified. Strike King co-anglers cast for the top prize of a new Phoenix 518 Pro bass boat with a 115-horsepower outboard (valued at $33,500) plus $5,000 cash.
The 2022 Toyota Series Presented by A.R.E. consists of six divisions – Central, Northern, Plains, Southern, Southwestern and Western – each holding three regular-season events, along with the International and Wild Card divisions. Anglers who fish in any of the six divisions and finish in the top 25 – or the top 12 from the Wild Card division – will qualify for the no-entry-fee Toyota Series Presented by A.R.E. Championship for a shot at winning up to $235,000 cash. The winning Strike King co-angler at the championship earns a new Phoenix 518 Pro bass boat with a 115-horsepower Mercury outboard. The 2022 Toyota Series Presented by A.R.E. Championship will be held Nov. 3-5 on Lake Guntersville in Guntersville, Alabama, and is hosted by Marshall County Tourism and Sports.
For complete details and updated information visit MajorLeagueFishing.com. For regular updates, photos, tournament news and more, follow the MLF Toyota Series on the MLF5 social media outlets at Facebook, Instagram and YouTube.
About Major League Fishing
Major League Fishing (MLF) is the world's largest tournament-fishing organization, producing more than 250 events annually at some of the most prestigious fisheries in the world, while broadcasting to America's living rooms on CBS, the Discovery Channel, the Outdoor Channel, CBS Sports Network, the World Fishing Network, and on-demand on MyOutdoorTV (MOTV). Headquartered in Tulsa, Oklahoma, with offices in Benton, Kentucky, the MLF roster of bass anglers includes the world's top pros and more than 30,000 competitors in all 50 states and 13 countries. In 2019, MLF expanded its portfolio of catch, weigh, and immediately release events to include the sport's strongest five-biggest-fish format tournament circuits. Since its founding in 2011, MLF has advanced the sport of competitive fishing through its premier television broadcasts and livestreams and is dedicated to improving the quality of life for bass through research, education, fisheries enhancement, and fish care.
Major League Fishing – WE ARE Bass Fishing™