Rose Wins; Neal Knocks Out Lee for $50,000
Category: article
Jun 11th, 2020 by Keith Worrall
Modified Jun 11th, 2020 at 7:11 PM
MLF Pro Michael Neal knocked out Jordan Lee by only one ounce to win $50,000 with this eight-pound, 15 ounce largemouth with only 20 minutes left in regulation in the Toyota Heavy Hitters presented by Venmo Knockout Round.
Rose Wins; Neal Knocks Out Lee for $50,000
Major League Fishing Heavy Hitters Field Set for Friday's $325,000 Championship
June 11, 2020 (Kissimmee, Fla.) Major League Fishing (MLF) Pro Mark Rose won the Toyota Heavy Hitters presented by Venmo Knockout Round today in a nine-hour, action-packed, slug fest that logged over 818 pounds of scorable bass into SCORETRACKER®. In a "buzzer-beater" moment, 24th-place finisher Michael Neal knocked out Jordan Lee's biggest catch of the day by only one ounce to win $50,000. The top eight finishers from today's field of 38 will join Qualifying Round Winners Zack Birge and Skeet Reese in Friday's Championship Round and compete for their share of the $325,000 remaining from this week's $753,000 purse, including $100,000 for Friday's Berkley Big Bass.
Rose ended the day with 52 pounds, five ounces and a comfortable seven-pound, nine-ounce lead over Dustin Connell. The General Tire pro caught 13 scorable fish today including the fifth largest bass of the day weighing seven pounds, 12 ounces. With no money on the line for winning the Round, Rose elected to stop fishing and head back to the ramp with ten minutes remaining in regulation.
"I feel good about making the top eight," Rose relayed to MLFNOW! viewers as he traversed Lake Toho. "It's good to be back (fishing the Bass Pro Tour). I feel blessed to have had a great day. Yesterday I lost a few; today I caught a few. I love this (MLF) format! I'm going to try to get a good night's rest and a good meal and get up tomorrow to make a run for it."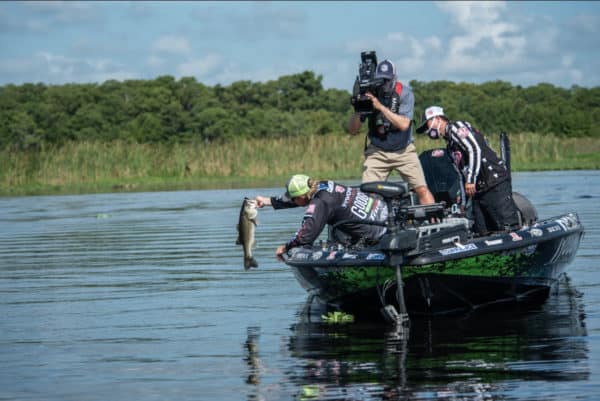 Favorite Fishing pro Dustin Connell ended the day in second place with 44 pounds, 12 ounces on 16 fish, the most scorable bass caught in the Knockout Round. Connell's largest catch was four pounds, 10 ounces. He hustled throughout the day at the mouth of a creek on the Kissimmee Chain bouncing between a jerkbait and jig.
"I was using a soft jerkbait and then I was using a bandito bug made by Googan baits," said Connell. "I was fishing current and the mouth of the creek, where fish were schooling. I fish currents at home in Alabama; I can't stand fishing stagnant water, so I had to find moving water. I was right at home all day."
Third place finisher Jordan Lee caught 44 pounds, nine ounces for the day, only three ounces shy of Connell, on 14 fish. Lee's most exciting moment came midway through Period 2 at 11:20 a.m., when an eight-pound, 14-ounce lunker nearly pulled him off his boat as he set the hook. This catch put him in the lead for today's $50,000 big fish bonus. Lee hung onto that lead for four hours, a timeline that included a 50-minute weather delay, giving him plenty of opportunity to get excited about winning the Berkley Big Bass. Michael Neal, the other 28-year-old on the Bass Pro Tour, landed an eight-pound, 15-ounce largemouth to knock Lee out of the running with only 20 minutes remaining on the clock.
"I'm pretty bummed that right there at the end there, Michael Neal beat me by one ounce," said Lee. "All day I thought I was going to win it. Hats off to him; that's just how it goes (in competitive bass fishing). I had a good day and I'm pretty stoked to get to be moving on. Hopefully I saved some fishing spots for the Championship Round."
Big Bites Baits pro Neal, who finished second on Lake Okeechobee in the Favorite Fishing Stage Two presented by BassCat this past February, ended the day with three scorable bass weighing 15 pounds, 14 ounces. After a slow morning and a 50-minute weather delay, Neal landed the winning fish to earn $50,000 at 3:25 p.m. ET. MLF Official Dean Cox presented Neal with the trophy before the pair returned to the ramp.
"Thank you," said Neal. "It was definitely a grind today, no doubt. I will gladly take this. I had four bites all day, all in the third period, including this one. I caught this on a ½-ounce vibrating jig that has a lot of miles on it. As long as one today was an 8-15, Heavy Hitters fish worth $50,000, I will take a day like this every day."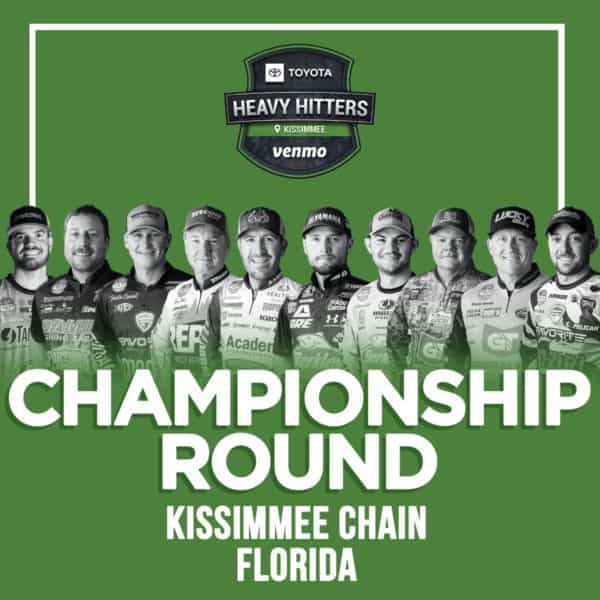 Toyota Heavy Hitters presented by Venmo concludes Friday with the Championship Round where the top eight finishers from today's Knockout Round will join Qualifying Round Group A winner Zack Birge and Group B winner Skeet Reese for their share of the remaining $325,000 of prize money.
The Top eight of the Toyota Heavy Hitters presented by Venmo Knockout Round finished as follows:
Place MLF Pro One-Day Total Weight One-Day Total Fish Largest Fish over Knockout Round
1 Mark Rose 52-05 13 7-12
2 Dustin Connell 44-12 16 4-10
3 Jordan Lee 41-10 13 8-14
4 Justin Lucas 40-03 13 4-12
5 Bryan Thrift 37-08 12 4-14
6 Adrian Avena 37-07 13 4-02
7 Jacob Wheeler 36-04 10 5-00
8 Gary Klein 36-03 11 4-08
For complete results, visit MajorLeagueFishing.com, Bass Pro Tour, Results.
In addition to the traditional payout schedule based on finishing order, Toyota Heavy Hitters presented by Venmo bonuses the angler for the biggest bass caught in each Group. The two-day Qualifying Rounds (June 7-10) will pay a $25,000 big bass bonus ($50,000 total), which were won by Mark Rose and Brent Ehrler respectively. The Knockout Round on day five (June 11), will feature a $50,000 big bass bonus, won today by Neal, and the Championship Round (June 12) will feature a $100,000 big bass bonus, on top of the Stage Title $100,000 prize.
In response to the shortened season, MLF revised the payout schedule for Toyota Heavy Hitters presented by Venmo to include all 80 anglers: 1st $100,000; 2nd $40,000; 3rd $15,000; 4th $13,000; 5th $12,000; 6th $11,000; 7th $10,000; 8th $9,000; 9th $8,000; 10th$7,000; 11th – 20th $6,000; 21st – 40th $5,000; 41st – 80th $4,000. Each competitor is guaranteed a $4,000 check.
Pending no weather delays, the Championship Day begins with launch at Big Toho Marina, Kissimmee, Fla., 6:15 a.m. ET before lines-in at 7:00 a.m. Period 1 ends at 9:30 a.m. Period 2 spans 9:45 a.m. until 12:15 p.m. Period 3 begins at 12:30 p.m. and lasts until day's end at 3:00 p.m. The General Tire Takeout show airs approximately 3 – 4 p.m. ET from the water. Fans can catch all the action on MLFNOW! livestream on MajorLeagueFishing.com or download the MLF App for their Apple or GooglePlay device or on MyOutdoorTV (MOTV).
Toyota Heavy Hitters presented by Venmo on the Kissimmee Chain will air on Discovery Channel as six, two-hour original episodes beginning August 15. For additional details, visit MajorLeagueFishing.com/tv-schedule.
About Major League Fishing
Founded in 2011, Major League Fishing (MLF) brings the high-intensity sport of competitive bass fishing into America's living rooms on Outdoor Channel, Discovery, CBS, CBS Sports Network, World Fishing Network, Sportsman Channel, and on-demand on MyOutdoorTV (MOTV). The Bass Pro Tour consists of eight events and a championship streamed live on www.MajorLeagueFishing.com and MOTV.
In late 2019 MLF acquired FLW, which expands their portfolio to include the world's largest grassroots fishing organization, including the strongest five-fish format professional bass fishing tour, the Tackle Warehouse Pro Circuit, as well as the Toyota Series, Phoenix Bass Fishing League presented by T-H Marine, and Abu Garcia College Fishing presented by YETI, and High School Fishing presented by Favorite Fishing.
For more information on the league and anglers, visit www.MajorLeagueFishing.com and follow MLF on Twitter, Instagram and Facebook.