KastKing Creates First Responder and Military Discount
Category: article
Nov 5th, 2019 by Keith Worrall
Modified Nov 5th, 2019 at 9:45 AM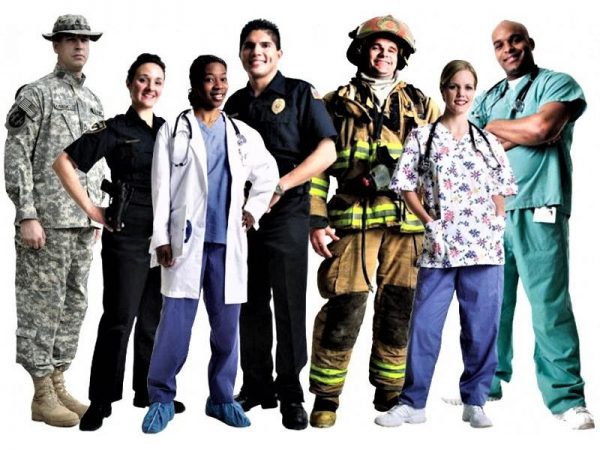 November 4, 2019 – Garden City, Long Island NY) KastKing (www.kastking.com) has announced a new discount program specifically for active US military, US military Veterans, and First Responders. The discount, effective immediately, applies to all fishing tackle and other products available at kastking.com. The ten percent discount can be had for the members of those groups by entering the discount code, HONORTEN, at kastking.com checkout. There is no end-date for the discount.
"Everyone at KastKing has incredible respect and appreciation for our military, whether active or retired, and all of the nation's First Responders," says KastKing CMO Tom Gahan. "We are thankful for all of them. The plan has been met with great enthusiasm by many people."
KastKing has Brand Ambassadors and employees from numerous walks of life. These were some of their comments about the KastKing.com HONORTEN discount program:
"I served my country for five years as a US Navy Corpsman while serving alongside many great men and women. Many of those men and women are now civilians like myself. It is always a pleasure to see businesses large and small honor the men and women who serve our country. I am glad KastKing can now provide that same courtesy." — Shane Coovert US Navy (Ret.), KastKing Content Manager, Houston Texas
"Being a First Responder myself, and seeing KastKing give back to those who serve both home and abroad with the HONORTEN program, means so much to me." — Nicholas Malnati, Police Officer, Templeton, Massachusetts
"I served almost six years in the United States Navy's Nuclear program as a Reactor Operator before retirement at the end of 2018. I know military members and First Responders will greatly appreciate this discount. Having a company like KastKing being able to not only give great deals, but also get it delivered almost anywhere is a huge deal, especially for military personnel. I love this company and look forward to sharing the news with friends and family." — Christian Akers, US Navy (Ret), Sequim, Washington
"I am an active member of my local counties search and rescue team. We get deployed many times a month, especially when weather is treacherous to look for dementia and autistic victims who have wondered out and are now lost in extreme cold and heat conditions. Some are in need of their prescriptions for diabetes, so, many times we find them in huge need of medical attention. It's all volunteer including the training. We just love seeing smiling faces when loved ones are reunited again and everyone is back safe.
"KastKing cares about their customers so much they even create programs like this so everyone can benefit from a little help off the cost for all the hard work and sacrifice we all do." — Kevin Schmitt, East Peoria, Illinois
"KastKing is an amazing company. They are like a family. In the fire service it's the same. It's always a team effort." — Frank Villa, Master Firefighter, Fire Inspector, Fire Safety Educator, Windsor, CO
"To those who served before me, with me, and after me, thank you for answering the call. You are the heartbeat of this country and among the best people I've ever had the pleasure to work with!" — Brian Boxx, SrA Munitions Systems AMMO, US Air Force (Ret), Naples, Florida
"Serving my country was the best decision I ever made. I appreciate everyone that continues to make that sacrifice. Thank you KastKing!" Jose Cinco, SFC US Army (Ret), Moore, Oklahoma