Favorite Fishing joins Major League Fishing Bass Pro Tour
Category: press release
Mar 9th, 2019 by fishing fanatics
Modified Mar 9th, 2019 at 7:49 AM
Favorite Fishing, makers of rods, reels and accessories, made its debut as a Major League Fishing® (MLF) Bass Pro Tour supporter at Stage One in Kissimmee, Florida, and served as the presenting sponsor of the league's Stage Two of competition.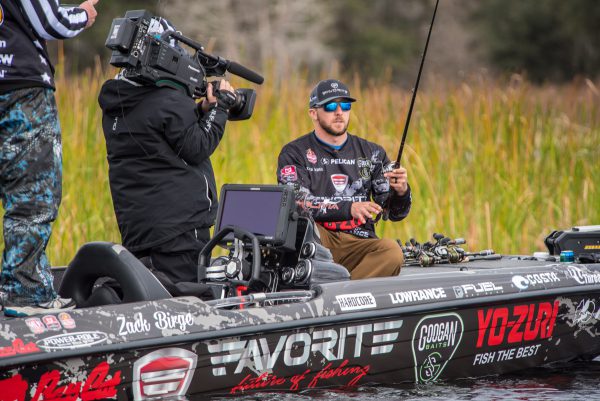 Favorite's top executive says Conroe's wrap-up wasn't the ending to their involvement with the league, but rather the beginning of a partnership in what is setting up to be an exciting year for the sport and the new tour.
"'The Future of Fishing' is Favorite Fishing's brand slogan," said the company's founder, Winston Tucker. "We must continue to change, not just in this generation but in generations to come, for if we don't innovate we could lose anglers through their complacency.
"That's why we feel this partnership with Major League Fishing makes so much sense; we both want to grow the sport. The MLF tournament format is exciting and innovative, and fishing needs this kind of action to get things going in a big way. We will build on this relationship while also continuing to support all anglers, from high school and college, up to the professional ranks."
Favorite Fishing proudly sponsors anglers Dustin Connell, Mark Daniels Jr., Andy Morgan
and Zack Birge on the Bass Pro Tour. Daniels and Morgan have been part of the Favorite family for more than a year now while the recent additions of Connell and Birge give the brand two up-and-coming anglers. Connell earned a top-10 finish in the first Stage of the 2019 season and punched his ticket to the first Cup event with a solid finish at Stage Two.
"Favorite showed its true fan appeal at both our Stage One event and at Stage Two, proving what most of us already knew anyway: that they are moving the needle with a lot of young anglers," said MLF President and CEO, Jim Wilburn. "Favorite has been creative in getting the attention of the new generations with their partnership with the Googan Squad and the new Googan Baits company while not overlooking fishing's greatest mentors by also having high-end performance gear for top-tier pros. I'm confident we're on a good path together."
Next up for the Bass Pro Tour is the Stage Three stop at Raleigh, North Carolina, where the 80-man field will compete on three nearby prolific bass lakes March 26-31. Falls Lake, Shearon Harris Reservoir and Jordan Lake will serve as host to the best professional bass anglers in the country.
MLF uses a conservation-minded catch, weigh and immediate-release-back-into-the-water format during competition, with no restriction as to the number of "scorable" bass allowed. As a result, the Bass Pro Tour often has the flexibility to take advantage of some smaller waters with rule restrictions that don't work for typical bass tournament in which anglers carry up to their 5-fish limits in livewells for a weigh-in at day's end.
Bass Pro Tour events feature seven hours of live streaming on each competition day, with free access to the real-time broadcast available at www.majorleaguefishing.com.
For more information about Favorite Fishing, visit FavoriteUSA.com.