Faircloth Grabs Early Lead for Group B at MLF Bass Pro Tour Favorite Fishing Stage Three on Lewis Smith Lake Presented by Mercury
Category: article
Mar 4th, 2022 by Keith Worrall
Modified Mar 4th, 2022 at 11:22 AM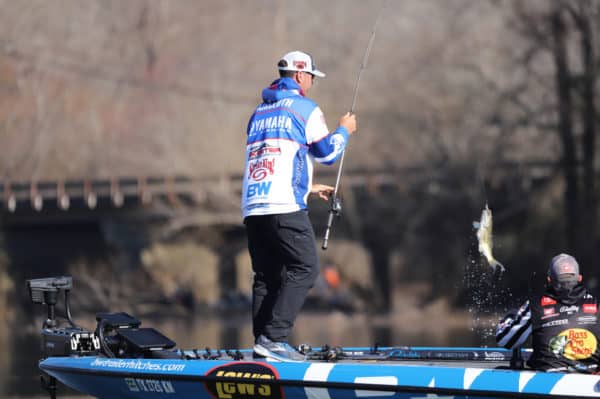 Texas Pro Leads Group B Day 1 by 4-Pound, 13-Ounce Margin – Group A Resumes Competition Friday
Link to Video Highlights of Group B Qualifying Round Day 1
CULLMAN, Ala. (March 3, 2022) – After a chilly start to the morning, beautiful bluebird skies and warm temps welcomed Group B anglers throughout Day 1 of the Favorite Fishing Stage Three on Lewis Smith Lake Presented by Mercury in Cullman, Alabama. Pro Todd Faircloth of Jasper, Texas sprinted out to an early lead, weighing 12 bass for 25-9 in the first period alone, and ended the day with a total of 18 scorable bass weighing 36 pounds, 10 ounces to secure the top spot for Group B.
The third stop on the 2022 Major League Fishing (MLF) Bass Pro Tour features 80 of the top professional bass-fishing anglers in the world competing for a total purse of $805,000, including a top cash prize of $100,000 to the winner. The six-day event, hosted by Cullman Parks, Recreation and Sports Tourism, Cullman County Parks and Rec and the Cullman Area Chamber of Commerce, is livestreamed each day at MajorLeagueFishing.com and the MOTV app and filmed for broadcast later this fall on the Discovery Channel.
Faircloth will bring a slim lead into Saturday's second day of competition for Group B, with a 4-pound, 13-ounce advantage over second-place pro Alton Jones, Jr. of Waco, Texas, who caught 14 bass totaling 31-13. Favorite Fishing pro Dustin Connell of Clanton, Alabama, the reigning REDCREST Champion, made some adjustments toward the end of the first period and rode the boat docks to third place, catching 13 bass weighing 29 pounds, 6 ounces. Michael Neal of Dayton, Tennessee delivered a one-two punch, catching suspended bass in open water early in the day, then moving on to boat docks to end the day in fourth place with 14 bass totaling 25-12. Bass Pro Tour newcomer Clabion Johns of Social Circle, Georgia rounded out the top five with 11 bass weighing 25-9.
With only 3 ounces of separation between 20th and 21st places on the Toro Cut Line once again, it will be another exciting Day 2 for Group B on Saturday, when just 20 anglers will move on in the competition. The 40 anglers in Group B will now have an off day, while the 40 anglers competing in Group A will fish their second day of competition Friday, battling it out for the top 20 spots. Group B will resume competition on Saturday.
Faircloth threw the tacklebox at the fish Thursday, using a variety of baits to keep his school fired up and maximize what was in front of him.
"We had a great day today," said Faircloth. "I started out this morning catching them on a Strike King KVD 1.5 Flat Side, a great lure that I caught a lot of fish on early in the morning. When the bite slowed down, I picked up a Strike King Jerkbait and probably caught as many on that lure as I did on the crankbait.
"Once that slowed down, I switched tactics again and picked up a Strike King Super Finesse Worm , green-pumpkin colored, with a dyed chartreuse tail. These fish were on one specific spot, but the key for me was to keep changing baits and giving them a different look – and it seemed like that would trigger the school to fire back up again.
"I wasn't seeing any fish in that area by the end of the third period, which has me a little concerned going into Day 2, but I've got a lot of other water to fish if that spot doesn't work out. I'm seeing fish on my Lowrance Active Target on the bait I'm throwing, so I know I'm around some, I just have to figure out how to catch them later in the day.
"All in all, it was a great start for Smith Lake and I'm looking forward to Day 2," Faircloth went on to say.
The day played out quite differently for Alton Jones, Jr. who was sitting in 29th place at the end of the first period with only one fish for 1 pound, 10 ounces. However, the Bass Pro Tour Stage Two winner was a quick study and got on the fish moving to the docks the quickest of any of the anglers in Group B, making a run up the SCORETRACKER® to end the second period in fifth place, before finishing the day in second, within striking distance of Faircloth.
"Having almost nothing by the end of the first period, I'm pretty excited about where I ended up today," said Jones. "I feel like I'm around a lot of fish and I think there's potential there to win this Qualifying Round, so I'm excited to get back out here on Saturday."
The top 20 pros in Group B after Day 1 on Lewis Smith Lake are:
1st: Todd Faircloth, Jasper, Texas, 18 bass, 36-10
2nd: Alton Jones, Jr., Waco, Texas, 14 bass, 31-13
3rd: Dustin Connell, Clanton, Ala., 13 bass, 29-6
4th: Michael Neal, Dayton, Tenn., 14 bass, 25-12
5th: Clabion Johns, Social Circle, Ga., 11 bass, 25-9
6th: Marty Robinson, Lyman, S.C., 12 bass, 24-2
7th: Shin Fukae, Thomson, Ga. and Osaka, Japan, 12 bass, 22-13
8th: Matt Lee, Cullman, Ala., 11 bass, 22-8
9th: Gerald Spohrer, Gonzales, La., nine bass, 21-7
10th: Anthony Gagliardi, Prosperity, S.C., 11 bass, 20-0
11th: Fred Roumbanis, Russellville, Ark., 10 bass, 19-14
12th: Fletcher Shryock, Guntersville, Ala., eight bass, 18-13
13th: Cole Floyd, Leesburg, Ohio, eight bass, 17-15
14th: Greg Vinson, Wetumpka, Ala., eight bass, 17-8
15th: Jesse Wiggins, Addison, Ala., eight bass, 16-7
16th: Jordan Lee, Culllman, Ala., eight bass, 15-5
17th: Brent Ehrler, Redlands, Calif., seven bass, 13-7
18th: Bobby Lane, Lakeland, Fla., six bass, 13-5
19th: Tommy Biffle, Wagoner, Okla., six bass, 13-5
20th: James Elam, Tulsa, Okla., seven bass, 12-14
A complete list of results can be found at MajorLeagueFishing.com.
Johns caught a 4-pound, 5-ounce largemouth on a crankbait nine minutes into the first period that earned him the second $1,000 Berkley Big Bass Award of the event. Berkley awards $1,000 to the angler who weighs the heaviest bass each day, and a $3,000 bonus to the angler who weighs the heaviest bass of the tournament.
The 40 Anglers in Group B compete in their two-day qualifying round on Thursday and Saturday – the 40 anglers in Group B on Wednesday and Friday. After each two-day qualifying round is complete, the anglers that finish in 2nd through 20th place from both groups advance to Sunday's Knockout Round, while the winner of each group advances directly to Monday's Championship Round. In the Knockout Round, weights are zeroed, and the remaining 38 anglers compete to finish in the top 8 to advance to the Championship Round. In the final day Championship Round, weights are zeroed, and the highest one-day total wins the top prize of $100,000.
Anglers will launch each day at 7:30 a.m. from the Smith Lake State Park, located at 403 County Road 386 in Cullman, Alabama. Each day's General Tire Takeout will be held at the park, beginning at 4:30 p.m. Fans are welcome to attend all launch and takeout events and also encouraged to follow the event online throughout the day on the MLF NOW!® live stream and SCORETRACKER® coverage at MajorLeagueFishing.com.
The Favorite Fishing Stage Three on Lewis Smith Lake Presented by Mercury features anglers competing with a 1-pound, 8-ounce minimum weight requirement for a bass to be deemed scorable. Minimum weights are determined individually for each competition waters that the Bass Pro Tour visits, based on the productivity, bass population and anticipated average size of fish in each fishery.
The Bass Pro Tour features a field of 80 of the top professional anglers in the world competing across seven regular-season tournaments around the country, competing for millions of dollars and valuable points to qualify for the annual General Tire Heavy Hitters all-star event and the REDCREST 2023 championship.
The MLF NOW!® broadcast team of Chad McKee, Marty Stone and J.T. Kenney will break down the extended action on all six days of competition from 7:45 a.m. to 4:30 p.m. CT. MLF NOW!® will be live streamed on MajorLeagueFishing.com and the MyOutdoorTV (MOTV) app.
Television coverage of the Favorite Fishing Stage Three on Lewis Smith Lake Presented by Mercury will premiere at 7 a.m. ET, Oct. 1 on the Discovery Channel. New MLF episodes premiere each Saturday morning on the Discovery Channel, with additional re-airings on the Outdoor Channel. Each two-hour long reality-based episode goes in-depth to break down each day of competition.
Proud sponsors of the 2022 MLF Bass Pro Tour include: 13 Fishing, Abu Garcia, A.R.E. Truck Caps, B&W Trailer Hitches, BallyBet, Bass Cat, Bass Pro Shops, Berkley, Covercraft, Favorite Fishing, Garmin, General Tire, Googan Baits, Grundéns, Guaranteed Rate, Humminbird, Lowrance, Luminox, Mercury, Minn Kota, Mossy Oak, Nitro Performance Boats, Onyx, Plano, Power-Pole, Power Stop, Rapala, Starbrite, Toro, Toyota, Wrangler, Yellowstone Bourbon and Zoom.
For complete details and updated information on Major League Fishing and the Bass Pro Tour, visit MajorLeagueFishing.com. For regular updates, photos, tournament news and more, follow MLF's social media outlets at Facebook, Twitter, Instagram, and YouTube.
About Major League Fishing
Major League Fishing (MLF) is the world's largest tournament-fishing organization, producing more than 250 events annually at some of the most prestigious fisheries in the world, while broadcasting to America's living rooms on CBS, the Discovery Channel, the Outdoor Channel, CBS Sports Network, the World Fishing Network, and on-demand on MyOutdoorTV (MOTV). Headquartered in Tulsa, Oklahoma, with offices in Benton, Kentucky, the MLF roster of bass anglers includes the world's top pros and more than 30,000 competitors in all 50 states and 13 countries. In 2019, MLF expanded its portfolio of catch, weigh, and immediately release events to include the sport's strongest five-biggest-fish format tournament circuits. Since its founding in 2011, MLF has advanced the sport of competitive fishing through its premier television broadcasts and livestreams and is dedicated to improving the quality of life for bass through research, education, fisheries enhancement, and fish care.
Major League Fishing – WE ARE Bass Fishing™