EDGE Spinnerbait and Jig/Bladed Jig Specialty Boxes Keep Tackle Organized
Category: article
Apr 27th, 2020 by Keith Worrall
Modified Apr 27th, 2020 at 5:14 PM

EDGE™ Spinnerbait and Jig/Bladed Jig Specialty Boxes Keep Tackle Organized
Grand Prairie, TX (April 27, 2020) Specialty tackle boxes are an essential tool to keep you organized and ready for striking action. The Plano EDGE™ Specialty Series offers more features than we have ever offered in the past. The organized angler wants fast access to the perfect color, size and blade design of any spinnerbait or buzzbait. The same holds true for anyone fishing a jig. When the bite is on, or the fish are fussy about the perfect presentation, adaptability is what will keep a bend in your rod.
Tackle systems created for anglers have research and development standards to answer anglers' questions before they even ask. Adaptable, durable and intuitively designed means the lure you just thought of using is available in seconds.

The EDGE™ Spinnerbait Specialty Box is the perfect system for sorting and storing spinnerbaits and ensuring they stay organized. A one-piece base with center rails holds spinnerbaits firmly in place. The adjustable, sliding dividers allow anglers to organize lures by size, color or blade design. The baits hang in a natural position to ensure they dry after use and do not tangle with each other.
The EDGE™ Jig/Bladed Jig Specialty Box uses vertical dividers to maximize storage. A series of fingers allows jigs to be snapped in place for a firm hold but easy removal. The adjustable dividers allow anglers to sort jigs by color, blade size or trailers. The jigs are held in the same position they would run in the water, allowing them to dry quickly to protect the shape and attached materials. A labeling system lets you set up boxes by jig style, weight or other qualities.
Every box in the EDGE™ series has Rustrictor™, rust-preventing technology molded into the base of the boxes. A Dri-Loc™ watertight seal and patent-pending, water-absorbing Water Wick™ desiccant dividers ward off moisture. An innovative EZ labeling system and a crystal clear DuraView™ lid make it easy to identify contents quickly. Heavy-duty steel-pin hinges, a one-hand easy to use latch, a super durable ribbed base and a lid that lends itself to stacking multiple units make the EDGE™ series the only tackle box you will ever need to buy.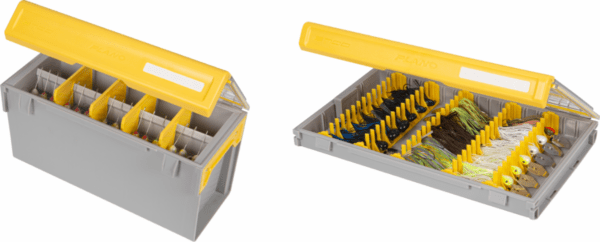 EDGE™ Spinnerbait Specialty Box Features:
 Rugged one-piece base with center rail system holds spinnerbaits securely in place
Adjustable sliding dividers to customize organization by size, color or blade design
Internal rail system hangs baits naturally for quick drying, easy access and no tangles
Handles any size spinnerbait or buzzbait
Dimensions: 14″L x 6.25 x 7.28″H
EDGE™ Jig/Bladed Jig Specialty Box Features:
 Designed specifically to hold blade baits or skirted jigs of every size or shape
Vertical lure holders for maximum storage without dividers
Jigs lock in place for firm grip and easy removal
Fully adjustable to accommodate everything from smaller hair jigs to large bladed jigs with trailers
Jigs held in natural position for quick dry and to keep shape
Sorting jigs by weight, size and color has never been easier!
Standard Plano 3700 size. Dimensions: 14″L x 9″W x 1.88″H