Drury University Grabs Early Lead at 2021 Abu Garcia College Fishing National Championship presented by Lowrance
Category: article
Mar 4th, 2021 by Keith Worrall
Modified Mar 4th, 2021 at 12:22 AM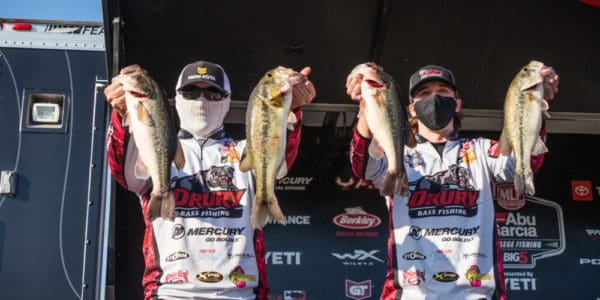 GROVE, Okla. (March 3, 2021) – The Drury University duo of Cole Breeden of Eldridge, Missouri and Cameron Smith of Nixa, Missouri, grabbed the early lead Wednesday after Day One of the 2021 Abu Garcia College Fishing presented by YETI National Championship presented by Lowrance at Grand Lake . The Panthers team brought a five-bass limit to the scale weighing 13 pounds, 14 ounces, giving them a mere 2-ounce lead over the second-place solo angler Josh Kelly of Cortland, Ohio.
While many teams struggled to even get a bite on Wednesday due to the recent winter weather in the region, the Drury duo said they were culling early.
"The day started off pretty strong and we had a solid 10- or 11-pound limit by about 8:45," said Smith, a senior majoring in biology. "We just continued to upgrade gradually throughout the day."
"We replaced little bass with ones that were just a little bit bigger," said Breeden, a junior marketing major. "We also had two that were about 3 pounds, so that really helped us."
Breeden and Smith said they were mostly fishing shallow, but they hadn't come close to running into one of the 5- or 6-pound tanks that roam Grand Lake.
"We were in an area where there are a lot of fish, so I don't really think numbers will be a problem," said Breeden. "We saw a lot of bait fish, but there were just so m any little bass. We're hoping the warm weather Wednesday and Thursday might spur some of the bigger females to move up."
"We found a lot of little schools of males up shallow," said Smith. "They're grouping together, so we're waiting for the females to follow suit."
Though the pair said they hadn't seen a fish over 3 pounds so far, they said they felt pretty good about their situation, with all things considered, and felt like the event was shaping up well for them, even without a lot of Grand Lake experience.
"Grand Lake is very 'Ozarks'," said Breeden. "It's very similar to Lake of the Ozarks and Table Rock – our home lakes – so we're just doing the same thing we would do at home."
The 12th annual College Fishing Championship is a three-day event featuring the top 150 college bass fishing teams from across the nation competing in an internationally televised, no-entry fee tournament for a $33,500 prize package, including a new Phoenix 518 Pro bass boat with a 115-horsepower Mercury outboard.
In addition to the boat package, both members of the winning team and the runners-up at the 2021 Abu Garcia College Fishing National Championship will advance to the 2021 Toyota Series Championship where they will compete as pros for a top prize of up to $235,000. Both members of the third-place team will advance to the 2021 Toyota Series Championship to compete as co-anglers for a shot at winning a $33,500 Phoenix 518 Pro with a 115-horsepower Mercury outboard.
The full field of 150 teams compete on Wednesday and Thursday, with only the top-10 – based on two-day cumulative weight – advancing to Championship Friday. The National Champions will be crowned Friday based on the cumulative three-day weight total.
The top 10 teams after Day One on Grand Lake are:
1st: Drury University – Cole Breeden, Eldridge, Mo., and Cameron Smith, Nixa, Mo., five bass, 13-14
2nd: Josh Kelly, Cortland, Ohio, five bass, 13-12
3rd: Drury University – Grant Harris, Springfield, Mo., and Beau Browning, Hot Springs, Ark., five bass, 13-5
4th: McKendree University – Tyler Christy, Bolingbrook, Ill., and Trey Schroeder, Crestwood, Mo., five bass, 13-4
5th: Murray State University – Zachary Martin, Murray, Ky., and Harbor Lovin, Fayetteville, Ohio, five bass, 12-11
6th: Bryan College – Mason Cizek, Knoxville, Tenn., and Jake Lee, Powell, Tenn., five bass, 12-8
7th: Stephen F. Austin – Hunter Muncrief, Pineland, Texas, and River Lee, Nacogdoches, Texas, four bass, 12-1
8th: Louisiana State University – Jack Thomas, Prairieville, La., and Connor Turner, Albany, La., five bass, 11-9
9th: Zachary Potter, Haddon Township, N.J., and Alex Johnson, Milltown, N.J., five bass, 11-8
10th: Auburn University – Robbie Cruvellier, Alburgh, Vt., and Chase Clarke, Auburn, Ala., four bass, 11-4
For a full list of results, visit MajorLeagueFishing.com.
Overall, there were 206 bass weighing 439 pounds, 2 ounces caught by 73 teams Wednesday. The catch included 19 five-bass limits.
Anglers will take off from Wolf Creek Park, located at 963 N. 16th St. in Grove at 7 a.m. CT on Thursday and Friday. Weigh-ins will also be held at the park starting at 3 p.m. and will be livestreamed both days. Due to COVID-19 protocols, attendance is limited to competing anglers, family, essential staff and media covering the event. Fans are encouraged to tune in to the weigh-in and follow the online coverage at MajorLeagueFishing.com .
The Abu Garcia College Fishing presented by YETI National Championship presented by Lowrance at Grand Lake is hosted by the Grove Convention and Tourism Bureau.
National television coverage of the Abu Garcia College Fishing presented by YETI National Championship presented by Lowrance will premiere Sunday, July 4, from 8-9 a.m. ET on the Outdoor Channel, with re-airs on the Sportsman Channel and World Fishing Network in the fall.
Abu Garcia College Fishing presented by YETI teams compete in three regular-season qualifying tournaments in one of five conferences – Central, Northern, Southern, Southeastern and Western. The top ten teams from each division's three regular-season tournaments and the top 20 teams from the annual Abu Garcia College Fishing Open advance to the following year's Abu Garcia College Fishing presented by YETI National Championship.
For complete details and updated information visit MajorLeagueFishing.com. For regular updates, photos, tournament news and more, follow the Abu Garcia College Fishing presented by YETI on MLF's social media outlets at Facebook, Twitter, Instagram and YouTube.
About MLF BIG5
MLF BIG5 is part of MLF, the world's largest tournament-fishing organization. It provides anglers of all skill levels the opportunity to compete for millions in prize money across five tournament circuits featuring a five-biggest-fish format. Headquartered in Tulsa, Oklahoma, with offices in Benton, Kentucky, MLF and its partners conduct more than 290 bass-fishing tournaments annually around the world, including the United States, Canada, China, Italy, South Korea, Mexico, Namibia, Portugal, South Africa, Spain and Zimbabwe.
MLF tournaments are broadcast on Outdoor Channel, Sportsman Channel, World Fishing Network, MyOutdoorTV, Discovery and CBS Sports while MLF Bass Fishing magazine delivers cutting-edge tips from top pros to the world's most avid bass anglers.