Catch Live Coverage Of Bassmaster Elite At Lake St. Clair On ESPN2
Category: article
Aug 19th, 2020 by Keith Worrall
Modified Aug 19th, 2020 at 1:58 PM

Fans can catch four days of live coverage during the YETI Bassmaster Elite at Lake St. Clair on ESPN2, Bassmaster.com and ESPN3.
Photo by B.A.S.S.
August 19, 2020
Catch Live Coverage Of Bassmaster Elite At Lake St. Clair On ESPN2
BIRMINGHAM, Ala. — Following the Bassmaster Elite Series' previous three events, where more than 10 million viewers got hooked on fishing during 12 days of real-time coverage, ESPN2 will televise more on-the-water action from the smallmouth powerhouse of Lake St. Clair.
Complementing the award-winning Bassmaster LIVE coverage on Bassmaster.com and ESPN3 that fans are familiar with during an Elite Series event, viewers can catch exciting on-the-water action from the 2020 YETI Bassmaster Elite at Lake St. Clair Aug. 20-23 on ESPN2.
Additionally, the anglers are making use of their time on-screen to explain the sport as well as offer tips and techniques to help fans of all levels improve their fishing.
"I want our broadcasts to be entertaining and educational for anglers of all levels whether it's the first or 100th event they have watched," said Elite Series pro Brandon Palaniuk, who came from behind on Championship Sunday to win the recent Bassmaster Elite at Lake Champlain. "That's why I do my best to explain what I'm seeing out there in the moment."
This will mark the eighth time B.A.S.S. has brought a major event to St. Clair since 1994, which finished No. 4 on Bassmaster Magazine's recently released Best Bass Lakes of the Decade list. In the most recent derby — the 2019 Toyota Bassmaster Angler of the Year Championship — Minnesota pro Seth Feider had a massive three-day, 15 fish total weight of 77 pounds, 15 ounces.
Upcoming Bassmaster LIVE Schedule (All Times Subject to Change)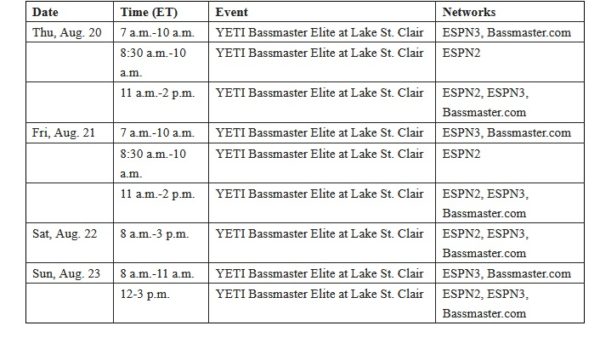 About B.A.S.S.
B.A.S.S. is the worldwide authority on bass fishing and keeper of the culture of the sport, providing cutting edge content on bass fishing whenever, wherever and however bass fishing fans want to use it. Headquartered in Birmingham, Ala., the 515,000-member organization's fully integrated media platforms include the industry's leading magazines (Bassmaster and B.A.S.S. Times), website (Bassmaster.com), television show (The Bassmasters on ESPN2 and The Pursuit Channel), radio show (Bassmaster Radio), social media programs and events. For more than 50 years, B.A.S.S. has been dedicated to access, conservation and youth fishing.
The Bassmaster Tournament Trail includes the most prestigious events at each level of competition, including the Bassmaster Elite Series, Basspro.com Bassmaster Opens Series, TNT Fireworks B.A.S.S. Nation Series, Carhartt Bassmaster College Series presented by Bass Pro Shops, Mossy Oak Fishing Bassmaster High School Series presented by Academy Sports + Outdoors, Bassmaster Team Championship, new Huk Bassmaster B.A.S.S. Nation Kayak Series powered by TourneyX presented by Abu Garcia and the ultimate celebration of competitive fishing, the Academy Sports + Outdoors Bassmaster Classic.