Buck Extends Lead at MLF Tackle Warehouse Pro Circuit Toyota Stop 5 on the James River Presented by PowerStop Brakes
Category: article
Jun 17th, 2022 by Keith Worrall
Modified Jun 17th, 2022 at 7:55 PM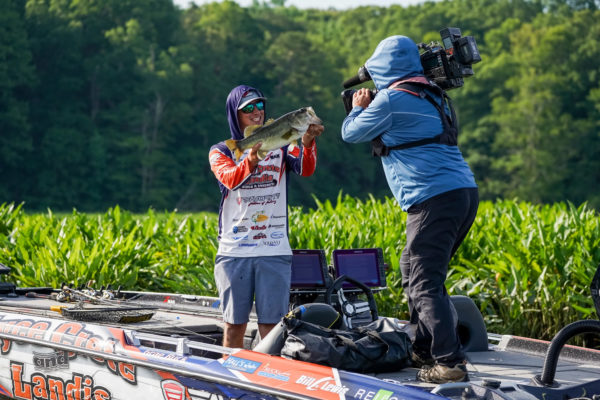 Pennsylvania Pro Steady with Limit Weighing 15-2, Gallelli and Neal Both Vault into Top Five with 18-9 Limits
RICHMOND, Va. (June 17, 2022) – Pro Grae Buck of Green Lane, Pennsylvania, brought a five-bass limit to the scale Friday weighing 15 pounds, 2 ounces, to extend his lead after Day 2 at the Major League Fishing (MLF) Tackle Warehouse Pro Circuit Toyota Stop 5 on the James River Presented by PowerStop Brakes in Richmond, Virginia. The four-day event, hosted by Richmond Region Tourism in cooperation with the Henrico Sports & Entertainment Authority, features a field of 154 of the world's best bass-fishing professionals competing for a top award of up to $135,000.
Buck's two-day total of 10 bass weighing 36-5 gives him a two-pound advantage over second-place pro, Florence, Italy's Jacopo Gallelli, who brought an 18-pound, 9-ounce limit to the scale for a two-day total of 34-5. Pro Dakota Ebare of Brookeland, Texas, slipped to third with 10 bass totaling 33-7, and reigning Pro Circuit Angler of the Year Michael Neal of Dayton, Tennessee , jumped into fourth place with 10 bass weighing 33 pounds even. The 73-year-old La Crosse, Wisconsin, pro Tom Monsoor, rounds out the top five with 10 bass totaling 32-15.
Link to Photo of Day 2 Leader Grae Buck
Link to Photo Gallery of Day 2 Highlights
Link to Video of Fish-Catch Highlights of Day 2 on the James River
"I ran the gameplan, the same as I did yesterday. But, with the tide being 45 minutes different, I had to wait a little bit longer today for those fish to set up and get right," Buck said. "Once they did, I caught a big one that was almost 6 pounds, just throwing a Z-Man Bang Stick out and letting it flutter in the current."
After that, Buck said he bounced around to a couple of different areas, plucking a couple of keepers off of two little drains located on a big flat, and a couple more from the duck blinds that he had fished on Day 1.
"I also ran up to the top of the Chickahominy, which I didn't have an opportunity to do yesterday because I had a short day," Buck said. "I wanted to do a little more exploring to see what was going on up there. What I found was decent. I had the opportunity at one real big one that just came off. It was good, though, because it was good information for Day 4, and it's just going to keep getting longer and longer that I have to wait at my best spot."
Buck mentioned a Neko-rigged California Craw-colored Z-Man Bang Stick as being a key bait for him this week, but also said he was catching fish on a Z-Man Jack Hammer and an unnamed swimjig.
"I don't know where I'm going to start tomorrow, because it will now be two hours until it gets right. I'm very tempted to not go to that ditch right away, because I don't want to waste time," Buck said. "But it's a gamble, because if someone else pulls in there and then I can't get on it, that would be an issue. But if I can catch them somewhere else in the morning, that would really be valuable information for Championship Sunday. So, I don't know what I'm going to do tomorrow and I'm really going to have to come up with a good gameplan tonight."
The top 50 pros that made the cut after Day 2 and will fish Saturday on the James River are:
1st: Grae Buck, Green Lane, Pa., 10 bass, 36-5
2nd: Jacopo Gallelli, Florence, Italy, 10 bass, 34-5
3rd: Dakota Ebare, Brookeland, Texas, 10 bass, 33-7
4th: Michael Neal, Dayton, Tenn., 10 bass, 33-0
5th: Tom Monsoor, La Crosse, Wis., 10 bass, 32-15
6th: Cole Hewett, Orange Park, Fla., 10 bass, 32-11
7th: Tyler Woolcott, Port Orange, Fla., 10 bass, 32-3
8th: Jeff Reynolds, Calera, Okla., 10 bass, 31-8
9th: Stephen Albertson, Stuart, Fla., 10 bass, 31-5
10th: Nick LeBrun, Bossier City, La., 10 bass, 31-5
11th: Martin Villa, Charlottesville, Va., 10 bass, 31-2
12th: Cole Floyd, Leesburg, Ohio, 10 bass, 31-1
13th: Josh Butler, Hayden, Ala., 10 bass, 30-8
14th: Jason Reyes, Huffman, Texas, 10 bass, 30-3
15th: Josh Bragg, Fayetteville, Ga., 10 bass, 30-3
16th: Jacob Wall, New Hope, Ala., 10 bass, 30-1
17th: Barron Adams, Mineral Bluff, Ga., 10 bass, 30-0
18th: Tyler Stewart, Dubach, La., 10 bass, 30-0
19th: Mitch Crane, Columbus, Miss., 10 bass, 29-14
20th: Cody Pike, Powhatan, Va., 10 bass, 29-13
21st: Jason Vance, Battle Ground, Ind., 10 bass, 29-10
22nd: John Cox, DeBary, Fla., 10 bass, 29-7
23rd: Braxton Setzer, Wetumpka, Ala., 10 bass, 29-5
24th: Brett Hite, Phoenix, Ariz., 10 bass, 29-1
25th: Brian Latimer, Belton, S.C., 10 bass, 28-14
26th: Chris Groh, Spring Grove, Ill., 10 bass, 28-13
27th: Cal Lane, Guntersville, Ala., 10 bass, 28-13
28th: Chad Grigsby, Maple Grove, Minn., 10 bass, 28-12
29th: Richard Lowitzki, Hampshire, Ill., 10 bass, 28-11
30th: Kyle Hall, Granbury, Texas, 10 bass, 28-11
31st: Robby Lefere, Jackson, Mich., 10 bass, 28-10
32nd: Cole Harris, Raleigh, N.C., five bass, 28-5
33rd: Miles Howe, San Juan Capistrano, Calif., 10 bass, 28-3
34th: Justin Lucas, Guntersville, Ala., 10 bass, 28-3
35th: Jason Lieblong, Conway, Ark., 10 bass, 28-2
36th: Evan Barnes, Dardanelle, Ark., 10 bass, 28-2
37th: Chad Warren, Sand Springs, Okla., 10 bass, 28-1
38th: Clabion Johns, Social Circle, Ga., 10 bass, 28-0
39th: Chris Lane, Guntersville, Ala., 10 bass, 27-8
40th: David Walker, Sevierville, Tenn., 10 bass, 27-5
41st: Kyle Weisenburger, Columbus Grove, Ohio, 10 bass, 27-3
42nd: Jim Moynagh, Shakopee, Minn., 10 bass, 27-1
43rd: Tai Au, Glendale, Ariz., 10 bass, 27-1
44th: Grant Galloway, Houlka, Miss., 10 bass, 27-1
45th: Justin Cooper, Zwolle, La., 10 bass, 26-13
46th: Phillip Dutra, Guntersville, Ala., 10 bass, 26-12
47th: Joey Cifuentes, Clinton, Ark., 10 bass, 26-11
48th: J. Todd Tucker, Moultrie, Ga., 10 bass, 26-11
49th: Wesley Strader, Spring City, Tenn., 10 bass, 26-5
50th: Alex Davis, Albertville, Ala., 10 bass, 26-4
Complete results for the entire field can be found at MajorLeagueFishing.com.
Brett Hite earned Friday's $1,000 Berkley Big Bass award with a beautiful largemouth bass that weighed 8 pounds, 10 ounces.
Overall, there were 745 bass weighing 1,722 pounds, 2 ounces caught by 152 pros Friday. The catch included 144 five-bass limits.
The MLF Tackle Warehouse Pro Circuit Toyota Stop 5 on the James River Presented by PowerStop Brakes marks the fifth of six regular-season Pro Circuit events in 2022 and offers competitors a total purse of more than $850,000.
In Tackle Warehouse Pro Circuit competition, the full field of 154 anglers competed in the two-day opening round on Thursday and Friday. Now, only the top 50 pros based on their two-day cumulative weight advance to Saturday. Only the top 10 pros, based on cumulative weight from the first three days, will continue competition on Championship Sunday. Weights are reset to zero, and anglers will compete in a one-day shootout for the grand prize of up to $135,000, including the lucrative $35,000 Phoenix MLF Bonus for qualified anglers.
Throughout the season, anglers are also vying for valuable points in hopes of qualifying for the 2022 Tackle Warehouse Pro Circuit TITLE Presented by Mercury, the Pro Circuit Championship, where they will compete for up to $235,000. The 2022 TITLE will be on the St. Lawrence River in Massena, New York on Aug. 16-21, and is hosted by the Town of Massena.
Anglers will take off at 6:30 a.m. ET each day from the Osborne Landing, located at 9530 Osborne Turnpike in Richmond. Weigh-ins will also be held at the landing daily beginning at 2:30 p.m. Fans are encouraged to attend the morning take offs and afternoon weigh-ins, and also follow the live on-the-water action all four days of competition online on MLF NOW! beginning at 7 a.m. ET at MajorLeagueFishing.com.
As part of the event, on Saturday, June 18 and Sunday, June 19, from Noon to 4 p.m., fans are invited out to the Major League Fishing Festival at the Osborne Landing. Hosted by Richmond Region Tourism, the event will feature fans meeting and getting autographs from their favorite pro anglers that compete on the Tackle Warehouse Pro Circuit. Children are welcome to visit the Kids Zone to meet Skye & Marshall from PAW Patrol, fish for live fish in the Kids Fishing Pond, show off their artistic skills at the coloring stations, and more. Vendor booths from MLF sponsors, food, prizes and giveaways, including a FREE Abu Garcia rod and reel combo for the first 50 high school or middle school anglers, are available to festival goers. On Saturday and Sunday, one lucky attendee will play for a brand new 2022 Toyota Tundra in the Bully Dog Pick 'Til You Win game, with runner up prizes of a new 70-inch 4K UHD Smart TV or a Bully Dog Performance Tuner. For more information on the Major League Fishing Festival, visit MajorLeagueFishing.com/Attend.
The MLF NOW!® broadcast team of Chad McKee, Marty Stone and J.T. Kenney will break down the extended action on all four days of competition from 7 a.m. to 2:15 p.m. ET. MLF NOW!® will be live streamed on MajorLeagueFishing.com and the MyOutdoorTV (MOTV) app.
The MLF Tackle Warehouse Pro Circuit Toyota Stop 5 on the James River Presented by PowerStop Brakes will feature live on-the-water coverage and a two-hour action-packed television show that will premiere on the CBS Sports Network in early September.
Proud sponsors of the 2022 MLF Tackle Warehouse Pro Circuit include: 4WP, 13 Fishing, Abu Garcia, A.R.E. Truck Caps, B&W Trailer Hitches, Berkley, Black Rifle Coffee, E3, Epic Baits, Favorite Fishing, Gary Yamamoto Baits, General Tire, Lew's, Lowrance, Lucas Oil, Mercury, Mossy Oak, Onyx, Phoenix, Polaris, Power-Pole, Strike King, Tackle Warehouse, T-H Marine, Toyota, Wiley X and YETI.
For complete details and updated information visit MajorLeagueFishing.com. For regular updates, photos, tournament news and more, follow the Tackle Warehouse Pro Circuit on the MLF5 social media outlets at Facebook, Instagram and YouTube.
About Major League Fishing
Major League Fishing (MLF) is the world's largest tournament-fishing organization, producing more than 250 events annually at some of the most prestigious fisheries in the world, while broadcasting to America's living rooms on CBS, the Discovery Channel, the Outdoor Channel, CBS Sports Network, the World Fishing Network, and on-demand on MyOutdoorTV (MOTV). Headquartered in Tulsa, Oklahoma, with offices in Benton, Kentucky, the MLF roster of bass anglers includes the world's top pros and more than 30,000 competitors in all 50 states and 13 countries. In 2019, MLF expanded its portfolio of catch, weigh, and immediately release events to include the sport's strongest five-biggest-fish format tournament circuits. Since its founding in 2011, MLF has advanced the sport of competitive fishing through its premier television broadcasts and livestreams and is dedicated to improving the quality of life for bass through research, education, fisheries enhancement, and fish care.
Major League Fishing – WE ARE Bass Fishing™