Bassmaster College Series Takes On Logan Martin With Last-Chance Championship Qualifier
Category: article
Jun 9th, 2022 by Keith Worrall
Modified Jun 9th, 2022 at 9:08 PM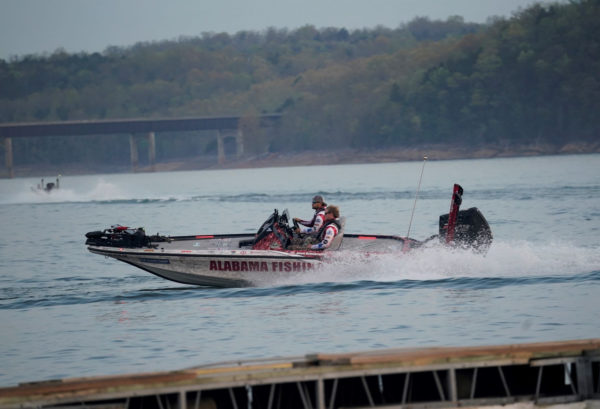 Alabama's Logan Martin Lake will host the 2022 Strike King Bassmaster College Series Wild Card presented by Bass Pro Shops June 17-18.
Photo by Kyle Jessie/B.A.S.S.
June 9, 2022
Bassmaster College Series Takes On Logan Martin With Last-Chance Championship Qualifier
LINCOLN, Ala. — College anglers will have one last chance to qualify for the Strike King Bassmaster College Series National Championship presented by Bass Pro Shops when teams from around the country take on Alabama's Logan Martin Lake for a Wild Card tournament June 17-18. The Wild Card gives teams waitlisted for the other four regular-season events one last chance to make it into the field for the National Championship Sept. 2-4 on South Carolina's Winyah Bay.
Bassmaster Elite Series champion and Coosa River guru Wes Logan believes a lot of bass will be caught, but that finding a couple of 3-pounders will be the key.
"It has a lot of 1- to 2 1/2-pounders in Logan Martin," Logan said. "It has quite a few big ones too, but they aren't everywhere. The average total weight this time of year isn't going to be really high, somewhere between 8 and 11 pounds. It is going to be hard to catch anything over 12 pounds."
Located between Neely Henry and Lay Lake, the Coosa River impoundment features both spotted bass and largemouth bass. Last year's Wild Card event was held on Lay, and while they are on the same river chain, there are several differences in how the reservoirs are set up.
"They are more different than they are similar," Logan said. "Lay has a lot more vegetation, whereas Logan Martin is more of a rocky-type place with hard structure like docks, gravel banks and long running points. Logan Martin is a little dirtier than Lay up the river. Logan Martin is one of the biggest party lakes in the area, and late in the day you will have a lot of pontoon boats and wake boats."
Compared to a lot of other lakes in the country, Logan Martin is relatively small, but Logan said much of the lake will play.
"Especially this time of year, you can catch fish shallow, you can fish out deep on ledges," he said. "You can fish brushpiles, humps and roadbeds. There are a lot of fish and it will spread guys out to where they can fish their strengths."
Logan Martin is controlled by dams on either end of the lake, presenting the opportunity to fish current-oriented bass. Depending on the moon cycle, Logan added there could be a bluegill spawn happening as well.
If summer downpours and storms roll through, Logan said anglers will be more likely to find a bigger bite using frogs, buzzbaits and spinnerbaits. A shaky head will likely come into play as well.
While it could be won with all spotted bass or all largemouth, Logan anticipates it will take a mixed bag.
"You can catch a 4-pound spot in the same place you catch a 4-pound largemouth," he said. "The better game plan would be to target largemouth and you might happen to catch one or two really good spots to go with it.
"As a whole, there are a lot more spotted bass than largemouth. If someone can crack the code on better-quality largemouth, you may not get as many bites, but if you are fishing to win — that is what I would do."
The full field will compete June 17-18 with daily takeoffs from Lincoln's Landing at 5:30 a.m. CT. Weigh-ins will take place back at the landing at 1:30 p.m. Coverage can be found on Bassmaster.com.
The tournament is being hosted by the City of Lincoln.
2022 Bassmaster College Series Title Sponsor: Strike King
2022 Bassmaster College Series Presenting Sponsor: Bass Pro Shops
2022 Bassmaster College Series Platinum Sponsor: Toyota
2022 Bassmaster College Series Premier Sponsors: Berkley, Humminbird, Mercury, Minn Kota, Nitro Boats, Power-Pole, Progressive Insurance, Ranger Boats, Rapala, Skeeter Boats, Yamaha
2022 Bassmaster College Series Supporting Sponsors: AFTCO, Daiwa, Garmin, Huk Performance Fishing, Marathon, Triton Boats, VMC
2022 Bassmaster College Series Youth Sponsors: Shimano, SPRO
About B.A.S.S.
B.A.S.S., which encompasses the Bassmaster tournament leagues, events and media platforms, is the worldwide authority on bass fishing and keeper of the culture of the sport, providing cutting edge content on bass fishing whenever, wherever and however bass fishing fans want to use it. Headquartered in Birmingham, Ala., the 515,000-member organization's fully integrated media platforms include the industry's leading magazines (Bassmaster and B.A.S.S. Times), website (Bassmaster.com), TV show, radio show, social media programs and events. For more than 50 years, B.A.S.S. has been dedicated to access, conservation and youth fishing.
The Bassmaster Tournament Trail includes the most prestigious events at each level of competition, including the Bassmaster Elite Series, St. Croix Bassmaster Opens Series presented by Mossy Oak Fishing, TNT Fireworks B.A.S.S. Nation Series, Strike King Bassmaster College Series presented by Bass Pro Shops, Abu Garcia Bassmaster High School Series presented by Academy Sports + Outdoors, Bass Pro Shops Bassmaster Team Championship, Yamaha Rightwaters Bassmaster Kayak Series powered by TourneyX, Yamaha Bassmaster Redfish Cup Championship presented by Skeeter and the ultimate celebration of competitive fishing, the Academy Sports + Outdoors Bassmaster Classic presented by Huk.