AQUA-VU: Ott Talks Underwater Cameras
Category: press release
Apr 16th, 2019 by sworrall
Modified Apr 16th, 2019 at 9:41 AM
Bassmaster Classic Champ Outlines Aqua-Vu Strategic Advantages
Crosslake MN (April 16, 2019) – An increasingly important, though rarely talked-about tool in bass boats today, an underwater camera yields real-life fishing visuals that can't be refuted. For 2019 Bassmaster Classic champion, Ott DeFoe, however, concealing a camera in boat storage is no longer an option, as his newest high-definition model is mounted right to the deck of his Nitro bass boat, alongside other electronics.
"In any tournament where we have decent water clarity, seems like I'm dropping the Aqua-Vu camera day-in and day-out," says the popular, super-successful Tennessee angler.
"I've definitely got my eye on stages five and six of the Bass Pro Tour," DeFoe recently remarked. "The Smith Lake, Alabama event at should be really interesting. A lot of the bigger bass are deepwater spawners. If it's even the slightest bit choppy on the surface, you won't see them, and can easily drive your boat right past them.
"A big part of my gameplan will be to scout with my Aqua-Vu HD10i Pro camera. In scenarios like this, the Aqua-Vu helps me find, mark and study those bigger fish, in this case, spotted bass.
"It's a lot like smallmouths on northern lakes. You see a few of these guys using 'floggers'—they look like those big orange highway cones—to look at smallmouth beds. An Aqua-Vu is way easier to use and shows what's happening down there in greater detail—and you don't have to lug a big orange cone in your boat."
DeFoe further notes that while side-looking sonar can help unearth deeper spawning beds, only the camera shows him the size, precise position or activity level of each bass. "For me, the Aqua-Vu reveals exactly where the bed is located, if there's a boulder on one side or the other, and where bass are positioned relative to the bed. I can also see if bass are chasing bluegills off the bed or if the fish is pinned down tight. All these visuals tell me exactly where to cast, as well as clues about what lure to throw."
The newest underwater cameras allow for in-boat mounting and display video images in full HD.
While the Aqua-Vu camera can be deployed and manipulated via attached ballast weights and stabilizing trolling fin, DeFoe often makes use of another tool for precisely probing bass beds or peaking beneath boat docks and other shallow cover. "I can actually attach the camera optics directly to the end of my Superstick push pole, using an Aqua-Vu XD Pole Camera Adaptor. The pole telescopes out to 17 feet and lets me pan and aim the lens in any direction. I can even adjust the angle of the lens up and down for different perspectives. The pole cam is also a great tool for poking in and seeing what's living under docks and shallow timber."
Moving offshore, DeFoe says his underwater camera continues to yield invaluable fishing information on brushpiles, boulder fields and submerged vegetation. At last year's Classic at Lake Hartwell, where DeFoe finished 6th, the camera helped eliminate several unproductive brushpiles.
"I drove over several deep brushpiles and graphed what looked like a load of bass. I dropped the optics and immediately saw a bunch of crappies, but no bass. This is just one instance that saved me the time and effort of casting to the wrong species."
At a 2018 visit to the St. Lawrence River—a late August Bassmaster Elite Series event—DeFoe called out a key advantage provided of his Aqua-Vu. "Those fish on the St. Lawrence sit so tight to the rocks, that even with my space-age Humminbird graphs, I couldn't always pick them out," he said. "But the underwater camera leaves nothing to doubt. After dropping the optics, I could see the fish clear as day. It gave me the confidence to stay and fish. I was able to execute the right drift, angle and speed and eventually boated a smallmouth over 4 pounds and another at almost three."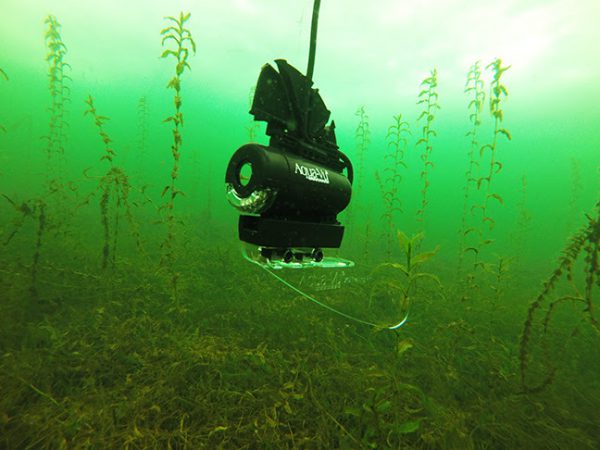 At another recent Elite Series event on Table Rock Lake, DeFoe's sonar identified a massive school of sizeable fish, suspended in timber 20 feet down over 35 feet of water. "It looked like the mother lode," recalls DeFoe. "I spun around and threw a swimbait through the zone. Fished this way for 15 or 20 minutes. I could see fish on sonar, grouped so tightly they almost cluttered out the screen. Finally, I dropped the Aqua-Vu, and saw . . . Gar. Piles of 'em.
"For that reason alone—fish identification—I always keep the camera in the boat. Imagine how much time over the years we've spent fishing for the 'wrong' species, and wondered why they wouldn't bite."
DeFoe adds that he often simply uses the camera to confirm or disprove what he's seeing on sonar. "It's awesome for showing bass that get lost in cover—grass, brushpiles or under docks. I like to watch how they're relating to the cover; how they move around and alongside it. Fun to watch all this on screen. My kids love it. But it's also a great learning tool that can help determine patterns or even indicate what type of presentation will work best."
"The good and bad about using a camera," DeFoe laughs, "is that it finds them with 100-percent certainty, but doesn't guarantee they'll bite."