Alton Jones Jr. Catches 8-Pound, 3-Ounce Lunker to Win $50K, Final 10 Set for Championship Round at General Tire Heavy Hitters Presented by Bass Pro Shops Event on Lake Palestine
Category: article
Apr 13th, 2022 by Keith Worrall
Modified Apr 13th, 2022 at 6:46 PM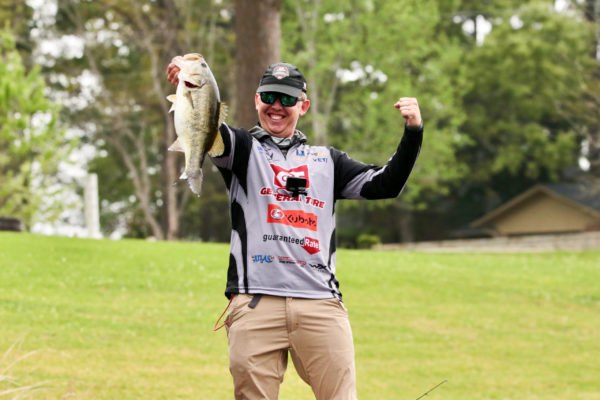 Birge Paces Knockout Round Field as Eight Anglers Advance, $100K Top Prize and $100K Big Bass Bonus Up for Grabs Thursday
TYLER, Texas (April 13, 2022) – Last year at the 2021 Major League Fishing (MLF) General Tire Heavy Hitters All-Star Event, pro Alton Jones, Sr. put on a Championship Round sight-fishing clinic enroute to winning the Championship Title and the $100,000 top prize. This year, Jr. wants a crack at the belt.
Pro Alton Jones, Jr., of Waco, Texas, caught an 8-pound, 3-ounce largemouth Wednesday afternoon on Lake Palestine – the heaviest bass of the day – to win the $50,000 Berkley Big Bass Bonus at the General Tire Heavy Hitters Presented by Bass Pro Shops on Lake Palestine. Jones, Jr. finished the day in 6th place and now earns his way into Thursday's final-day Championship Round and a shot at the $100,000 top prize, and the $100,000 Big Bass Bonus.
Link to Photo Gallery of Knockout Round Day 5 Highlights
"I finished in sixth place, but I feel like I won," Jones, Jr. said. "Man, 50 grand isn't too bad for one bite. You always hope you're going to get that bite, and with big fish it can be a little bit of luck. But I caught the biggest and the second-biggest today, and it was just a really fun day."
Jones, Sr. won the Heavy Hitters title last year despite not earning a Berkley Big Bass Bonus Award during the event. Jones, Jr. said his strategy tomorrow will be a little different.
"It would be cool to win that belt, but I've got one goal on my mind tomorrow and that's catching the biggest bass of the day for $100,000," the Waco, Texas pro said. "It's going to be hard to catch a bunch of 3-pounders, but if you can catch an 8 or a 9, you'll be sitting in a really good position. I'm going to treat this event like a big bass tournament – but it would be very cool to get back-to-back Heavy Hitters titles for the Jones'.
"Tomorrow we're going have bluebird skies, light winds, and it's going to be the best sight-fishing day we've had all week," Jones, Jr. went on to say. "It's going to be hard for me to keep up numbers wise, but I'm going to really try hard to put myself in front of the biggest bass on this lake and make her bite."
Joining Jones, Jr. in the Championship Round Thursday will be pro Zack Birge of Blanchard, Oklahoma, who won Wednesday's Knockout Round with 10 scorable bass weighing 37 pounds, 14 ounces – including an 18-pound third period.
"It was a good day. Frustrating, but good," Birge said. "I ended up with 37 pounds, but I should have had 37 pounds this morning in the first couple of couple of hours if I just could have got them stuck. I'm just thankful I finally got a few of them pegged and got enough bites to fish tomorrow.
"Tomorrow I'll come back out and start fresh, and hopefully we'll stick a few more of those early in the day bites," Birge continued. "It would be nice to get up 20 to 30 pounds before lunch and then continue to do what we did this afternoon. That would be perfect. If any day is going to go perfect, tomorrow is the day. I've got my fingers crossed – tomorrow will be better."
The top eight pros from the Knockout Round that will compete Thursday's Knockout Round on Lake Palestine are:
1st: Zack Birge, Blanchard, Okla., 10 bass, 37-14
2nd: Justin Lucas, Guntersville, Ala., nine bass, 29-7
3rd: Takahiro Omori, Tokyo, Japan, nine bass, 29-6
4th: Fletcher Shryock, Guntersville, Ala., nine bass, 29-4
5th: Ish Monroe, Oakdale, Calif., nine bass, 28-6
6th: Alton Jones, Jr., Waco, Texas, five bass, 27-10
7th: Russ Lane, Prattville, Ala., eight bass, 25-6
8th: Dustin Connell, Clanton, Ala., six bass, 24-12
They'll be joined by Qualifying Round Winners:
Group A: Ott DeFoe, Blaine, Tenn.
Group B: Stephen Browning, Hot Springs, Ark.
Eliminated from competition after the Knockout Round on Lake Palestine are:
9th: Jordan Lee, Cullman, Ala., seven bass, 18-7
10th: Michael Neal, Dayton, Tenn., six bass, 15-10
11th: Bobby Lane, Lakeland, Fla., five bass, 13-1
12th: Bradley Roy, Lancaster, Ky., two bass, 7-15
13th: Brent Ehrler, Redlands, Calif., three bass, 7-8
14th: Jeff Kriet, Ardmore, Okla., two bass, 6-11
Full results can be found at MajorLeagueFishing.com.
Overall, there were 90 scorable bass weighing 301 pounds, 5 ounces caught by the 14 pros on Wednesday.
Berkley Big Bass Bonus Award Winners:
Qualifying Round Group A: Bradley Roy, Lancaster, Ky. (6-9), $25,000
Qualifying Round Group B: Brent Ehrler, Redlands, Calif. (8-5), $25,000
Knockout Round: Alton Jones, Jr., Waco, Texas (8-3), $50,000
Championship Round: TBD, $100,000
The final 10 anglers competing in Thursday's Championship Round will depart at 7 a.m. from the Villages Marina, located at Big Eddy Road in Flint, Texas. Anglers are allowed to trailer to any boat ramp of their choosing on Lake Palestine, but competition begins with "lines in" at 8 a.m.
Fans are encouraged to come out and celebrate with the professional anglers from the Bass Pro Tour on Thursday, April 14, starting at 3:30 p.m. at the Villages Marina in Flint, Texas, as they crown the champion of the General Tire Heavy Hitters 2022 Presented by Bass Pro Shops. The first 50 children at the event will receive a free Dora the Explorer rod and reel, and the first 50 High School Fishing anglers will receive a free Abu Garcia rod and reel combo, valued at $100. Free food will be provided for all, and the Bass Pro Tour anglers will be on hand to meet and greet fans, sign autographs, take selfies and participate in tackle giveaways.
Fans are welcome to attend all launch and takeout events and also encouraged to follow the event online throughout the day on the MLF NOW!® live stream and SCORETRACKER® coverage at MajorLeagueFishing.com.
The General Tire Heavy Hitters 2022 features anglers competing with a 2-pound minimum weight requirement for a bass to be deemed scorable in the Qualifying and Knockout Rounds, but for the final day Championship Round a bass must weigh at least 3 pounds to be deemed scorable. Minimum weights are determined individually for each competition waters that the Bass Pro Tour visits, based on the productivity, bass population and anticipated average size of fish in each fishery.
To qualify for the General Tire Heavy Hitters 2022 event, the weight of an angler's single-largest bass from each event of the seven 2021 Bass Pro Tour events was recorded. The 32 anglers with the heaviest five big-fish totals from those seven events qualified to compete in this event.
The MLF NOW!® broadcast team of Chad McKee, Marty Stone and J.T. Kenney will break down the extended action from the Championship Round on Thursday from 7:45 a.m. to 4:30 p.m. MLF NOW!® will be live streamed on MajorLeagueFishing.com and the MyOutdoorTV (MOTV) app.
Television coverage of the General Tire Heavy Hitters 2022 Event will be showcased across six two-hour episodes, premiering at 7 a.m. ET, July 16 and running each Saturday through August 20 on the Discovery Channel. A one-hour special episode of MLF Inside Heavy Hitters will also air on CBS in late 2022. New MLF episodes premiere each Saturday morning on the Discovery Channel, with additional re-airings on the Outdoor Channel and the Sportsman Channel. Each two-hour long reality-based episode goes in-depth to break down each day of competition.
Proud sponsors of the 2022 MLF General Tire Heavy Hitters Event include: Abu Garcia, B&W Hitches, Bally Bet, Bass Cat Boats, Bass Pro Shops, Berkley, Builders First Source, Covercraft, Ferguson, FuelMe, GEICO, General Tire, Guaranteed Rate, Kubota, Lowrance, Lucas Oil, Mercury, Mossy Oak, NITRO Boats, Onyx, Phoenix Boats, Plano, Power-Pole, Power Stop Brakes, Shore Lunch, Sonic, StarBrite, Sqwincher, T-H Marine, Toyota, United States Airforce, Wiley X, Yellowstone Bourbon, and YETI.
For complete details and updated information on Major League Fishing and the Bass Pro Tour, visit MajorLeagueFishing.com. For regular updates, photos, tournament news and more, follow MLF's social media outlets at Facebook, Twitter, Instagram, and YouTube.
About Major League Fishing
Major League Fishing (MLF) is the world's largest tournament-fishing organization, producing more than 250 events annually at some of the most prestigious fisheries in the world, while broadcasting to America's living rooms on CBS, the Discovery Channel, the Outdoor Channel, CBS Sports Network, the World Fishing Network, and on-demand on MyOutdoorTV (MOTV). Headquartered in Tulsa, Oklahoma, with offices in Benton, Kentucky, the MLF roster of bass anglers includes the world's top pros and more than 30,000 competitors in all 50 states and 13 countries. In 2019, MLF expanded its portfolio of catch, weigh, and immediately release events to include the sport's strongest five-biggest-fish format tournament circuits. Since its founding in 2011, MLF has advanced the sport of competitive fishing through its premier television broadcasts and livestreams and is dedicated to improving the quality of life for bass through research, education, fisheries enhancement, and fish care.
Major League Fishing – WE ARE Bass Fishing™