A chat with Shaw Grigsby
Jan 7th, 2019 by sworrall
Modified Jan 17th, 2019 at 10:25 AM
Shaw Grigsby is undoubtedly one of the most recognized anglers in pro bass fishing. Whether it's from his television hosting, his trademark brush mustache, or his infectious laugh, Shaw has chased bass for bucks for decades.
However, this famous fishing Floridian has may just have met his match and taken on a challenge worthy of his famous 'stache, Three Questions from BassFIRST. Did the amiable angler survive? Only those who read will discover the truth.
BF – What is the most memorable year in your life so far?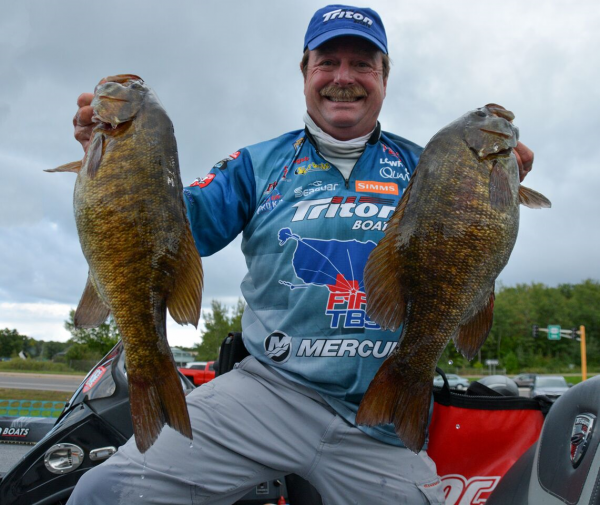 SG – That's a cool question. Might be 2011 and a win on the Harris Chain in Florida. It had been so long since I won an event. When you're in your 30s and 40s and life is going along great and you're performing well, and then all of a sudden it comes off the rail, you wonder if you're ever going to catch them again. Then to win that one that was really special. That might go down as as my special year. I'd like to think I still have some wins left in me.
BF – What is your biggest motivation in life?
SG – Now in life I'd say my family. My kids, grandkids. It's so wonderful having grandkids. With kids you're always so nervous, trying to do the right things, pushing so hard. I love my time with my kids, but with grandkids you can relax more. You've already fought the battles, you know what to expect. You can kind of see what is going to happen before it happens.
Watching them progress as people is amazing. Took my grandson to hunt his first deer and take his first gator. My motivation is now my family.
BF – What is your favorite football team?
SG – FLORIDA GATORS!!! I am a college sports fanatics. I love it. Fortunately raised in Gainesville, Florida. Raised in the SEC. Every single one of the University of Florida's sports teams are studs.
What I love about college sports is the passion. It's what drives us to fish as pros and in life. College sports are where you can have an unranked team take out a top team at anytime. It's so fun to watch. Go Gators!