Visit Us at Fargo and Sioux Falls Sport shows
Category: article
Mar 7th, 2021 by Keith Worrall
Modified Mar 7th, 2021 at 10:08 AM
It's Sportshow time again. Over the next couple of weeks, Lake of the Woods Tourism is displaying at two different sportsman's shows across the Dakotas. This is a great opportunity to learn more about the area, resorts and of course, the various kinds of fishing the go along with it.
This Weekend, Red River Valley Sportsman's Show in Fargo! It's sportshow season in the Dakotas and this time of the year, anglers are excited to talk Lake of the Woods fishing. Perfect timing to be talking Lake of the Woods at this weekend's Red River Valley Sportsmen's show that starts Thursday and runs through Sunday at the Fargodome in Fargo, ND.
Once again, we will be holding down booth #166 and look forward to seeing everyone.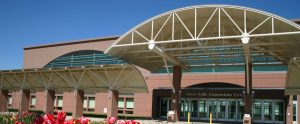 Next Weekend, Sioux Empire Sportsman's Show in Sioux Falls! Outdoor minded folks from the Dakotas and the surrounding region love Lake of the Woods. Once again, we will have our normal location in the main exhibit hall, booth #87. Swing by and say hello!
Learn More about Lake of the Woods! One of the great advantages of a sportshow is spending some time with experts from a destination to have the opportunity to learn, ask questions and ultimately make the best choice for your group. A group of guys headed up to fish for four days might be a very different looking trip than a husband / wife getaway or family vacation.
Joe Henry with Lake of the Woods Tourism will be at the Lake of the Woods Tourism booth all weekend both in Fargo and Sioux Falls happy to share info and answer questions.
Seminars! Sportshows are such a great place to learn more about fishing, hunting and the great outdoors. In Fargo and Sioux Falls, check out tournament champion Ted Takasaki discuss the topic "Walleyes Love Structure" and
"Jig for Walleyes Like a Pro". Ted has a long and successful history in the fishing industry and has educated anglers for decades.
Joe Henry from Lake of the Woods Tourism will also be presenting at both sportshows. Henry is a licensed charter captain along with a walleye tournament angler and outdoor media specialist. He will be speaking about "Pulling Spinners for Walleyes Like a Pro" and "Feel the Noise for Summer Walleyes".
Visitor Guides. While at the show, stop by and pick up our new Lake of the Woods Tourism visitor guide. This is a great time to learn more about the lake, resorts, activities, etc. taking place this year around Lake of the Woods.
There is a lot to talk about in the upcoming months at Lake of the Woods.
–Current Ice Fishing report around the Lake. What are current ice conditions? What is the current ice fishing report? How long does ice fishing last? What are they biting on? where to catch monster March pike.
–Upcoming Rainy River Walleye Fishing. What is the outlook for spring fishing on the river? Where should we fish? What should we use? How long does walleye season last? What accesses are on the Rainy River?
–Sturgeon Fishing. How long does the season last? What kind of setup should I use? What is a sturgeon rig? What part of the river do sturgeon live? What is slot during keep season?
–Resorts, Hotels, Outfitters and Guides. Where should I stay based on our group and what we want to do? Where can I find a list of resorts with amenity chart? Are there deals? What resorts offer full service guides? What kind of boats are used on different parts of the lake?
If you are in the Fargo area this weekend or Sioux Falls next weekend, stop by and say hello!
Click Here to view Lake of the Woods Lodging Options