Unforgettable Late Summer Fishing on Lake of the Woods
Category: article
Jul 11th, 2022 by Keith Worrall
Modified Jul 11th, 2022 at 8:07 AM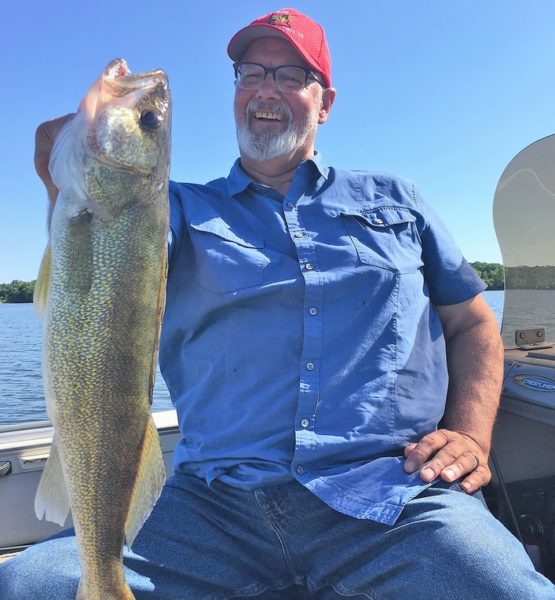 Summer fishing on Lake of the Woods is very simply, unforgettable. Whether you rely on the professionals at the resorts to lead your adventure on a charter boat or guide boat with a licensed charter captain, or your create your own adventure by fishing on your own, there are simply so many fish, a good number of big fish and so many good spots to fish. Summer fishing on Lake of the Woods is special.
1 Summer Walleyes
2 Spinners and Crawlers!
3 Trolling Crankbaits
4 Charter Boats and Fishing Guides
5 Bring your own Boat
6 Beautiful Lodging Throughout the Area
During the summers months, walleyes and saugers, the most sought after fish, are in abundance. Many are spread out over miles of mud flats on the main basin called Big Traverse Bay. Late in the summer, the go to technique for many anglers is drifting or trolling spinners, otherwise called, crawler harnesses and trolling crankbaits.
This isn't rocket science for sure. Basically, get out on part of the lake where the fish are living and simply drift through those big schools of fish with about a 2 ounce weight and spinner rig with a night crawler on it. The walleyes and saugers on these mud flats are roaming around looking for their next meal. Things normally work out well for anglers.
The other option is trolling crankbaits. This technique covers a lot of water and by paying attention to speed, size and color, you can really catch a lot of walleyes.
Plan on catching a variety of sizes of walleyes and saugers. Literally, catching walleyes so small you cannot believe they got the hook in their mouth along with a pile of eaters with the possibility of catching what many anglers come to Lake of the Woods for, a true giant walleye. Sorting through fish to find your keepers for the fry pan is a true sign of a healthy fishery.
As they say, a picture says a thousand words. The below video does a nice job of providing a glimpse of what it's like summer fishing on Lake of the Woods. This segment features pulling spinners!
Spinners and Crawlers!
Drifting or trolling spinners with crawlers is also a very proven technique as mid and late summer approach. The spinner attracts the fish with vibration and flash. The bait coaxes them into eating. A great way to cover lots of water and put your lures in front of a lot of fish.
Trolling Crankbaits
Trolling crankbaits is also a very successful technique. The key is presenting your lure where the fish are living. If the fish are shallow, trolling a crankbait along shore by just casting out and covering water works great. As the summer moves along, walleyes will head deeper in which a bottom bouncer with a 6 foot piece of fishing line and a crankbait, leadcore line or a three way rig are good ways to troll your crankbaits a bit deeper.

Charter Boats and Fishing Guides
Lake of the Woods is big water and the walleyes can be living in many places. One of the easiest, most successful and relaxing ways to pursue walleyes is boarding a charter boat or guide boat. Charter boats are big, safe and comfortable. A licensed charter captain runs the boat, keeps you safe and puts you on fish. When the fish have moved, captains are often networked with other captains so they can share info that ultimately puts you on biting fish. Resorts and other lodging properties in the area can assist with helping you book your guide or charter.
Don't know how to, or maybe don't want to clean fish? No problem, the guides clean the fish. In fact, if you don't want to do your own cooking, many of the resorts will actually cook up your fresh catch!

Bring your own Boat
There are so many areas to fish on Lake of the Woods in the summer. The Rainy River offers walleyes, saugers, pike, bass and sturgeon. The river is normally slow rolling, beautiful and full of fish. Lots of boat ramps from the mouth of the Rainy River called Wheeler's Point up river all the way to Birchdale about 30 miles east of Baudette. There are about 42 miles of navigable Rainy River to fish.
Big Traverse Bay is the big open water of Lake of the Woods. This is big water, about 30 miles across. This stretch of water is about 38 feet deep at it's deepest and absolutely full of walleyes, saugers and other species of fish.
The third part of the lake to fish on your own is the NW Angle. This is the little tip of Minnesota that is surrounded by Canada on three sides. It is the northernmost point of the contiguous United States and where the 14,552 islands of the lake begin. This area is full of fish with a variety of structure and always an island to get out of the wind.
Beautiful Lodging Throughout the Area
There are basically three areas to Lake of the Woods. The Rainy River flows through the small town of Baudette, MN and makes it's way to Lake of the Woods. The river is not only picturesque but also good fishing. The second area of the lake is the south shore overlooking big Lake of the Woods. The third area is that little tip of Minnesota that sticks up into Canada called the NW Angle.
There are a variety of lodging options within each area. Some like staying at a full service resort with charter boats, bar, restaurant and other nice amenities like pools, etc. Some prefer cooking their own meals and staying in a smaller resort setting. There are also very nice hotels and other rentals throughout the area. This lodging page basically features them all.
The summer fishing is great, but there is so much more. You are out amongst nature. The air is fresh and there are a variety of birds and wildlife around. It is common while fishing to see ducks, geese, seagulls, pelicans, loons, terns, herons, eagles and even a very rare piping plover on occasion.
Wildlife thrives in the area. Deer, bears, and wolves are just a few of the large game living living in the area. There is a wide variety of small game animals as well and while in the area, there is a good chance, you will see some.
This area is special. There are about 4,000 people in all of Lake of the Woods County and not one stoplight! This area is about outdoor recreation and the fishing is number one on the list for good reason.
If you want adventure and some of the best fishing anywhere, check out a summer fishing trip on Lake of the Woods. Try it one time and you'll be back!
Helpful information about the Lake of the Woods area
Lodging around the Lake of the Woods area
How to travel to Lake of the Woods