Tigress Debuts New XD Series Outrigger Mounts
Category: article
Jul 20th, 2021 by Keith Worrall
Modified Jul 20th, 2021 at 12:35 PM

Lake Worth, Fl. (July 20, 2021) – Tigress, the world's leader in trolling technology, is giving anglers even better control over their spread with the introduction of two new top mounts. The XD Bay Series Top Mount brings precision control to vessels up to 40 feet so they can dial in their spread inshore or off. The XD Crank Top Mount combines speed and precision, letting tournament anglers quickly deploy an effective spread at the first sign of life, current seam, or color break.
Built for everything from Mahi to Marlin, the XD Bay Series Top Mount delivers full-size performance in a package designed for bay boats. The XD Bay Series Top Mount accepts all of Tigress' world-class XD outrigger poles with 1-1/8" butt diameters in carbon or aluminum. Twenty-four adjustable positions in 15-degree increments stay precisely where you want them to, thanks to Tigress' XD 316L stainless steel locking design, but stows quickly with HD Spring return. The upper arm will go exactly where you want it as well, with 19 locking positions at 10-degree increments. You don't need to worry about bridges and trailering, thanks to horizontal stops that maximize clearance.
The XD Crank Top Mount is built to deploy in an instant, giving anglers pinpoint precision that makes the most of fleeting opportunities. The user-friendly folding crank handle with integrated drive brake gets the outriggers out fast, with a stainless steel and bronze-bushed head pivot that guarantees maximum strength and durability. The upper arm is also easily controlled, with a ball-bearing drive system with balance spring assist. The two combine to offer 24 adjustable/locking positions featuring Tigress' XD 316L stainless steel locking tooth design, including 'Run' and 'Laydown' position stops and eight optional user-indexable set-up positions.
Built with an extreme duty top plate, upper arm and housings, the XD Crank Top Mount can handle all Tigress XD 1-1/2" butt diameter outriggers (and XD 1-1/8" butt diameter outriggers with an adapter) to 22 feet. The unique ergonomic, invertible 316 stainless steel mirror-polished handle design provides plenty of clearance on soft and hard tops over 2 inches thick, and is built for vessels up to 50 feet. It fits through all standard 3-inch diameter mounting plates and hard-top holes.
Both the XD Bay Series Top Mount and the XD Crank Top Mount is compatible with Tigress' and other industry-standard 4-inch by 6-inch mounting plates, utilizing four 5/16-inch diameter fasteners. Each is built with fully sealed construction for generations of use utilizing extreme-duty 316L stainless steel and anodized aluminum and feature UV protection. So you can buy with confidence, Tigress backs the new mounts with a three-year limited warranty. The XD Bay Series Top Mount is sold individually; the XD Crank Top Mount comes in pairs.
Swing by the Tigress Outriggers & Gear booth #3833 at ICAST to see the new top mounts and more new and exciting products.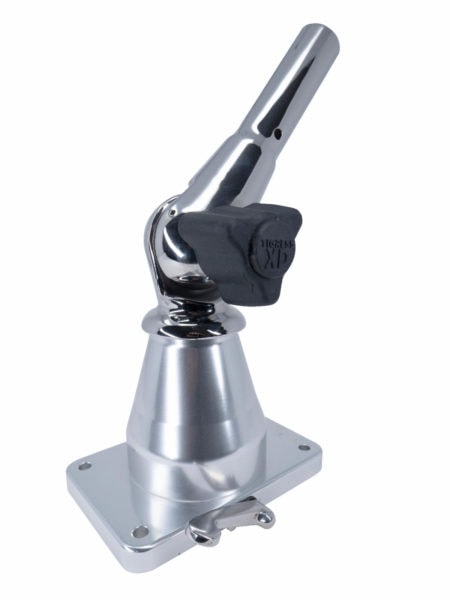 XD Bay Series Top Mount
Accepts all Tigress XD 1-1/8" butt diameter outrigger poles
24 adjustable/locking positions (15-degree increments) secured with Tigress' XD 316L stainless steel locking design with HD Spring return
19 upper-arm angle/locking (@10-degree increments) positions using Tigress' XD 316L stainless steel tooth locking design
Horizontal stops for trailering and bridges
Large ergonomic UV-stabilized knob for changing and locking the outriggers' elevation
User-friendly side operating lever
Large 'XD' aluminum 14.5 mm thick baseplate with four corner mounting
Fits Tigress and other industry standard 4" x 6" mounting plates (four 5/16" diameter fasteners)
Ambidextrous mounting lets you choose the side the locking knob is positioned on
Extreme-duty 316L stainless steel and anodized aluminum with fully sealed construction and UV protection
3-year limited warranty
For use on sport-fishing boats to 40 feet
XD Crank Top Mount
Accepts all Tigress XD 1-1/2" butt diameter outriggers
XD 1-1/8" butt diameter outriggers can be accommodated with an adapter
24 adjustable/locking positions featuring Tigress' XD 316L stainless steel design
Adjustable upper arm with 'Run' and 'Laydown' position stops
User-friendly folding crank handle with integrated drive brake
Upper-arm adjusted via ball-bearing drive system with balance spring assist
Extreme duty top plate, upper arm and housings for outriggers up to 22 feet
Stainless steel and bronze-bushed head pivot for maximum strength and durability
Unique ergonomic, invertible 316 stainless steel mirror-polished handle design provides plenty of clearance on both soft and hard tops over 2" thick
User-friendly underside lever actuation, with 8 optional indexable set-up positions
Fits Tigress and other industry standard 4" x 6" mounting plates (four 5/16" diameter fasteners)
Fits through all standard 3" diameter mounting plates and hard-top holes
Extreme-duty 316L stainless steel and anodized aluminum with fully sealed construction and UV protection
Sold as a pair
3-year limited warranty
For use on sport fishing boats to 50 feet