SPRO® Bucktails Are a Universal Fish Magnet
Category: article
Aug 4th, 2021 by Keith Worrall
Modified Aug 4th, 2021 at 5:17 PM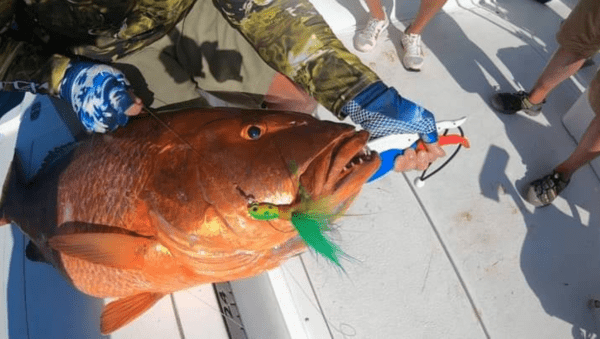 Kennesaw, GA (August 4, 2021) Put Mark Davis, the host of television's long-running and incredibly popular BigWater Adventures, on an island anywhere and offer him up one lure. He won't take a breath or blink before telling you what it would be a SPRO® bucktail jig. Davis helps provide insight as to the effectiveness of the SPRO Bucktail.
Ardent anglers know that the most versatile lure for most saltwater applications and fisheries is a bucktail jig. "I can take SPRO's bucktail from Montauk to Brownsville and catch up to 50 different species seven days a week," Davis notes.
A bucktail is a simple lure, and there are hundreds of different models and variations. So why does Davis have so much confidence in SPRO's iterations? According to the angler, SPRO has made several subtle changes that make a good lure great.
First, they made it bulletproof. The bucktail "skirt" is affixed in a manner where it won't come off after you catch the first fish – or the one-hundredth. "You can have a 60 or 65-pound cubera snapper beat the brakes off it on 150 lb. braid to a 100 lb. topshot, and the jig will come back looking like new," he said.
Second, it uses a premium Gamakatsu ultra-strong and ultra-sharp hook. "It's a no-joke, pickup-hauling hook," Davis said. "I want the heaviest hook I can get that doesn't mess up the jig's action, and with this one, you can attach it to a tractor-trailer, and it won't let go. There are many species in saltwater that have a chance to wreck you if you don't control them. Whether it's a tarpon or a snook under a dock or a big grouper on a reef – this hook allows you to stay in control."
Third, it is more visually appealing than the run-of-the-mill production bucktail. SPRO's jigs offer a lifelike, hydrodynamic head, an eye to key in on, and colors to "match the hatch" when fish are finicky. There are patterns tied to replicate specific regional baitfish, and a variety of "Glow" and "Zebra" options add a little something extra in the depths to trigger reluctant strikers. The shape is visually appealing and allows the jig to be worked several different ways with equal effectiveness.
"It falls straight and very quickly," Davis explained. "It's also a great swim jig for fish like cobia, and you can rip it fast, and it will still perform properly."
Davis further comments on the jig's versatility, " We all know about slow pitch, flat fall jigs, but sometimes when tuna won't eat topwater, I'll throw out a bucktail as far as I can, count to 20, and then reel it back as fast as I can. Tuna will chase it like a swarm of bees and crush it. It's one of the most versatile saltwater lures out there."
Davis added that while you don't need a ton of weights or colors, he's glad to know that he has the options to cover all of his bases as his travels take him around the country and the world.
"It's easy to make it look like whatever you're trying to fool is eating," he said. "Whether it's an impulse strike or you're bouncing it off the bottom for groundfish or throwing it in the surf, the SPRO bucktails provide a succinct template that won't let you down."