Pro Bass Anglers Review Raptor Shallow Water Anchors
Category: article
Mar 17th, 2021 by Keith Worrall
Modified Mar 17th, 2021 at 11:59 AM
PRO ANGLERS REVIEW RAPTOR™ SHALLOW WATER ANCHORS
With three tour-level fishing events in the rear-view, professional anglers who have made the switch to Raptor have shared their feedback on the 2020 ICAST New Product Showcase winning product.
From its durable and quiet design to the patented Active Anchoring™ feature, anglers have been quite impressed with what Raptor has to offer.
– Seth Feider, Bassmaster Elite Series Angler
The Active Anchoring feature gives me peace of mind knowing that I'm never going to move when anchored. No wind or big boat wake will cause me to lose my hold. They deploy super quiet, which was helpful when sneaking up on shallow fish in the first two tournaments."
– Kevin VanDam, Major League Fishing Professional Angler
"I had a marshal and a cameraman in my boat during competition and even as we shifted weight around from the back of the boat to the front and side to side, the Raptors adjusted so quickly and effectively that we just stayed completely pinned right where we planted the anchors. The adjustments happen so quickly and quietly you'd never even know it's happening."
SEE WHAT ELSE THEY HAD TO SAY >>
BRANDON PALANIUK TALKS STEALTH FISHING & RAPTOR
Brandon Palaniuk explains his approach during the 2021 Bassmaster Elite Series event on the St. Johns River, and stealth was critical to putting these shallow water fish in the boat.
MADE IN AMERICA'S HEARTLAND
The product of nearly nine decades of design, engineering and manufacturing excellence that serves as the foundation of all of our products. Raptor is built right here in Minnesota, the home of Minn Kota.

ACTIVE ANCHORING
Raptor features Active Anchoring, a revolutionary anchoring technology that continuously monitors anchoring force and adjusts to keep you pinned to the bottom. When wind and waves try to pull you off your best spot, Raptor fights back.
AUTO BOTTOM MODE
Truly smart anchoring, Active Anchoring equipped models can automatically detect bottom hardness and adjust anchoring force to let you focus on fishing.
THE STRONGEST HOLD ON THE WATER
A wider profile, heavy duty reinforced pivot points and extruded aluminum design will keep Raptor on the water in the harshest conditions. Raptor keeps you held in anything, but won't ever hold you up. When it's time to move, increased retraction force ensures Raptor's anchoring spike lifts up and out without getting you stuck.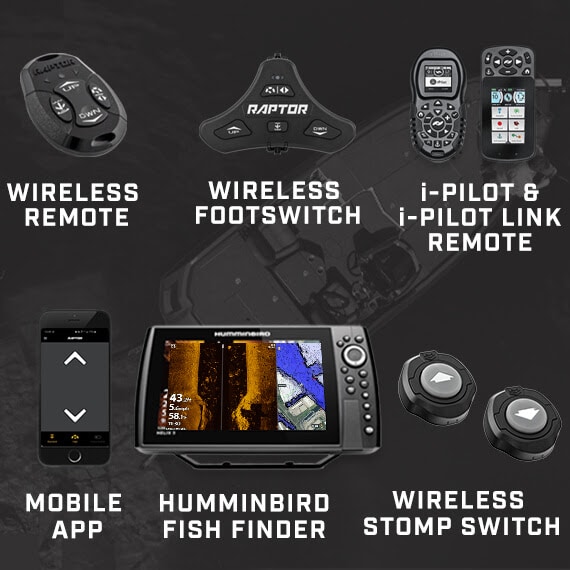 CONTROL FROM ANYWHERE
Control Raptor from your Humminbird®️ fish finder, i-Pilot®️ Link™ remote or Raptor mobile app with the power of the One-Boat Network®️. Not to mention a wireless footswitch or included remote.
Added Security – 5 year Warranty


ADDED SECURITY
Raptor Shallow Water Anchors and all Raptor mounting brackets carry an exclusive five year warranty, plus a lifetime guarantee on the spike.