NEWS – KastKing Introduces Innovative Fishing Tool
Category: article
Feb 3rd, 2022 by Keith Worrall
Modified Feb 3rd, 2022 at 8:03 PM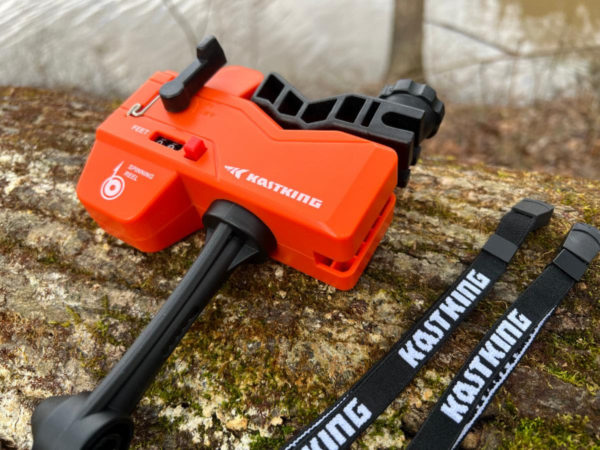 New KastKing Kalibrate Line Spooler Eliminates Guesswork When Adding Fishing Line
KastKing introduces the revolutionary design Kalibrate portable line-counter fishing line spooler that does away with line twist and measures fishing line as it is added to the reel.
(For Immediate Release – February 3, 2022 – Garden City, Long Island, New York) Long Island New York based fishing tackle brand, KastKing (www.kastking.com), is set to introduce a patent-pending design fishing line spooler, the KastKing Kalibrate.
KastKing will launch their unique Kalibrate line spooler this month. Its line counter feature tracks the amount in feet of fishing line added to a fishing reel. It offers quick and easy spooling without line twist on spinning reels and baitcasting reels. Instructional cues are molded onto the spooler to remind anglers of the proper spooling set-ups for casting and spinning reels.
KastKing Kalibrate can be used anywhere and will handle ¼ lb capacity spools. It clamps on fishing rods from 0.150 – 1.0 inch in diameter. Rubber pads on the clamps prevent damage to rods. The product includes adjustable KastKing "Line Boss" line spooling tension bands that ensure that the line is tightly spooled on the reel. The unique KastKing Kalibrate handles monofilament, fluorocarbon, and braided fishing lines.

Kalibrate is manufactured with durable ABS and glass filled nylon material and stainless steel line guides for endurance in fresh water or saltwater fishing situations. Kalibrate's light weight and dimensions of 7.5″ x 2.25″ x 1.75″ allows it to be carried in any tackle bag for transport.
"The patent-pending Kalibrate is the first of its kind in the industry," says KastKing Product Development Manager Scott Thomas. "This line spooler will make it very easy for the Kalibrate user to keep track of the amount of fishing line they are adding to their reel and will also save them money on line. With the Kalibrate, anglers can evenly split a 300 yard spool of line between two reels instead of ending up with 250 yards on one spool and not enough line left to spool a second reel. With a consumer friendly price tag of only $39.99, Kalibrate will be a home run with fishermen everywhere."
The innovative KastKing Kalibrate has a MSRP of $39.99 and will be available in mid-February through kastking.com and Amazon.com.
KastKing, whose slogan is Affordable Innovation, has been a leader in fishing tackle management and won an ICAST Best of Category Award for their effective design fishing rod storage racks.