NEW: HELIX G4N and SOLIX G3 Series are here!
Category: article
Oct 1st, 2020 by Keith Worrall
Modified Oct 1st, 2020 at 3:44 PM
Introducing the new Humminbird HELIX G4N Series and SOLIX G3 Series. More than just good looks, these units have the brains to show you where to fish and the brawn to control your boat, via the One-Boat Network™. With a long list of technologies and features, basically the only thing they can't do is land the fish for you.
NEW HELIX G4N
The NEW HELIX G4N series gives anglers the latest in innovative imaging technology, with MEGA Imaging+™ (select G4N models), and networking options to connect and control other Humminbird, Minn Kota® and Cannon® products. With a variety of screen sizes from 8-inch to the new 15.4-inch display, it's certain that there is a new HELIX G4N model to fit any angler's needs.
NEW SOLIX G3
The NEW SOLIX G3 Series provides everything anglers need to dominate the water. A powerful new dual-core processor delivers lightning-fast responsiveness from either the touch screen or keypad via SOLIX's Cross Touch® interface. With the intuitive control of Cross Touch, SOLIX provides a customizable fishing experience that puts the most important features and functionality at the forefront. The SOLIX G3 Series packs leading technologies like MEGA Imaging+™ and advanced networking functionality into 10.1", 12.1" and 15.4" high-definition displays.
INTEGRATE & COMMUNICATE
WITH Powerful NETWORKING COMPATIBility
HELIX G4N & SOLIX G3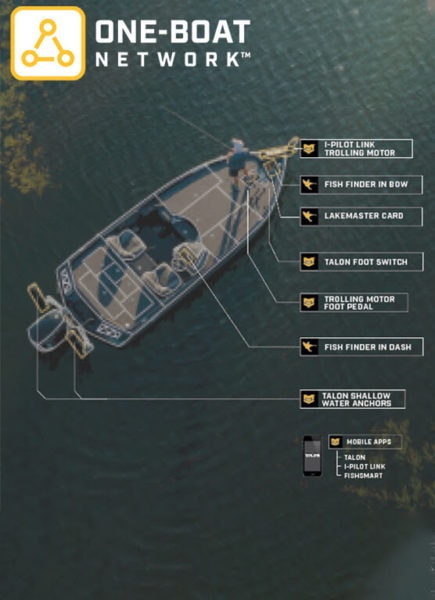 One-Boat Network™:All HELIX G4N and SOLIX G3 models are compatible with the One-Boat Network, giving anglers exclusive fish finding and boat control features, including controlling Minn Kota i-Pilot Link trolling motors, Minn Kota Raptor / Talon shallow water anchors, Cannon downriggers and more.
NMEA 2000® Compatibility: Gather a complete view of your vessel and environment. Quickly see available information like engine data, fuel information, and more from NMEA 2000 connected accessories.
WiFi Built-In: provides support for optional Navionics® Plotter Sync feature. (SOLIX G3 Series)
MEGA IMAGING+™ Clearest, Sharpest Imaging returns you've ever seen
MEGA Imaging+ is indisputably the clearest, sharpest imaging returns anglers have ever seen.
The clarity of MEGA Imaging+ extends into the water at least 200 feet below your boat with MEGA Down Imaging+™ and reaches at least 200 feet to each side of your boat with MEGA Side Imaging+™ .
MEGA Imaging+ is available on select HELIX G4N models and all SOLIX G3 models.
MEGA 360 IMAGING™
Get the clearest, most complete view on the water, allowing you to see a 360-degree view. Get MEGA Imaging detail and clarity, up to 125′ all around your boat. This accessory transducer is available in Ultrex, Fortrex, Universal and No Mount models.
Compatible with all SOLIX G3 and HELIX G4N models with MEGA Imaging+.
DUAL SPECTRUM CHIRP SONAR
See more of what you want, with the clear fish arches and precise target separation of Dual Spectrum CHIRP Sonar. Choose between Wide Mode for more coverage or vertical fishing and Narrow Mode that hones in your view to help separate fish from structure and the bottom.
Ounce for ounce, pulse for pulse, it's the best transducer in its class. Available on SOLIX G3 models and all HELIX G4N models.
NAVIGATION & CHARTS FROM HUMMINBIRD
information ANGLERS need to eliminate non-productive water AND stay focused on fish
HUMMINBIRD BASEMAP
Built-in GPS and Humminbird Basemap are standard all models out-of-the-box, general providing depth info and navigational aids for entire U.S. coastal waters and 10,000+ lakes.
AUTOCHART LIVE
AutoChart Live allows you to easily create your own fishing maps in real time, with more detail than ever before, including depth contour, vegetation and bottom hardness map layers.
PREMIUM CHART Options
Humminbird charts provide unmatched detail to find the next bite or navigate with confidence. Whether LakeMaster® or CoastMaster™, lake or coastline, we have you covered.