MadBite Introduces Complete Terminal Tackle and Fishing Tackle Kits
Category: article
Apr 6th, 2021 by Keith Worrall
Modified Apr 6th, 2021 at 10:49 AM

MadBite Dives Deep Into Fishing Tackle Kits And Baits
MadBite surges back in a big way with a variety of species specific bait kits and terminal tackle kits.
April 5, 2021 – Garden City, Long Island, NY ) MadBite, a terminal tackle, fishing lure, and fishing accessories division of Eposeidon Outdoors Adventures, Inc., and a sister-brand of KastKing, has created a wide variety of high-count, affordable tackle kits containing everything the angler needs to go fishing and catch fish. The MadBite lineup will initially have specific kits for bass fishing, trout fishing, and a panfish kit for crappie, bluegill, perch species and others. Kits include carefully selected essential items for each species.
"For years KastKing has been known for incredible value and innovation in fishing rods, fishing reels, fishing line and accessories," says Al Noraker, KastKing VP of Business Development. "We are now proud to introduce the new MadBite brand of terminal tackle and baits. Starting with our species specific tackle kits for Bass, Trout and Panfish anglers, fishermen and women across America will find exceptional value and a great assortment of fish catching tackle designed to take the guess work out of lure selection."
Tom Gahan CMO at Eposeidon – MadBite says, "In the beginning we were doing lures and baits. Later we decided our time would be better spent focusing on fishing reels, rods, and line. We had pushed MadBite to the back burner, although we did produce some tools and accessories under that brand. Now those foundation categories are doing well for us and we felt the timing was right to re-enter the terminal tackle and fishing lure markets. A lot of thought went into these kits. A decision was made to either do it right, or not do it at all, and to keep the quality up and the prices down. They give the buyer a terrific value on what they actually need. We didn't stuff the assortments with fluff that doesn't work or that anyone needs. We save the angler time and money by doing the selecting for them based on years of fish catching experience."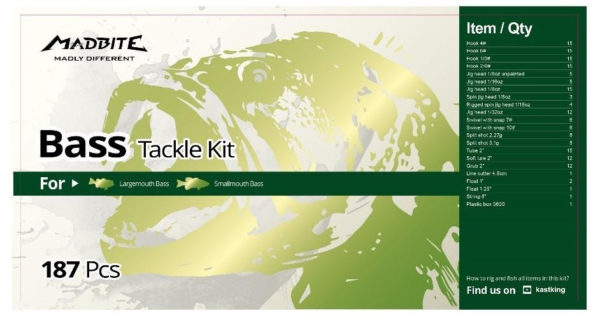 Each MadBite Bass Fishing lure kit has 187 pieces of bass fishing gear needed to catch bass that includes a wide assortment of fishing hooks for bass in different styles and sizes, Bass Jigs, all styles of weights and sinkers, terminal tackle items like swivels snaps. There is also a wide assortment of soft plastics like worms, creature baits, and tube jigs. MadBite also includes a medium diving crankbait and a lipless crankbait.
In the MadBite Trout Fishing lure kit are 160 pieces of effective lures and bait for trout fishing. Included in this fishing accessory kit for trout are a large assortment of fishing hooks including bait hooks, treble hooks, jig hooks and pre-tied snelled hooks. There is a large number of sinkers and weights, plus floats and snap swivels. The most popular and efficient spinners and spoons come in the kit along with plastic tube jigs plus a line nipper and stringer.
The MadBite Panfish Fishing lure kit has 177 pieces of fishing tackle for panfish of all types including crappie, bluegill, and perch species. It has a large variety of fishing hooks for live bait plus painted and unpainted ball head jigs. There are small tube jigs, curly tail grubs, and swim baits to use with the fishing jig hooks. Kit also includes a wide assortment of weights and sinkers, pre-rigged underspin jigs, snaps, floats, a line cutter and a fish stringer.

MadBite Species Specific Fishing Tackle Kits and MadBite Freshwater Terminal Tackle Kits are available on kastking.com and Amazon.com.
All MadBite species lure kits and terminal tackle kits come in reusable plastic organizer trays with snap-tight lids. Initial MadBite kit prices will be: Bass Kit – $29.99, Trout Kit – $24.99, Panfish Kit – $24.99, 181 piece Terminal Tackle Kit – $19.99, 214 piece Terminal Tackle – $24.99.