KastKing Rolls Out More New Affordable Fishing Rod and Combo Series
Category: article
Jun 24th, 2019 by Keith Worrall
Modified Jun 24th, 2019 at 11:19 AM

KastKing Adds Another Fishing Rod Series Priced $30 to $40 and
Spinning Rod and Reel Combos Under $60
KastKing builds new Brutus fishing rods focused on durability and affordability with exceptional components for the price.

June 20, 2019 – Garden City, Long Island NY) This week KastKing (www.kastking.com) introduces the Brutus series of spinning and casting fishing rods, and spinning rod and reel combos aimed at budget minded anglers. It is the third series of fishing rods that KastKing has released in less than a month.
KastKing Brutus general purpose fishing rods for freshwater and saltwater fishing will feature an extremely durable graphite and fiberglass composite rod blank, called "Brute Tuff" by KastKing, to resist breakage and give added strength, stainless-steel guide frames with SUS304 stainless-steel line guides and zirconium oxide ring tip guides suitable for fluorocarbon, monofilament or braided fishing lines, EVA foregrips and full-length EVA handles, exposed blank graphite reel seats on all casting rod and spinning rod models. Casting rods have a trigger. Each rod blank features a translucent, chartreuse "Strike Tip" for early strike detection even in low light conditions.

Initially KastKing Brutus fishing rods will be available in 19 different SKUs (stock keeping units) plus five spinning rod and reel combo models. At first KastKing will offer one-piece and two-piece models. A short time later three and four-piece travel models will be added to the line. Eventually Brutus rods will have more than 30 different combinations of power, action, length, and number of pieces. Brutus fishing rods range from 4'6″ to 8′.

KastKing Brutus spinning rod and reel setups from 5' to 7' long in light to medium-heavy power ratings come with a graphite body spinning reel that has 4+1 stainless steel ball bearings, a 5.0:1 gear ratio, graphite handle with a rubber knob, and an aluminum spool that is pre-spooled with monofilament fishing line.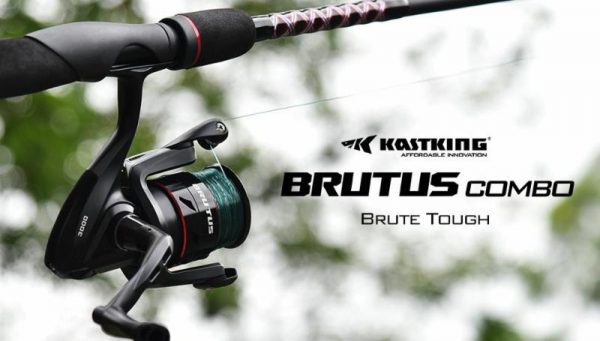 "Our Brutus rods have a higher carbon percentage and use better line guides than other rods on the market at comparable prices," says KastKing CEO Tate Cui. "If an angler wants a remarkable, tough fishing rod at a great price, they can just buy the Brutus rod, If they want even a better value, and still have those same features in a fishing rod, and don't mind spending a little more, they can choose the combo."

KastKing Brutus casting rods and spinning rods will range in price from $29.98 to $39.98 depending on size. KastKing Brutus spinning combos will range from $45.98 to $59.98. Brutus rods and combs will be launched on Amazon.com after June 21, 2019.