Humminbird's Highest Resolution Screen Ever
Category: article
Jun 9th, 2022 by Keith Worrall
Modified Jun 9th, 2022 at 9:20 PM
NEW APEX™ SERIES
Clarity Has Reach a New Peak
Watch as Captain Justin Leake, host of Chasin' the Sun, explains why the new APEX™ Series is the new standard for sonar and chart clarity in saltwater. Justin will show you how APEX can reveal exactly what's under and around your boat with clear views of fish, structure and points of interest, leading you to productive water sooner. Available in 19″, 16″ and 13″ display sizes, the APEX Series can help take your fishing success to the next level.
EXPLORE APEX >>


FULL-HD DISPLAY WITH CROSS TOUCH®
From standard options of MEGA Imaging® and Dual Spectrum CHIRP 2D sonar, to premium chart compatibility with Humminbird CoastMaster™, the full-HD display brings every detail to life with eye-popping clarity. APEX comes standard with Humminbird's industry-leading sonar technologies that reveal baitfish and gamefish unlike any other control head, so you can find and catch more fish. The slim-fit display provides important navigational and vessel data so you'll always be tuned in to where you are and what's happening.
The Cross Touch® display puts critical information at your fingertips, while a lightning-fast dual core processor means APEX is ready to execute each and every command with ease. And with multiple in-dash mounting options, its sleek and finished look will fit seamlessly into the helm.
APEX includes an additional CHIRP sonar channel, dedicated for Airmar® accessory transducers up to 2kW, plus transducer ID for fast and easy setup.
Connect to a camera or video input for viewing on the APEX display, and use the separate HDMI output to duplicate your view on an HDMI-compatible display.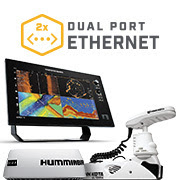 Two Ethernet ports make networking easy and allow you to create a connected chain of displays and accessories like Humminbird CHIRP Radar and a Minn Kota® i-Pilot Link™ trolling motor.
DOMINATE THE WATER WITH A COMPLETE FISHING MACHINE
From automatic navigation to instant anchoring, unlock even more fish-finding and boat-control capabilities thanks to full One-Boat Network™ integration with Minn Kota and Cannon® products. APEX offers more angler-focused features and options than any other head unit, so you can expand and upgrade your fishing system to meet any challenge.