Huk's BassCAR to Race in the Federated Auto 400
Category: article
Aug 13th, 2022 by Keith Worrall
Modified Aug 13th, 2022 at 12:25 PM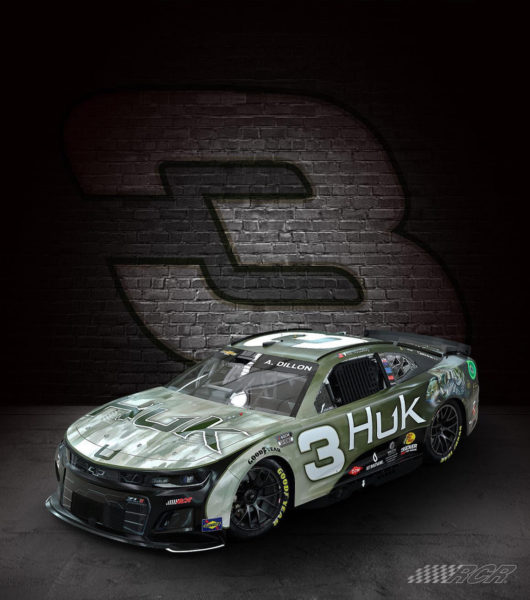 Charleston, SC (August 12, 2022) – The No. 3 Huk RCR Chevrolet Camaro ZL1 heads into the Federated Auto 400 on August 14. 2018 DAYTONA 500 Champion Austin Dillon will pilot the famed No. 3 car around the Richmond short track on August 14, showcasing the all-new "BassCar" paint scheme.
Sporting an entirely new look, the Camaro will feature a Huk exclusive pattern and largemouth bass styling by artist KC Scott. This car is sure to stand out from the crowd on race day. The paint scheme was nicknamed "The BassCAR" by the Richard Childress racing crew.
"I got a sneak peek of the BassCAR on the shop floor this week, and it made me even more excited to get to Richmond Raceway because it's going to be one of the best-looking cars at the track," said Dillon. "It's a unique paint scheme, and I appreciate all of the attention to detail that went into designing the BassCar. It's just as stylish as the Huk apparel that I wear.
"My team has put a ton of effort into getting the BassCar ready for Richmond, and I've been spending a lot of time preparing for the race in our simulator, watching race footage, and strategizing with my team. We're at a key point in our season, and I'm excited to have the opportunity to go out and try and get a win for everyone at Huk."
Dillon, who is in his ninth season driving the No. 3 Chevrolet for Richard Childress Racing, has 16 previous starts at Richmond Raceway, with his best finish of sixth in 2018 and 2019.
Richmond is known as America Premier short track with its unique D shape, allowing cars to reach high speeds on a short course. The Action Track is a driver and fan favorite and earns its nickname with cars topping out at 130mph. The FanGrounds infield allows fans access to the historic Richmond infield getting fans closer than ever before. Also, guests 21 and over can experience the exciting Chaos Corner on turn 4 to keep fans close to the action.
The Federated Auto Parts 400 is live on USA Network on Sunday, August 14, at 3 p.m. EST.