How to Enjoy a NW Angle Vacation Despite the Border Closure
Category: article
Jul 2nd, 2021 by Keith Worrall
Modified Jul 2nd, 2021 at 10:20 AM
The NW Angle is open for business. The challenge is getting there. Since March of 2020, the U.S. / Canada border has been closed to non-essential travelers. Despite the border closure, there are guests enjoying the heck out of the wonders of the Angle and you can too!
Traveling to the NW Angle can be done a number of ways. Lake of the Woods is a big lake. Across the water from the south shore up to the NW Angle, it is a 35-40 mile trip depending upon where you depart. In the open water months, there are typically three ways to travel up. Some prefer driving up which includes a short stretch through Canada. Some actually fly up via float plane. And finally some prefer boating across the lake.
As long as the U.S. / Canada border is closed, flying up via float plane or boating across are the two options available. As most don't have access to a float plane, boating across is the most realistic for many. Traveling to the NW Angle across Lake of the Woods can be a fun experience but it is vital to know your options and have a game plan that includes "safety first" as one of the criteria.
The first question it is good to ask is, "What are all of our options in traveling to the NW Angle during the border shutdown?" A first good step is to contact your favorite NW Angle resort. In some cases, they can pick your group up or help you arrange travel across. There are many options. Like anything, it's safety first.
Lake of the Woods Passenger Service. One option is to use the Lake of the Woods Passenger Service. The passenger service boats people across the lake on a big, comfortable charter boat. Many who use a guide or rent a boat up at a NW Angle resort are taking advantage of this option this year anyway as to get their NW Angle vacation in.
Fly across the lake in a float plane! Since the border closure, a great new option has been created to travel to the Angle, Lake Country Air. This flying service has set up shop at Lake of the Woods to accommodate the need. What a great win-win. It is a great way to get up to the Angle in less than 20 minutes while having the chance to see the area via float plane.
Most will hook up with the flying service somewhere on the south end of Lake of the Woods and fly up. That could be the Baudette International Airport, at one of the resorts on the Rainy River or at the Warroad International Airport. Lots of options to head up to the Angle.
Lake Country Air also has longer range options from portions of Minnesota and neighboring states up to LOW as well.
Boat across using your own boat. Another option when boating across is to put your people and gear aboard a charter boat and follow behind the charter in your own boat. This not only can make the ride much more comfortable for passengers but also lightens the load of your own boat making it more seaworthy. It also helps that a big charter boat is handling the navigation and breaking down the waves for you across the lake.
There are some guides up at the Angle who are planning on picking up guests on the south end, weather depending which makes traveling to the NW Angle that much easier. Communicate with your resort for all of the options.
Considerations if boating across on your own. Traveling across on your own can be a very viable option or a "not so good" of option depending upon a number of things.
Here are a few considerations.
Is your boat seaworthy enough to cross 35 miles of big water?
How reliable is your motor?
How experienced is the captain?
Do you have flexibility in your schedule if weather is not good?
How seaworthy are your passengers on the boat?
Do you have reliable electronics and do you know how to use them?
is your bilge pump working?
Safety Equipment and considerations.
1. Is everyone wearing an approved personal flotation device (PFD)
2. Have you checked all necessary safety equipment? (Fire extinguisher, throw cushion, marine band radio, cell phone with portable battery charger, flares, whistle, etc)
3. Do you navigation lights work? Do you have a spotlight or bright flashlight?
4. Have you contacted the resort or people at your final destination and communicated your travel plans?
5. Have you mapped out your route?
6. Where are you going to put in and depart from?
7. Have you lightened up your load for the boat to be safe?
8. Is your gear in waterproof bags or containers?
9. Do you have Navionics on your phone as a backup for navigation?
10 Have you checked the weather forecast?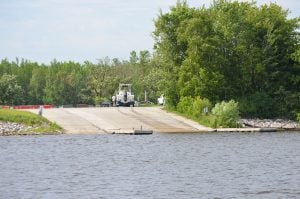 Where can I launch and park my truck and trailer? There are a number of resorts will allow you to park your truck and trailer at their resort if you are boating up to a NW Angle resort for a nominal fee. It is a good idea to contact these resorts and communicate your plans to make sure you know where to launch your boat and where they would like you to park your vehicle.
South Shore Parking Options…
–Arnesen's Rocky Point. Located on the SW corner of the lake, Arnesen's has a new harbor, a boat ramp and plenty of land for parking your rig.
–Long Point Resort. Located on a point way out into the lake, Long Point Resort is very accommodating, has plenty of room to park and a nice harbor to launch your boat.
–Springsteel Resort. Located just north of Warroad, if you are coming from the west, this is a great option to launch and park when headed to the Angle.
–Sportsman's Lodge. Located at the mouth of the Rainy River, Sportsman's is where the Lake of the Woods Passenger Service departs from and a frequent pick up and drop off point for the flying service. This is also a great spot to park when boating across on your own.
–Wigwam Resort. Located on Wheeler's Point, Wigwam is a couple of blocks away from the Wheeler's Point public access.
The NW Angle is a very special place. This year for many, the normal way to travel up is going to be different. Once there, the few extra hurdles will be well worth it. With that being said, if you are using the Lake of the Woods Passenger Service or Lake Country Air, no worries, just step aboard. If you are boating up on your own, there are few more details to consider for a safe and enjoyable trip. We all have to error on safety first. If you have any questions on traveling across the lake, we encourage you to contact your favorite resort or you can certainly contact us at Lake of the Woods Tourism as well. Have fun, enjoy the adventure, be safe.
Access the Lake of the Woods Tourism website