Have you seen what's new from Jenko?
Category: new products
Aug 5th, 2022 by Keith Worrall
Modified Aug 5th, 2022 at 10:51 AM
Bait Finesse System (BFS) Fishing Enters the Spotlight
https://jenkofishing.com/collections/rods/products/double-down-bfs-casting-rod
Hitting your forward-facing sonar targets has never been easier. With our new BFS rod "Double Down" you can throw your 1/80 – 1/8 oz jig/lure further than ever before while casting more accurately and having more sensitivity once it hits the water.
Double Down Specs:
– 6'6″ overall length
– 1/80 – 1/8 oz recommended lure weight
– 2-6 lb test line rating (4-10 Braid)
– 4.2 Ounce overall weight
Improve your efficiency with the Double Down.
– More available gear ratios with baitcasters
– Increased control of your cast
– Improved sensitivity through the side plate of your reel
– Increased casting distance with less effort
Alps guides give your line, no matter the type, a smooth ride all the way from cast to catch. Braid to leader significantly increases the casting distance, control, and sensitivity of the Double Down. An ergonomic reel seat gives you complete control while palming your favorite BFS reel.
The Paratek carbon blend allows this rod to load up on the cast with jigs down to 1/80 ounce and still have the backbone to set the hook on your favorite species. A custom Jenko tapered full grip gives the rod a balance that keeps the tip up and keeps you comfortable all day!
Common BFS reels that pair well with the Double Down
– Diawa Alphas Air
– Diawa Silver Creek Air
– Diawa Steez Air
– Shimano Aldebaran BFS
– Shimano Conquest BFS
– Shimano Curado BFS
– Shimano SLX BFS
– Tsurinoya Dark Wolf Ultra KF-50S (Great Budget Choice)
– Kastking Kestrel
– Abu Garcia Ultracast BF8

DCVR Rods Collection Grows with Hustler Series
The Hustler series is the fourth installment to an ever-growing collection of DCVR Rods. We took the same, exclusive DCVR Paratek Carbon Technology from our previous creations and packed it into 8 different models to a create a budget friendly, high-performance set of tournament grade rods.
H70SM – 7'0″
H76CH – 7'6″
H76CMH – 7'6″
H73CH – 7'3″
H73CMH – 7'3″
H73CM – 7'3″
H70CM – 7'0″
H610CMH – 6'10"
Hustler in Stock- Click here!
Jumping into Injection Plastics!
"The Bird" has a spot in every angler's boat. This bait was designed to be versatile and be used on a Texas Rig, swing head, Tokyo Rig, Carolina Rig, or even a jig trailer. From punching mats to dragging offshore, The Bird has you covered.
The Bird checked all of the boxes and avoided the issues we have with beaver style baits using a set of made from scratch design choices. A slow tapering, full thickness head gives the hook eye a solid place to sit to avoid head blowouts. The body has a thick core to hold your hook point, fish after fish. Ribs from top to bottom give the fish a soft, inviting consistency to make sure they hold on. Streamline appendages keep your bait falling through cover, no matter the type. The tails attach with a wide base to prevent tear offs. Dimples in the tail promote a subtle swimming action without making the legs paper thin.
No matter your style, you will enjoy this new take of a beaver style bait.
What's that? A year round crankbait?

Tom Brady? Nope, even better. Terry Bolton! Designed by Terry Bolton to run around 5 foot deep, the TB5 opens the door to a world of versatility. A slim, rounded profile makes the bait easy to retrieve while still running true. When the TB5 contacts a piece of cover it deflects and hunts quickly back to center.
Whether it's stumps, brush, laydowns or just plain old rocks, the TB5 is as hang up resistant as they come. It sports a relatively wide wobble and features a unique bill kick to bounce off of cover before the hooks have a chance to do their damage.

Wampus Cat Rods
Catfishing made simple! New for 2022, our Wampus Cat rods come in two models, 7'6″ Medium and 7'6″ Medium Heavy. Each are built for casting reels and are ready to take a beating. The Medium action is suitable for fishing low to no current for moderate sized catfish. The Medium Heavy is built for higher currents and larger, trophy catfish. No matter your environment, the Wampus Cat has you covered.
The "Big Bully" is our newest installment to a growing collection of crappie jigging rods. Coming in a 14ft long, the Big Bully packs quite the punch. Designed by professional crappie angler and guide Richard Faulk, this rod is built to keep your bait still in the roughest of water. Whether you single pole a 1/4 oz jig or run with a heavy egg sinker, the tip on the Big Bully will keep your bait in front of the fish, no matter the conditions. This rod will ship with two tips, one stiffer than the other, to ensure you have the rod action you want without buying two separate rods.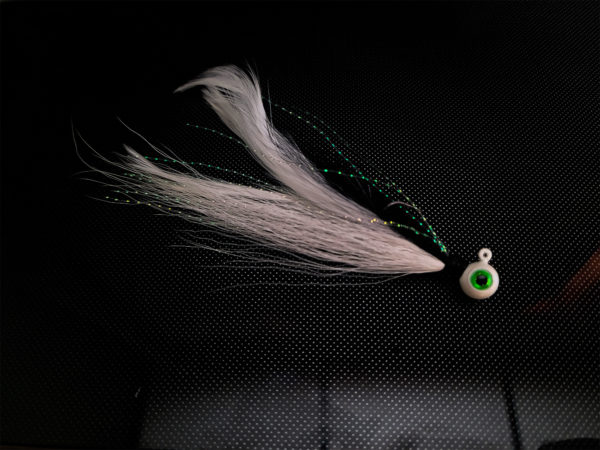 The Buzzcut Hair Jig was built around the need for a slow falling hair jig that retained a large profile. Coming in at 4.5 inches in length, the Buzzcut imitates a dying shad while falling slow enough to track on forward facing sonar. Available in 1/8 and 1/4 ounce, the Buzzcut comes with a Mustad 2X Strong Steelhead hook to ensure a solid hookup and put what bites into the boat.
Trick Tube Head
The Jenko Trick Tube Head allows for the easy, weedless rigging of a tube bait. A perfectly round internal head keeps the weight behind the line tie to give your bait an erratic fall without ripping out of the tube. This head pairs well with 3.5 inch or longer tube baits. Armed with a needle sharp VMC hook, the Trick Tube Head is finesse enough for a spinning rod and stout enough for a baitcaster. Coming soon in 3 sizes, 1/8, 3/16, and 1/4, the Trick Tube Head will be your new confidence bait!
YOU MADE IT!!!  Use code JENKO20 for 20% off your next order at jenkofishing.com!