Get on the Water with New SPRO Apparel
Category: article
Sep 23rd, 2020 by Keith Worrall
Modified Sep 23rd, 2020 at 10:26 AM
Kennesaw, GA (September 23, 2020) Comfort is king when spending long days on the water. SPRO's new performance shirts are designed to provide anglers with all the key aspects to make for a worry-free and comfortable day in the outdoors.
Long sleeve, 100% Polyester, performance style shirts protect your skin from harmful UV rays. The moisture-wicking fabric allows your body to regulate its temperature keeping you fresh all day. This shirt allows for easy removal of evidence of a good day fishing, with its stain-release and odor-resistant technology. You will not only smell good but look good too.
Skin cancer is a real risk for anglers who spend in ordinate amount of time on the water. SPRO's new Sun Mask protects your ears, nose, neck and face from the sun's harmful rays. The seamless Sun Mask is made of 100% polyester microfibers for comfort and protection. The Sun Dry feature wicks away moisture quickly.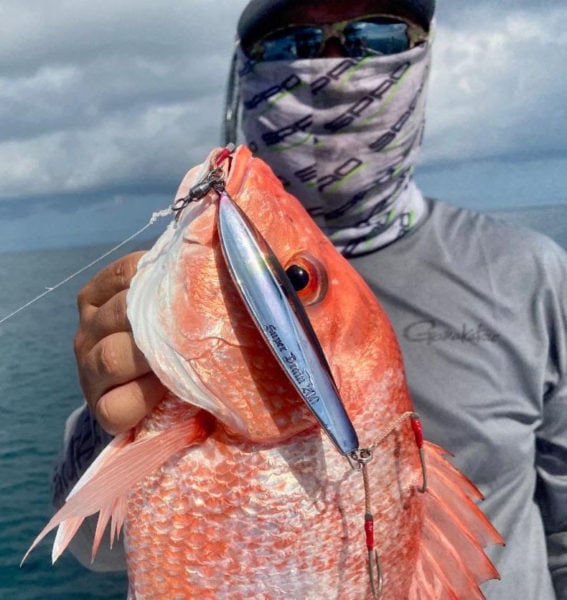 Above: Angler shields sun with SPRO sun mask while fishing with a Sea Falcon saltwater lure.
SPRO Performance Shirt Features:
Long Sleeve
Men's Sizes: Medium- 3XLarge
Men's Colors: Gray, White, Black, Light Blue
Women's Sizes: S,M,LG & XL
Women's Colors: Light Blue, Pink
Stain-release
Odor-resistant
100% polyester
Moisture-wicking fabric
SPRO Sun Mask Features:
Size: 20″ x 9-1/8″
Color: Gray
100% polyester microfibers
Seamless
Speed Dry