Bradley Roy's 10th Annual High School Open presented by Covercraft
Category: article
Oct 14th, 2022 by Keith Worrall
Modified Oct 14th, 2022 at 1:57 PM

Bradley Roy's 10th Annual High School Open presented by Covercraft
<Jamestown, Kentucky>
The 2022 Bradley Roy High School Open presented by Covercraft, was one of the most closely contested chapters in the tournament's ten-year history. For the first time, the winning team on Saturday also triumphed in the Sunday fish-off.
139 high school teams and 34 junior teams (6-8th grade) competed on October 8th at Lake
Cumberland and the top five fished the following day on the Beaver Creek section of Barren River Lake in Glasgow, Kentucky.
The tournament is an officially-sanctioned high school event by the Kentucky Bass Nation. Two spots in the 2023 Bassmaster High School National Championship were awarded to Saturday's top finishers: Zavian Smith of the Lake Cumberland Bass Club and Jake Mattingly of Danville Christian Academy.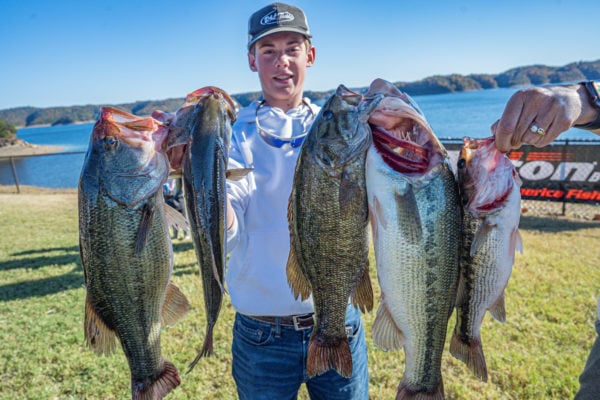 The winner weighed a bag of five fish totaling 11.96 pounds. The runners-up weighed in a bag of five fish for 11.83 pounds.
3rd place – Coleman Stewart/Keenan Stewart – Boyle County: 10.95
4th place – Scotty Hagan/Mason Hagan – Edmonson County: 9.41
5th place – Porter Conover/Hunter Duvall – Trinity High School: 8.83
Following the Saturday weigh-in, Roy gathered the top five teams and prepared them for a fish-off on Sunday at a mystery destination.
The five remaining teams were housed at the Riverside Inn and geared up for a Major League
Fishing Cup-style tournament the next day. The Bass Pro Tour angler convened the group in the parking lot at 4:30 CDT on Sunday morning and led a convoy west on the Cumberland Parkway. The teams didn't know their destination until they arrived at the Beaver Creek section of Barren River Lake in Glasgow, Kentucky.
"I picked Barren River Lake this year as our mystery lake; it's a lake I have had a lot of history and success on," said Roy. "It was fascinating to see these high school anglers attack this body of water as I did year after year on the Kentucky Junior Circuit."
Each team was assigned boat officials trained by Roy and provided two sets of MLF-supplied scales. Teams were given thirty minutes to ride around on the designated section of the 10,100-acre fishery.
Roy streamed commentary on his social media pages as he covered the action. The teams fished two 2.5-hour sessions, with a thirty-minute break in between.
The conditions on Barren River Lake were frigid to begin the morning, with temperatures around freezing, warming up with high bluebird skies as the day progressed. Roy commented during the live stream that the weather conditions played a significant factor in the difficulty of the fishing and would make every catch even more crucial to the outcome. As temperatures warmed, the frequency of catches from all five teams increased.
Entering the second and final period of fishing, Lake Cumberland Bass Club's Zavian Smith and Boyle County's Coleman and Keenan Stewart were neck and neck. An early period catch by Edmonson County's Scotty and Mason Hagan catapulted them into the lead over both teams. However, back-to-back scorable catches midway through the period by Zavian Smith were enough to push him back into the lead and fend off challenges by the four other teams. Smith finished with a winning weight of 5 pounds and 4 ounces.
After confirming the scores from all teams, Roy interviewed the winner and his boat captain and mother, Judith Dyehouse. Roy asked Smith how he felt about the MLF Cup style format and Scoretracker, and he said, "It gets your nerves going; I was getting nervous when the other teams started catching fish." He went on to say that he stuck to his game plan and was thankful that he could get the win.
Following the event, Smith and boat captain Judith Dyehouse met with the media to further discuss the victory. Dyehouse glowingly said, "He fished his heart out; I was pretty impressed with some of the big fish he had to net by himself. I couldn't believe it. He did wonderfully!"
When Smith was asked about how his mom served as a boat captain, he responded, "Pretty good!' That question was quickly followed up about how she served as a mom, they both laughed, and he said, "really good!"
Both team members from the top two teams were offered four-year, $10,000 scholarships to
attend Campbellsville University by head coach Pete Hedgepath. Kentucky Christian also offered four-year scholarships to teams in the Top Five. In all, the potential scholarships were close to $300,000.
On Sunday, Smith and the team of Scotty and Mason Hagan earned berths in the 2023 Major League Fishing High School National Championship.
Significant general scholarships for all teams were made possible by Covercraft, First Southern National Bank, The Cain Pole, A Few Good Men Fishing Tournament, LCR Contracting, City of Jamestown, Angler's Outpost and Marine, and Land Big Fish. Additional prizes from sponsors of the event and Bradley Roy included: Ark Fishing, Bass Pro Shops, Railblaza, Solar Bat, Land Big Fish, The Cain Pole, Mercury, and D&L Tackle.
"I want to shout out to everyone who helped me pull this tournament off for the tenth consecutive year. If you have ever run a tournament, you know this stuff does not happen easily; I have an awesome staff, family, and sponsors. Even though this tournament has my name on it, I am just a small part, and none of this happens without them.
"Our winner this year, Zavian Smith, his mom was also the boat captain. This year in our top five, we had two mother boat captains, which is so awesome. Last year we had our first female angler in the top 5. It's just so cool to see that and know that this is not just a sport limited to men, that a wider audience can join in," said Roy.
Covercraft contributed to the scholarship fund and provided event decals for all anglers, coaches, volunteers, and family members.
"Being able to support Bradley and an event that means so much to the future of fishing is a joy for us. We are proud of his efforts over these past ten years to grow these young people as anglers and as young men and women," said Jeff Jegelewicz, Director of Marketing at Covercraft.
"We were thrilled to host the Bradley Roy High School fishing tournament again and have students from around Kentucky experience the great fall fishing on Lake Cumberland," said Regena Hinton, Mayor of Jamestown.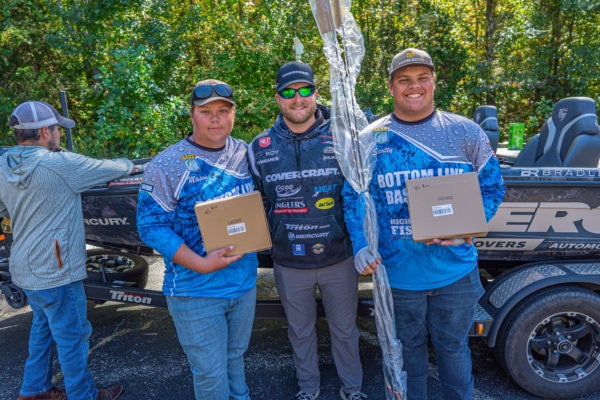 "Lake Cumberland Tourist Commission was excited to host the Bradley Roy High School Open here on Lake Cumberland," said Danielle Wilson, Executive Director of the Lake Cumberland Tourist Commission. "The turnout was huge and benefited the county in more ways than one! We hope to have the event back each year!"
For a video of the event, visit — https://youtu.be/u04odnNxgDk
Media contact: J.D. Blackburn | [email protected] | (615) 479-7991
For complete tournament results, visit www.kybassnation.org.
For more information on Bradley Roy, visit www.BradleyRoy.com.
For more information on Covercraft, visit www.Covercraft.com.