Gamakatsu(R) Gear Protection: Introducing the Shoulder Bag Tackle Storage & Tuna Dry Bag Backpack
Category: 2020
Jul 14th, 2020 by Keith Worrall
Modified Jul 14th, 2020 at 1:22 PM

Gamakatsu® Gear Protection: Introducing the Shoulder Bag Tackle Storage & Tuna Dry Bag Backpack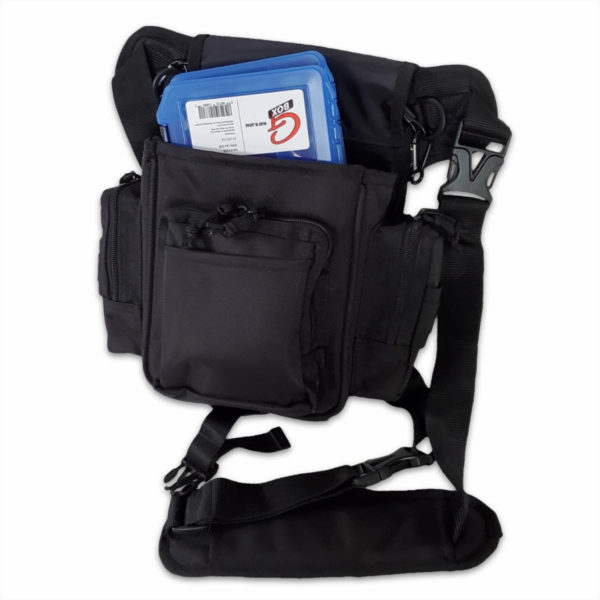 Tacoma, Washington (July 14, 2020) In their relentless pursuit of perfection, Gamakatsu designed two new gear protection products with features that anglers requested. The Shoulder Bag Tackle Storage is perfect for the nimble run and gun angler who needs a tackle solution as flexible as the spots they fish. The Tuna Dry Bag Backpack is a waterproof backpack with ample storage for bulky gear.
The Shoulder Bag Tackle Storage conveniently secures essential gear so you can make the most of your fishing time. It's the perfect mobile storage solution for fast, easy access to tackle and other critical fishing gear. The bag, designed for over-the-shoulder carrying, slides to your chest for quick gear access and onto your back when walking, casting, battling fish and taking selfies. So compact and comfortable, it never needs to be taken off. The bag includes two G3200 G-Boxes, which conveniently stow in the main compartment. Multiple, heavy-duty zippered pockets store everything else. The abrasion-resistant outer fabric, made from 1680 denier ballistic nylon, is built to last. A padded shoulder strap is adjustable for length.
Visit the Gamakatsu New Product Site Here!

The Tuna Dry Bag Backpack was designed specifically for the teams competing in the Los Cabos Tuna Jackpot. These coveted drybag backpacks, with a Gamakatsu Tuna logo, are now available for every angler. The mid-sized bag measures 12 inches wide by 20 inches tall by 8 inches deep-perfectly sized to hold bulky gear. It is constructed from waterproofed ballistic nylon, which is tough and keeps clothes and equipment dry on those wet and wild offshore runs. The interior pouch opens to fit boots, rain gear, jackets or extra tackle and then rolls down tight and buckles closed to protect contents. Lead jigs, tools and water bottles too, the bag's reinforced and sealed seams hold it all. The Tuna Dry Bag Backpack includes padded straps and waist belt for easy carry. The bag compacts neatly for storage when not in use. The Tuna Dry Bag Backpack is large enough to carry essential gear for an overnighter or a multi-day fishing trip. A multi-purpose dry bag at a great value.
Shoulder Bag Tackle Storage Features:
● Designed for over shoulder carrying
● Comfortable, adjustable strap
● Includes (2) G-Box 3200
● Made from 1680 denier ballistic nylon
● Lanyard cord
● Color: Black
Tuna Dry Bag Backpack Features:
● Waterproof PVC material
● Backpack design with adjustable shoulder straps
● Velcro and latch closure cinches down for water-tight transport
● Large main compartment (12 x 20 x 8 Inches)
● Made from 1680 denier ballistic nylon
● Color: Black
For more information, visit: www.gamakatsu.com