A Soft Approach to Slow Pitch Jigging: The Sea Falcon® Slow Squid
Category: article
Nov 23rd, 2021 by Keith Worrall
Modified Nov 23rd, 2021 at 9:53 PM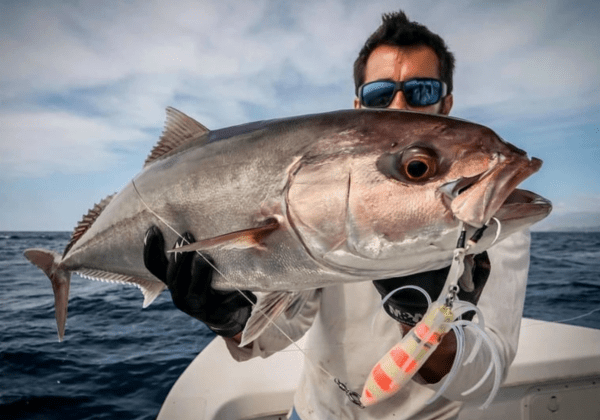 Kennesaw, GA (November 23, 2021) Sometimes a soft approach is better, and the Sea Falcon® Slow Squid offers a softer alternative for slow pitch jigging. Hand-crafted with soft silicon rubber with an embedded lead weight, the Slow Squid provides incredibly realistic lively action that cannot be achieved with traditional metal jigs or conventional soft baits.
The embedded lead weight balances the Slow Squid for a horizontal fall and allows you to fish it like a metal jig, but its soft silicone surface provides all the bells and whistles of a soft bait. Its small shape allows you to fish in deep water, where its luminous glow and undulating action will attract and entice the most finicky finfish. Choose from 8 glow-in-the-dark colors.
To ensure you can fine-tune your presentation to get the best performance from your jigs, Sea Falcon has developed a specification chart for each jig indicating the correct fall speed, weight balance, pause time, current, pulling resistance and slide width, and maps them out on an easy to understand chart on their website: www.seafalconusa.com.
Every Sea Falcon lure is based on a hand-carved original created by CEO and Chief Designer Tetsuya Itou, one of Japan's foremost lure designers. Based in Hamamatsu, Japan, they operate under the 'Total Package' concept, combining all processes from planning and development to manufacturing all under one roof. Sea Falcon ensures supreme quality and continues to provide innovative products to the fishing world.
Gamakatsu® hooks are specifically designed to compliment Sea Falcon lures and plugs. Gamakatsu hooks are made with the same level of craftsmanship and attention to detail, equally raising the performance of any Sea Falcon lure.
Slow Squid Features:
• Slow Pitch
• Imitates small squid
• Center balance gives horizontal fall
• Small shape can be fished in deep water
• Target Fish: Bottom fish